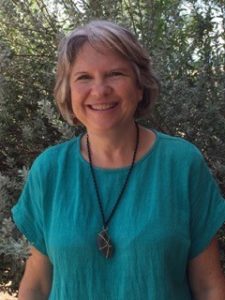 Tina Schlabach lives with her husband, Jay, in Tucson, Arizona. She serves as co-pastor of Shalom Mennonite Fellowship, offers spiritual companioning and visits with women from Central America and Mexico held in immigration detention. Tina loves conversation with friends, reading, hiking, time with her three young adult children and her morning coffee.  
This morning I visited with nine women from Honduras, Guatemala and Mexico in the chilly visitation room of the Eloy Detention Center. This is a prison-like facility housing about 1,400 immigrants from many different countries, owned and operated by Core Civic, a for-profit company that contracts with Immigration and Customs Enforcement. Our congregation, Shalom Mennonite Fellowship, Tucson, Arizona, supports our community visitation program into this detention center by providing the program with fiscal sponsorship, and by writing letters and attending court hearings.
Today we sit, talking together across from each other on hard, plastic, grey furniture, with vending machines in the background, and a guard watching over us. Tears often flow and smiles and laughter break through also.
Ingrid, a large, expressive Guatemalan woman in her 30s, has endured more than two years here in this detention center, fighting to stay in this country where her three young children live, two of which are U.S. citizens. A community has rallied around Ingrid, to support her perseverance — Ann from our congregation writes letters back and forth with Ingrid, our congregation has given money to the needs of her children who are cared for by their grandmother, and friends take turns bringing Ingrid's children to visit her about once a month.
Maribel and Augustina are shy indigenous 18-year-old twins from Oaxaca, Mexico who have just arrived, fleeing the threat of gender violence and forced marriages in their village. My main role with them turns out to be advocating that they need an interpreter to tell their story, as they speak only the Triqui language. Everything is bewildering to them.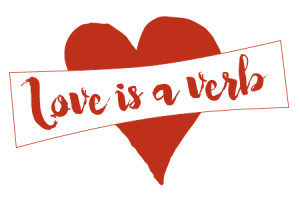 Quemima lived in the U.S. previously, was deported to Honduras in 2005, and took her three young daughters with her. Last summer, the father of her children was murdered in front of the family. In great fear, Quemima made plans: she flew her daughters, who are U.S. citizens, to stay with friends in the U.S., while she herself asked for asylum at the border. To her dismay, she was transferred to this detention facility while she makes her asylum case in front of an immigration judge, a slow process involving several hearings. The three girls find themselves in a new city, in a new school, separated from their mother. One of the girls has begun self-harming behavior.
Beatriz is an older mom from Mexico, who had previously made her life in the U.S. for 30 years. She has six children, from six years old to 23. Because she made a serious mistake, and was arrested once for driving while under the influence of alcohol, she has lost her opportunity to gain residency, and has been ordered removed from the U.S. Today she cried and cried, and we sat with her and listened, our hearts heavy. She will appeal, and keep trying to find a way to stay with her family. In the meantime, her children live together and try to pay bills and care for each other.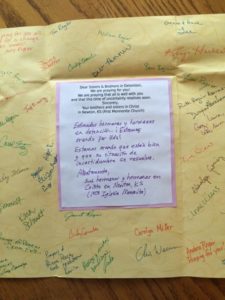 Two weeks ago I received a bulky envelope from First Mennonite Church, Newton, Kansas. What a surprise! Inside were two colorful large notes, filled with scripture, words of hope, and signatures from many people from the church! This congregation participated in the Mennonite Church USA curriculum about immigration issues, "Radical Hospitality."
Sending these personal notes to persons held in immigration detention was one of their action responses to what they learned. They asked me to take their notes to the women I visit.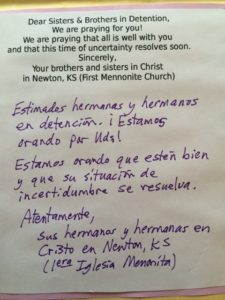 So this morning I passed these notes around the visitation room, and the women smiled. One asked to keep them, to post them in their unit, on the wall, for all to see that they are remembered!
Separation from family and the sense of isolation are the hardest parts of immigration detention, the women tell us. When we visit, when we write letters back and forth, when we take time to listen to the stories of these women, even when it is hard to hear them, love finds its way through the walls and barbed wire of immigration prison. Isolation shrinks, there is more room to breathe, hope rises.
The outrage over the great injustices, harming families due to our broken immigration system, fuels love-energy to reach out. We are all generously and mutually blessed, in our connections and new understandings.

Since the late 1990's, the number of people held in immigration detention has exploded. On any given day, ICE detains over 33,000 immigrants; this is more than triple the number of beds since 1996. In the last five years alone, the annual number of immigrants detained and the costs of detaining them has doubled: In 2010, approximately 392,000 immigrants were detained, costing taxpayers $1.77 billion at an average of $122 a day per bed. Nearly 2.5 million individuals have passed through immigration detention facilities since 2003. — Detention Watch Network