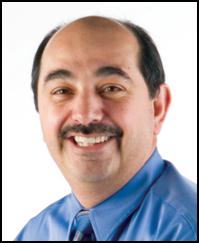 Steve Bustos is an Everence® Stewardship Consultant, helping congregations and not-for-profit organizations with their stewardship education and charitable planning needs. Besides being an avid Green Bay Packer fan, Steve loves to visits national parks whenever he can.   His top two favorite parks include Zion National Park in Utah, and Banff National Park in Alberta, Canada.
In the book of Colossians we read, "And let the peace of Christ rule in your hearts, to which indeed you were called in one body. And be thankful. Let the word of Christ dwell in you richly, teaching and admonishing one another in all wisdom, singing psalms and hymns and spiritual songs, with thankfulness in your hearts to God. And whatever you do, in word or deed, do everything in the name of the Lord Jesus, giving thanks to God the Father through him."
In this brief text, three times being thankful is referenced.
Expressing thanks demonstrates gratitude and is vital to creating healthy relationships. 
When we express our gratitude toward others:
We acknowledge their gift(s).
We express value for their gift(s).
We strengthen and deepen our relationship to others.
Saying "thank you" is important in all relationships, and this includes our communities of faith. Congregants who give to the cause of building God's Kingdom need to know their contributions are valued. So finding ways to express gratitude serves to build up one another.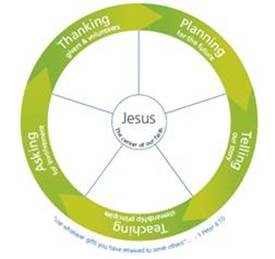 As the end of 2018 quickly approaches, congregations have a perfect opportunity to say "thank you" to everyone who has made a financial commitment throughout the year.
Below is a sample thank-you letter that an Everence® stewardship advocate wrote for her congregation. She took this message of saying "thank you" to heart.
And so I appeal to all stewardship leaders to take this to heart too. I encourage your congregation to consider writing your own letter of thanks and include it with your year-end giving statements in January.
Saying "thank you" is one of the five important attributes of building a strong stewardship ministry. The areas from the Everence stewardship ministry wheel are planning for the future, telling our story, teaching stewardship principles, asking for involvement, and thanking givers and volunteers.
Sample Letter