Chrissie Muecke describes how art depicted in The Peace Table was created with intention, with special consideration for diversity and creating ways for children to relate to the stories and the characters.
---
This article is part of our series on The Peace Table , the new storybook Bible from Shine, a children's Sunday school curriculum, jointly published by MennoMedia and Brethren Press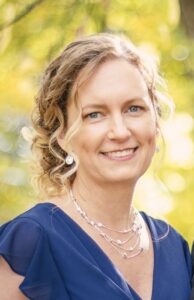 Chrissie Muecke has a master's degree in elementary teaching and curriculum from the University of Rochester and is pursuing a Master of Arts in Christian leadership from Eastern Mennonite Seminary. She has worked for MennoMedia and Brethren Press as a curriculum writer and editor for 14 years. Chrissie co-authored three Bible storybooks, titled "All of Us," "All Together" and "Great Big Love." She attends Rochester (New York) Mennonite Fellowship.
_____________________________________________________________________________
In 1848, clergyperson and University of Cambridge professor Charles Kingsley wrote an article about the National Gallery in London. He believed that the art gallery could brighten the lives of those who were tired of the ugliness of the factory and workshop. His advice was this: "Never lose an opportunity of seeing anything beautiful. Beauty is God's handwriting — a way-side sacrament."
In creating The Peace Table, we did not want to just tell Bible stories and convey information. We wanted to touch the soul and spirit with beautiful artwork.
Art can engage us in a different sort of understanding — not analyzing or thinking about something but feeling something. Dave Huth's art in The Peace Table invites reflection on universal feelings and experiences. Most children haven't been thrown into a pit, but like young Joseph in the bottom left corner of the piece to the right, they do know what it is to feel alone, hurt or misunderstood by family members or friends.
Most children haven't gone from being in prison to living in a palace, like Joseph did (pictured to the left). But they know what it feels like to be reunited with someone they love, wrapped in a tender embrace.
One of the prompts I posed to artists was this: "What depiction will help the children in your family, church and community connect with and understand this Bible story?" As a result, some of the 30 contributing artists chose to create from their own background and cultural heritage. Gabhor Utomo set the parables of the lost sheep and coin in his birthplace of Indonesia. Ying Hui Tan currently lives in Malaysia and illustrated her biblical text within that setting.
We gave careful attention to depictions of Jesus, considering what would help a diversity of children understand the incarnation. Jesus came into the world in a particular place, at a particular time, which is important for children to know. So sometimes Jesus is shown as a Middle Eastern man. But Jesus also came for all people, in all times and places. Artists were given the freedom to depict Jesus in a way that would resonate with the children they know. Several examples are shown below. Our prayer is that, as children see these varied representations of Jesus, they will more easily recognize the image of God within themselves and one another.
Biblical art often focuses on adults. However, children were part of the crowds that followed Jesus. They heard his stories, saw his miracles and engaged with him directly, even if we don't know their names. Artists for The Peace Table were encouraged to include children in the illustrations, even if children were not specifically mentioned in the biblical text. This invites the viewer to take on the perspective of a child.
How might our understanding of a Bible story deepen or change if we look through the lens of a child?
When I saw the rough sketch of LaTonya Jackson's art for the baptism of Jesus, it seemed like the boy wasn't looking in the "right" direction. Shouldn't he be looking at Jesus and John? But then, I realized that the boy was looking at the dove in the sky! How fitting to depict a child as the one who first noticed the Spirit of God descending. Children so often notice the things that adults miss.
Justine Maendel, an art student from Messiah University, was given the challenging task of illustrating five prophecies from Isaiah. She, too, centered children in her interpretations of each text. One child carries vegetables and grain in a helmet; a group of children "hold up the valleys;" a girl plays alongside a wolf and lamb.
When I first began working with the artists, I was focused on what would be good for children. It didn't occur to me that the art would impact me so deeply as an adult — that I would cry when I saw some of the pieces for the first time, that I would experience the biblical text in new and fresh ways, that whenever I read certain biblical texts now, it is the art from The Peace Table that fills my mind and heart.
While this may be packaged as a children's book, it is for adults, as well.
When you open The Peace Table, you will find 155 works of art. Linger with each one, allowing its beauty to wash over you. Look closely to discover the intricacy and secrets that the artists have included. Choose a piece of art to use when you pray or read Scripture. Let it be an opportunity to feel something about the biblical story. And say a prayer for each child who opens this book — that they will see themselves and their experiences reflected in God's story and be reassured that they are known and loved by God, exactly as they are.
Charles Kingsley described beauty as a "cup of blessing." May the art in The Peace Table be a cup of blessing for you that never runs dry.
---

---
The views and opinions expressed in this blog belong to the author and are not intended to represent the views of the MC USA Executive Board or staff.
Interested in submitting a blog for Menno Snapshots? Please see our blog guidelines here.[/vc_column_text][/vc_column][/vc_row]