This post is part of Mennonite Church USA's MennoCon21 #BringThePeace series.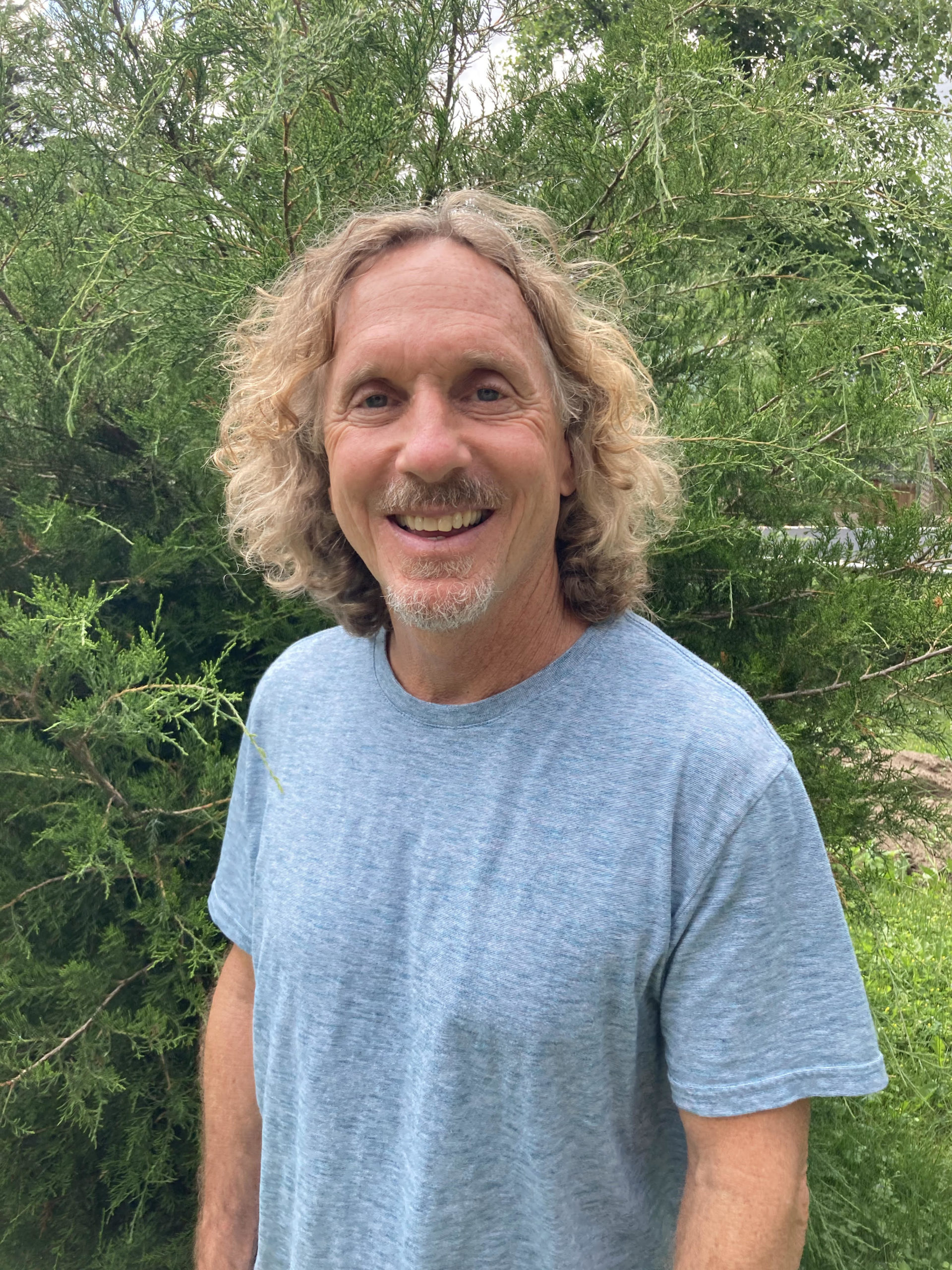 Jerrell Ross Richer teaches courses in economics and sustainability at Goshen College in Indiana.  He also teaches Global Sustainability in the Collaborative MBA program – a joint program with faculty and students from Goshen College, Eastern Mennonite University and Bluffton University.  Each January, Jerrell travels to the Ecuadorian rain forest in South America with his wife, Jane, and their children, as International Service Workers with Mennonite Mission Network.  Their mission focuses on accompanying Indigenous church leaders, supporting children and youth, and promoting community development through ecotourism in the Cofán-speaking village of Zábalo.  
Jerrell studied economics and German at Goshen College and earned a PhD in Economics at the University of California in Santa Barbara. He and Jane have been married for 23 years and moved to Goshen with their four children in 2007, where they attend . The family enjoys hiking, running, bicycling and exploring God's creation on both continents.
Jerrell  will be leading an adult MennoCon21 seminar, "Becoming Carbon Positive", Saturday , July 10 at 9:00 a.m. in Room 262.
____________________________________________________
The first Anabaptists distinguished themselves from mainstream society in authentic and visible ways. They replaced infant baptism with believers' baptism. They resisted conscription into the military. They placed their devotion to Christ above their allegiance to the state.
Today's Anabaptists live in a very different world. Almost 500 years have passed in the life of our church. Our lives and lifestyles would be unrecognizable to our ancestors. Take the case of energy, for example.  Surrounded by modern technologies, we rely on fuels extracted from Earth's crust to heat our homes and power our devices. It is becoming increasingly clear, however, that burning fossil fuels to power the modern economy has two types of costs: the ones we pay for directly and the ones we impose on others.
In my part of the world, electricity costs about 13 cents per kilowatt hour, which is enough energy to power a 10-watt bulb for 100 hours. This covers the costs of production and gives the utility companies a decent return on their investment. But this does not cover the health and environmental costs we impose on others. A 2011 Harvard Medical Center study estimated that the human health costs of burning coal to generate electricity are about 18 cents per kilowatt hour. If these external costs were accounted for, we would pay over 30 cents per kilowatt hour. In other words, our electricity bills should be about two and a half times higher than they actually are.
We live in an interconnected world, one where the actions we take affect people all over the globe.
How can those of us living in the industrialized nations of the global north become pro-active when it comes to climate change? Can our identity as a people of faith adapt in relevant and powerful ways to this new reality?
You may have heard of "carbon offsetting" and the quest to become carbon neutral.  Let's turn these notions on their heads, and focus instead on carbon on-setting and carbon positivity, words chosen to help shift the paradigm and bring about greater awareness and responsibility when it comes to climate change.
The term on-setting is borrowed from an organization called EarthDeeds (www.earthdeeds.org), founded by Daniel Greenberg. There are key differences between on-setting and its well-known cousin, off-setting. On-setting involves pricing carbon at its full social cost, focusing less on exact measurement of carbon reduction, and focusing more on supporting organizations we believe will bring about positive changes in broad and hopeful terms.
Let's take an example: Suppose you calculate your carbon footprint and donate $50 per ton to a nonprofit that plants trees in deforested areas, installs insulation in low-income homes or protects standing forests in the Amazon basin. You do this without spending a lot of time or resources estimating the exact carbon impact of each donation, since this type of measurement is both costly and inherently uncertain. The important thing is to support the organizations that are doing the work as efficiently as possible. Basing your donation on a fairly conservative estimate of the social cost of carbon, $50, rather than the current market price, closer to $10, means that you're probably giving more than required to neutralize your impact — and that's a good thing.
As for being "carbon positive," people have trouble getting excited about the goal of carbon neutrality. The simplest way for a person or organization to do this would be to simply disappear or pass away. Carbon negative sounds even worse. Who aspires to be negative? The alternative I am proposing is to count our carbon as "carbon sequestered minus carbon emitted" rather than the other way around. We begin with the positive aspect — planting trees, protecting standing forests from deforestation, helping others reduce natural gas consumption or invest in alternative energy — and then subtract our own carbon emissions from this base. Ideally, our footprints, measured this way, would be positive, rather than negative, leading to outcomes that are restorative, not just sustainable.
The global economic system has a flaw which may become fatal. We use up Earth's resources and pollute the planet without paying the full costs of our actions.  This applies to most businesses, governments, nonprofits, households and even churches. Carbon onsetting offers a solution to this problem, a mechanism to transform our negative impacts into positive ones.
The time is right for people of faith to step up and become leaders in the sustainability movement.
The three distinctives of Anabaptism identified by Palmer Becker in his book, Anabaptist Essentials — Christ as the center of our faith, community as the center of our life, and reconciliation as the center of our work —reveal how well-positioned the Mennonite church is to provide meaningful leadership in the realm of climate change.  By working together as faith-based individuals and organizations, united by common values and a shared sense of urgency, we can overcome the market failures that threaten this planet and the institutional inertia that holds us back.
With God's help, we can take another step to transform our community of faith into a community of faithful practice.
The views and opinions expressed in this blog belong to the author and are not intended to represent the views of the MC USA Executive Board or staff.