This article is part of our series on Voices Together, the new worship and song collection from MennoMedia, in partnership with Mennonite Church USA and Mennonite Church Canada.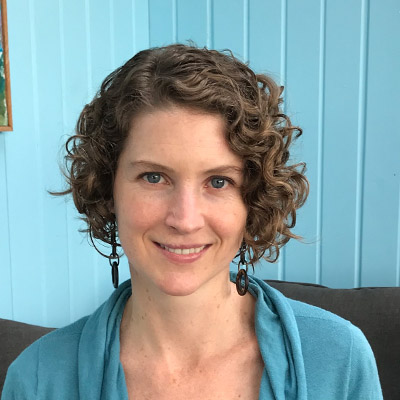 Katie Graber is an ethnomusicologist who studies race and ethnicity in a variety of contexts, including Mennonite music, American music and European opera. She teaches classes on Western music history and world music at the Ohio State University, and she leads singing at her church in Columbus, Ohio. She co-directs the Anabaptist Worship Network and chaired the Intercultural Worship committee for the Voices Together project.
_____________________________________________________________________________
As Voices Together was being compiled, the committee knew it would not only be used by congregations. Schools, nursing homes, camps and other institutions would use the collection for gatherings and worship. To reflect and resource use at camps, the committee decided not only to include favorites from camps but also favorites written by camp staff. 
The staff of Camps with Meaning – the camping ministry of Mennonite Church Manitoba – have been writing theme songs for their summer camps for decades; here are recordings and PDFs of many of those songs. The Voices Together committee screened multiple songs from that list anonymously – along with the thousands of other songs – and chose two for the collection: 609 "Lord, You've Searched Me" and 789 "Be a Sower." The online database Together in Worship includes additional songs and videos from Camps with Meaning.
Darryl Neustadter Barg, who has been instrumental in the Camps with Meaning song writing practices, was part of the Voices Together committee. He advocated for the inclusion of camp songs and other popular idioms, and directed the committee to many sources. In this news article from Canadian Mennonite, Darryl describes some of the reasons the camp decided to write its own music: "There's a million great songs out there, … but they don't do precisely what we can do when we write them for that summer." In other conversations, he has described the process of writing songs as asking the question, "What do we need to help campers say?" 
In addition to the practical use of the songs as a vibrant resource for camp worship, the process of collaborative songwriting provides staff with a unique form of leadership development. Staff who may have never considered themselves to be composers or songwriters may find themselves writing, singing and teaching the new resources. Working together with colleagues to refine a song is a valuable form of team building.
Congregations and other communities could find this process meaningful, as well. Many people feel they aren't qualified to write lyrics or music, but when people come together, they can pool resources, skills and creativity. A few years ago, at my congregation, someone led a song-writing exercise during an adult Sunday school session. I expected people to be hesitant, but I was pleasantly surprised by the way everyone dove into writing new words to existing tunes and trying out other new ideas.
The goal of writing songs – or producing any art – together is not to produce a "big hit" but to make something that is meaningful to individuals and to the community.
For Camps with Meaning, this is true as well – not every song they've written has become well known, though several have spread across Canada to other camps and congregational use. With their inclusion in Voices Together, we hope more communities will become aware of this broader resource and practice.
Another important element of these songs is their Anabaptist origin. When compiling Voices Together, the committee sought to include many Anabaptist voices and especially Anabaptist women songwriters, who have traditionally been excluded from published sources. While Camps with Meaning is committed to sharing copyright, Darryl Neustaedter Barg has noted that many of these songs were written, or predominantly written, by young women. The process invites the creativity of all young Anabaptist people and elevates their work, and singing this music is a way to amplify these emerging and prophetic voices of Anabaptist worship. 
Including Camps with Meaning songs, the following statistics record the number of Voices Together items associated with Anabaptist contributors:
131 songs with text or tune, or both, by an Anabaptist contributor. 

80 individual Anabaptists contributed text or tune. 

110 other worship resources from Anabaptist sources. 

50+ individual Anabaptists contributed words for worship or visual art.
You can learn more statistics about Voices Together in the Guide to Adopting Voices Together and more about Anabaptist contributions in this MennoMedia Youtube playlist: Voices Together – Anabaptist Contributor Series.
---

The views and opinions expressed in this blog belong to the author and are not intended to represent the views of the MC USA Executive Board or staff.