This post is part of the MennoCon23 #BeTransformed series. MennoCon23 will be held in Kansas City, Missouri, July 3-6.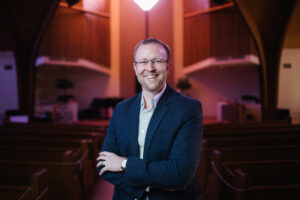 Jon Carlson is the current moderator-elect for Mennonite Church USA and will step into the role of moderator following the conclusion of the July 7 Delegate Assembly. He has served on MC USA's Executive Board since 2019 and is on the board of directors for Lancaster (Pennsylvania) Mennonite Schools. He is the lead pastor of Forest Hills Mennonite Church in Leola, Pennsylvania. Jon is completing his Master of Divinity from Eastern Mennonite Seminary in Harrisonburg, Virginia. He will be speaking at MennoCon23 on Thursday evening, July 6. 
______________________________
How do you know what you know? It's a deceptively tricky question, one that has bedeviled serious thinkers from at least the time of Socrates. Discerning truth from error, right from wrong, fact from opinion is rarely easy. Even our own senses don't always give us a fully reliable understanding of the world. As human beings, we have a nearly infinite capacity to be wrong. So how do we know what we know?
Jesus and his first followers seemed interested in these questions, too. Part of Jesus' proclamation of good news involved calling people to repentance. While we sometimes think of repentance as mostly about feeling sorry for what we have done wrong and promising not to do it again, the Greek word we translate as repentance — metanoia — literally means "to change one's mind." Jesus invites us to consider the possibility that what we think we know might be wrong. He invites us to think again — and to think anew.
The Apostle Paul seemed to agree. Writing to the church in Rome, Paul invited followers of Jesus to "be transformed by the renewing of your minds" (Romans 12:2 NRSV). This transformation brings us out of bland conformity with the pattern of this world and into a space of discernment — recognizing God's good, pleasing and perfect will. Our journey of faith involves a continual, ongoing transformation of what we think we know. Following Jesus means accepting that we might be wrong and being willing to rethink … almost everything.
Our brains, however, seem wired to resist transformation and change. As Kathryn Schulz, author of "Being Wrong," writes, "As absurd as it sounds when we stop to think about it, our steady state seems to be one of unconsciously assuming that we are very close to omniscient." We imagine a very close correlation between our mental model of the world and how the world really is. We reflexively think we're right, which makes recognizing when we're wrong almost impossible. As Schulz notes, from the vantage point of our own minds and bodies, being wrong feels exactly like being right. "We can be wrong, or we can know it," she writes, "but we can't do both at the same time."
That's why I'm so excited for the opportunity to explore how transformation happens within community. On the final night of MennoCon23, we'll consider how communities — particularly diverse communities in which people don't always agree — can become transformative. If recognizing when I am wrong is almost impossible, then maybe I need something outside of me to spark transformation.
Perhaps we change our minds best when we are in meaningful relationships with people who know things we don't.
During Thursday evening worship, we'll look at Jesus' Sermon on the Mount and discover some surprising hints that these may have been exactly the types of communities Jesus envisioned. We'll also find stories of transformative communities within the Hebrew Scriptures.
This is part of what I love about the Anabaptist-Mennonite tradition. We believe that the work of interpretation — of figuring out what is right — happens best in communities guided by the Holy Spirit. As I've experienced relationships with people who see and understand the world differently than I do, I've discovered that I've been wrong about some things. In that experience — as uncomfortable as it can be — I've encountered God's remarkable grace.
Creating meaningfully diverse communities of mutual transformation takes work. Right now, it seems like the "pattern of this world" pushes us toward less and less diversity within our communities. Whether it's because we're passionate about justice or concerned about purity or simply most comfortable with people like us, we all experience intense pressure to band together in like-minded communities. The forces of conformity and homogenization are strong — strong enough to make us deny reality. Sometimes our conformist communities perpetuate shared errors rather than catalyzing true transformation. We need meaningful connections forged across differences.
At times, difference can feel dangerous. It seems safer to gather with people who are already right about everything. Trusting Jesus, though, empowers us to embrace differences, even strong and significant ones. If we're willing to take the risk, we can continually experience change, transformation and renewal of our minds. I'm looking forward to being part of a community of transformation at MennoCon23 in July.
---

Register for MennoCon23 by May 14 to receive the discounted early bird rate!
---
The views and opinions expressed in this blog belong to the author and are not intended to represent the views of the MC USA Executive Board or staff.
Interested in submitting a blog for Menno Snapshots? Please see our blog guidelines here.