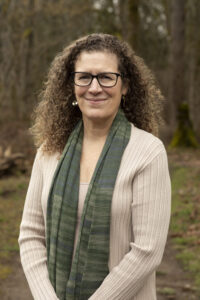 Melanie Springer Mock is a professor of English at George Fox University, Newberg, Oregon, an evangelical Friends institution, where she primarily teaches first-year writing, memoir and journalism courses. She is author or coauthor of several books. Her essays and reviews have appeared in Ms. Magazine, The Nation, Christian Feminism Today, the Chronicle of Higher Education, Runner's World, and Inside Higher Education, among other places, and she is a regular reviewer for Anabaptist World, Red Letter Christians and Christians for Social Action. Melanie and her husband live in Dundee, Oregon, and have two 19-year-old sons. She is a stepmom to two adults and "Nani" to two grandsons. In her free time, Melanie enjoys running, swimming, biking, knitting and watching reality television.
Melanie's most recent book, "Fining Our Way Forward: When the Children We Love Become Adults," released in February 2023, from Herald Press, is the MennoMedia CommonRead from April-June.
______________________________________________________
A couple of weeks ago, a news site reported that the George H.W. Bush aircraft carrier was spotted traversing the Strait of Gibraltar, headed into the Atlantic Ocean. Never one to be concerned about the movement of U.S. Naval Forces, the picture of the carrier accompanying the story made me cry. My son was somewhere on that big ship, and after almost eight months, he seemed to finally be headed toward home.
We hadn't been able to talk to Benjamin often during his deployment, only a rare phone call when his ship was in port, or the occasional text message. In an age of immediate connectivity to each other, this silence meant Benjamin's life was mostly a mystery, and our lack of familiarity with the military gave us little context for what Ben was experiencing, whether he was safe, even where he was in the Mediterranean Sea.
In "Finding our Way Forward: When the Children We Love Become Adults," I write about being a deeply committed pacifist with a son in the Navy and how that dynamic has challenged and transformed me. Spoiler alert: I'm still a pacifist. Ardently so. And yet, my son's enlistment two years ago has helped me understand the contours of my pacifism, compelling me to confront my bigotry regarding those in the military and my arrogance about thinking I knew God's will for my son's life better than he did.
Releasing both my sons into adulthood has been the hardest part of parenting but also the most rewarding.
After 18 years of preparation, my kids have charted their own pathways, ones far different than what we dreamed for them. They've also been launched into a world beset by chaos: A pandemic has killed millions worldwide; political unrest in our country has turned neighbors against one another; George Floyd's murder in 2020 has emphasized the need for racial reckoning; and places we once considered safe, like church sanctuaries or schools or movie theatres, are now soft targets for gun violence.
As parents and mentors to young adults, we may not know how to navigate this chaos ourselves, let alone provide direction for those in our care. It's difficult to know how to help others when we also feel lost, living in what we've heard ad nauseum are "unprecedented times."
When finding our way forward together may seem impossible, it's easy to feel despair, and to wonder what God wants us to do.
The prophet Micah lived during unprecedented times, as well, and knew firsthand what it meant to face a world on fire, the evils of corrupted power and injustice afflicting Israel. Micah 6:8 outlines how people should respond. What were his listeners called to do when challenged by inequities? Micah says that God "has shown you … what is good. And what does the Lord require of you? To act justly and to love mercy and to walk humbly with your God" (NIV). I am drawn to the seeming simplicity of this prescription — three clear, compelling steps God wants us to take, a map for us and for the young people we love.
Walking with humility has been a particular challenge for me, even though I was raised in Mennonite communities in which humility was almost synonymous with godliness. Having a son in the Navy has been, without a doubt, a humbling experience, exposing the places where my pride and certainty separated me from others, including my own son. His willingness to extend loving mercy to me is an important part of our story, as are the lessons he's teaching me about acting justly within a military system I'd long believed was homogenous in its ethos.
We often assume that older people are to serve solely as guides to future generations. But in my experience as a parent — and as a college professor — I've discovered that young adults have so much to teach us, if only we open our hearts and allow ourselves to be transformed. Over the past few years, as my sons morphed from children to adults, I've recognized the work to which I'm called is similar to what is required of us all: to do justice, love kindness, walk humbly, love others and love God. These callings are tempered by God's unending grace, which catches us again and again when we fail.
Benjamin's aircraft carrier landed in Norfolk, Virginia, on April 24, and his ship's homecoming was featured on national news. I tearfully watched families reunited after months apart and breathed a prayer of gratitude for Benjamin's safe return. At the same time, I'm acutely aware of mothers in Ukraine and Russia and other war-torn places, whose children won't be coming home, felled by unnecessary war.  My prayers each day turn to them, to what they've lost and to my deep longing for peace, abroad and in our communities at home.
I also pray that the creativity, empathy and passion of our young people will save us from the horrors we're all facing. I have hope that they will lead us, if we model for them the wisdom of Micah, and the exhortation of Jesus in the Gospels: to love God and love others. In doing this, we will find our way forward into the unique places God calls us to be, including, perhaps, an aircraft carrier, having just recently set its course toward home.
---

Mennonite Church USA, Mennonite Church Canada and Herald Press are partnering to encourage every Mennonite to read carefully selected books to equip the church during this time. Learn more here: https://www.mennomedia.org/commonread/.
---
The views and opinions expressed in this blog belong to the author and are not intended to represent the views of the MC USA Executive Board or staff.
Interested in submitting a blog for Menno Snapshots? Please see our blog guidelines here.