This blog is in celebration of Asian American and Pacific Islander Heritage Month.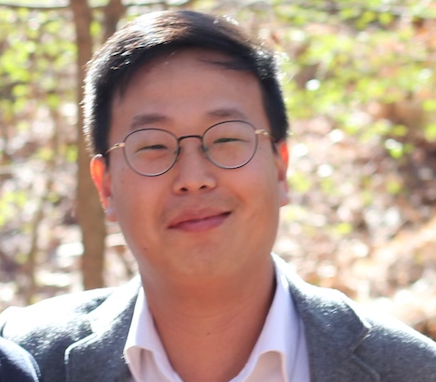 Steve Chun is originally from Virginia Beach, Virginia. He, his wife, Lauren, and their dog, Phineas, currently live in Portland, Oregon. He is currently a member of Pasadena Mennonite Church. In his free time, he enjoys hiking, reading, and trying new foods and drinks. He loves studying the Hebrew Bible, with an emphasis on monster theory.
______________________________
As Asian American and Pacific Islander heritage month comes to a close, one word, concept, and/or idea comes to mind:  resilience. I can't help but feel a sense of mockery surrounding the decision to choose the month of May to represent a group of people stereotyped as polite, silent, and timid — if I may, a "may I" demographic. At the same time, I can't help but notice the contradiction of the typecast as I reflect on my own experience as a second generation Korean American. I think of the food I grew up eating, which in my opinion, leans into bold and robust flavors that announce their ingredients, rather than attempting to shy away. Whether it be the overwhelming aroma of kimchi or the fiery determination of its creator, I cannot help but see strength rather than timidness, confidence over constraint — especially in our enthusiasm to share our food with others.
Every bite of Korean American cuisine brings with it a story of a people who survived.
While kimchi serves as a primary icon, it is one of many banchans (small plates) within the gamut of Korean cuisine. A lesser known, but distinct banchan is made from kkaenip 깻잎, or in English perilla.[1] Kkaenip is a green or purple — sometimes both — oval-ish, textured leaf, bordered by sharp ridges. Its seeds are small and round, similar in appearance to tiny pebbles. While perilla's appearance is not particularly notable, its smell and taste are truly unique. Kkaenip is an extremely fertile plant, even weed-like, depending on the gardener's perspective; many have paid the price for spilling seeds in the wrong location. One time, my friends and I joked that kkaenip would grow on a concrete driveway, if given the chance.
As I walked my dog around the outer loop of my neighborhood, in Durham, North Carolina, a familiar but strange aroma greeted me. The fragrance of kkaenip made itself known, even in the midst of all the competing vegetation. I looked down with expectation to see the rows of kkaenip emerging from beneath the shade of the blackberry bushes — another plant known for its out-of-control growth. However, patches of kkaenip surrounded the bushes, thriving in this strange environment. I couldn't help but wonder about the hands that planted it. The very sight of the plant filled me with a strange sense of comfort. The seedlings made the journey in hopes of cultivating some remnants of homeland for the gardener. It was a plant that survived long after its sower's departure.
While many of us grow or care for gardens for various reasons, many Korean Americans grow gardens to maintain their identity.
Jeremiah 29 is often referenced as a "feel good" passage, which does not make much sense to me. To be honest, I struggle to find the "hope" in the prophet's letter. Chapter 29 responds to the previous chapter in which Hananiah predicts a short exile. Instead, Jeremiah writes that the exile will be long. The "feel good" comes only after 70 years of exile. Instead of hope, Jeremiah 29 appears to be a passage about how to endure — a survival guide rather than an escape plan. The prophet relays the word of God, a blueprint for existence in a foreign land. Planting gardens serves as one of 10 commands given to the people in exile in Jeremiah 29:5-7. I like to think of the ancient Israelites growing the things that reminded them of home. Something that brings them comfort, as they are now strangers. Similarly, I like to think of kkaenip as one plant that Korean Americans grew in order to survive in America.
Kkaenip, or perilla, serves as a way to maintain some sense of identity. Many of us Korean Americans do not have the ability to speak Korean well, if at all. However, our preferential taste survives. The seeds brought by our parents and elders, which now grow in a foreign land, allow us to hold on to one aspect of our tongues — our taste. The resilience of the plant serves as an example of our history. At the same time, the unique, yet bold, taste of kkaenip, like kimchi, reminds us to embody their essence. It's a plant that allowed Korean Americans to maintain their palate, while living in a foreign land. It's a way to get a taste of home before the growth of H-Marts. Thus, the indescribable flavor of kkaenip is resilience.
---
[1] Other variants of perilla exist, but I am specifically referring to the Korean species.
The views and opinions expressed in this blog belong to the author and are not intended to represent the views of the MC USA Executive Board or staff.