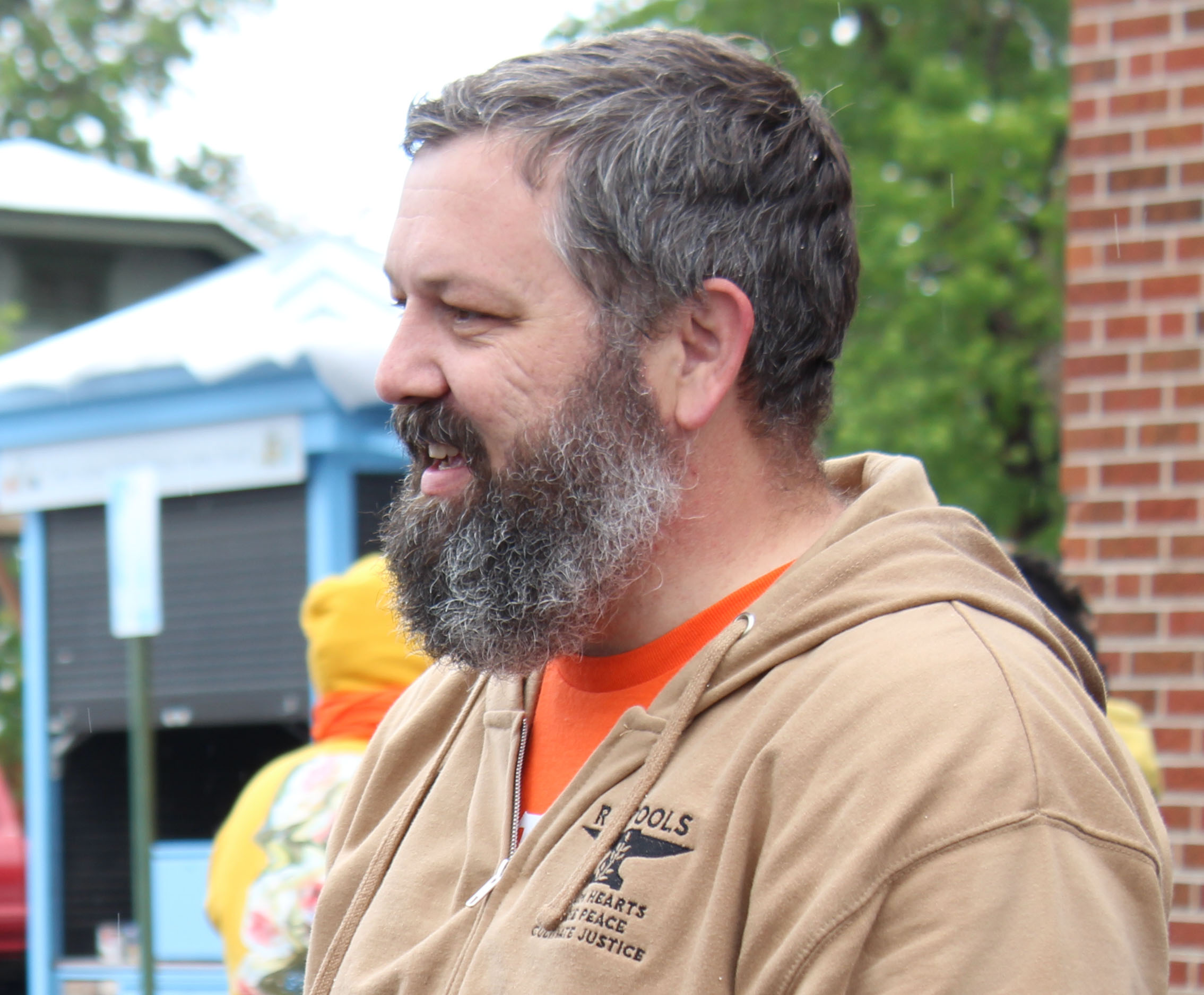 This post is part of Mennonite Church USA's #BeTransformed series. 
Participate in the RAWtools art auction to support the MC USA Justice Fund.
Mike Martin is the executive director of RAWtools, Inc., a passion ministry of Mountain States Mennonite Conference. He is also a co-author of "Beating Guns: Hope for People Who Are Weary of Violence." Mike attends Beth-El Mennonite Church in Colorado Springs, Colorado, where his wife, Hannah, is the children's pastor. Mike and Hannah have 2 very lively boys, who love ice cream, animals, Legos and dinosaurs.
___________________________________
RAWtools started just after the Sandy Hook Elementary school massacre. As I was planning with national partners to recognize the 10th anniversary of the Sandy Hook massacre in December 2022, a shooter entered Robb Elementary School in Uvalde, Texas, killing 19 students and two teachers. Every day we lose over 110 people to gun violence, and mass shootings are a very small percentage of those lives lost. More than 10 kids, aged 17 or younger, die from gun violence every day.
Gun violence is now the leading cause of death for children in the U.S., surpassing car accidents in 2020.
Transforming guns into garden tools over the past nine years has completely transformed me. While the words of Isaiah and Micah calling us to turn swords into plowshares give us a very literal picture in our minds, I am now convinced that transforming guns that bring death into tools that bring life ignites a fire to change more of what we can't always see or physically hold. Exchanging one tool for another also exchanges one process for another. I am fundamentally different with a garden tool in my hand than with a gun in my hand. I view and interact with the world in different ways. This is the call of Isaiah and Micah — that we are followers of a God that calls us to be an example of life in a world of death.
In the wake of the shootings in Buffalo, New York; Uvalde; Tulsa, Oklahoma; and the other mass shootings, which in 2022 now number higher than the number of days in 2022, our faith communities can be models of this way of life to our neighborhoods. We can be the place where people can not only have unwanted firearms disabled but also transformed into a new purpose.
A gun in the home is more likely to be used against its owner or someone they love than against an intruder, even more likely if the owner is a woman, and even higher still if they are a person of color or identify as LGBTQIA2+. [i] We also know that gardening and greening communities reduce violence and increases mental health.[ii] We enact very real and positive change in our communities when we decrease access to firearms and increase access to creating life outdoors.
Last week, I received an email from a man who inherited six firearms from his dad, and even more were inherited by his siblings. He has grown irritated with gun culture, but he also has a child with medical needs and is turning the guns into tools to be used in their therapy garden. At a recent buyback in Denver, Colorado, a woman turned in a firearm that her son had used to complete suicide. She did this specifically so she could watch the firearm be destroyed. At the same buyback, a man turned in two handguns, because he struggled with depression and anxiety and had been close to using them against himself. He took comfort in getting rid of them, but he was also encouraged by what they were to become.
It's not just that we believe plowshares are better for our communities than swords; it's that the transformation goes beyond the literal.
Multiple states make it illegal for law enforcement to destroy firearms. Many law enforcement agencies don't want to handle unwanted firearms. In fact, many that fund or support our buybacks in Colorado are happy to not carry the liability of processing these firearms at buybacks or in their building lobbies — they do take unwanted ammunition, though.
In 2021, RAWtools partnered with MC USA to encourage its congregations to become a part of the RAWtools disarming network. RAWtools makes garden tools from guns to support our work, but what can't be made into tools is made into art. One such piece is now available at auction on our website. All art made from firearms disabled at MC USA churches will be sold to support the MC USA Justice Fund, which, in turn, supports MC USA churches that are actively involved in dismantling racism, addressing police brutality, reimagining policing in our society or combating poverty.
"Never Forgets Peace" is a sculpture made by Bryan Miller of Beth-El Mennonite Church. Miller states, "Forging this piece got me to look at the basic forms within guns, beyond their natural function. Joining the weapons into a majestic creature may help remind us to look beyond the obvious and find emerging goodness all around us."
Many people in our country, even those who have kids in elementary school, are not far from inheriting a mass of firearms. The next two generations will inherit hundreds of millions of guns. These generations have the opportunity to transform their inheritance. They have the opportunity to change the narrative they tell their kids. They have the opportunity to turn swords into plowshares, to train for war no more, and to build a world where kids sit at their desks, under a vine and fig tree, in fear of no other.
---
[i]http://www.zocalopublicsquare.org/2016/08/06/americans-mostly-kill-ones-know/ideas/nexus
[ii] https://www.neefusa.org/health/outdoor-activity/how-greening-communities-can-reduce-violence-and-promote-health?fbclid=IwAR0yroq16Ie7HXUn-0Mw_Rb89Yy2TMWnPRk7_4GWlLFEGRKDxndrVB15_IE
---
Resources:
Connect at rawtools.org.
Get a copy of Beating Guns
RAWtools and Mennonite Central Committee co-wrote the following resources:
FEAR NOT: Creating a Plan to Respond to Active Violence
A Loaded Conversation: An Invitation to Talk About Guns
---