This post was first shared in the Souderton Mennonite Church 2023 Lenten Devotional. Shared with permission.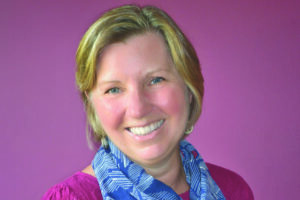 Dawn Moore is retired from Christian History Institute's editorial staff and now spends her time hanging out with her grandchildren and running an Airbnb in Lancaster, Pennsylvania.  She is a member of Souderton (Pennsylvania) Mennonite Church and enjoys long walks, yoga, conversation and reading in her free time.
_________________________________________________________
Lent is a great time to try a new spiritual discipline.  I'm not sure this counts as a spiritual discipline, but this year I've been intrigued by the poetic form known as haiku. In this traditional Japanese form, poets express a feeling or idea in just a few words.  Typically, this means five syllables on the first line, seven syllables on the next line, and five syllables on the final.  That's three lines with 17 syllables. I've found it constructive to read a passage of Scripture a few times, ask the Spirit's guidance and, then, work to capture a main thought in haiku.
Today's devotional Scripture, Matthew 21:1-11, is familiar — perhaps too familiar?  The donkeys, the perfectly good cloaks spread out like the plush red carpet of an award's show to cushion the feet of pack animals, the expectation of a conquering king. And then that word that stopped me short: "Hosannah!"  In English we hear this as an exclamation of praise, but in Hebrew — see Psalm 118:25-26 — it actually means "save, we pray!"  With all of this in mind, I offer my haiku:
Jesus! Save, we pray!
Cloaks and branches for our "King."
But will we follow?
The mathematician Blaise Pascal is credited as the first to apologize for writing a long letter, as he hadn't enough time to write a short one.  Please consider forming your own haiku based on today's Scripture.  Don't feel constrained by the 5-7-5 form.  The important thing is to take the time needed to focus on what the Spirit is saying to and through you today. Then capture that in three lines. I hope you will share your finished haiku with others.
The views and opinions expressed in this blog belong to the author and are not intended to represent the views of the MC USA Executive Board or staff.
Interested in submitting a blog for Menno Snapshots? Please see our blog guidelines here.