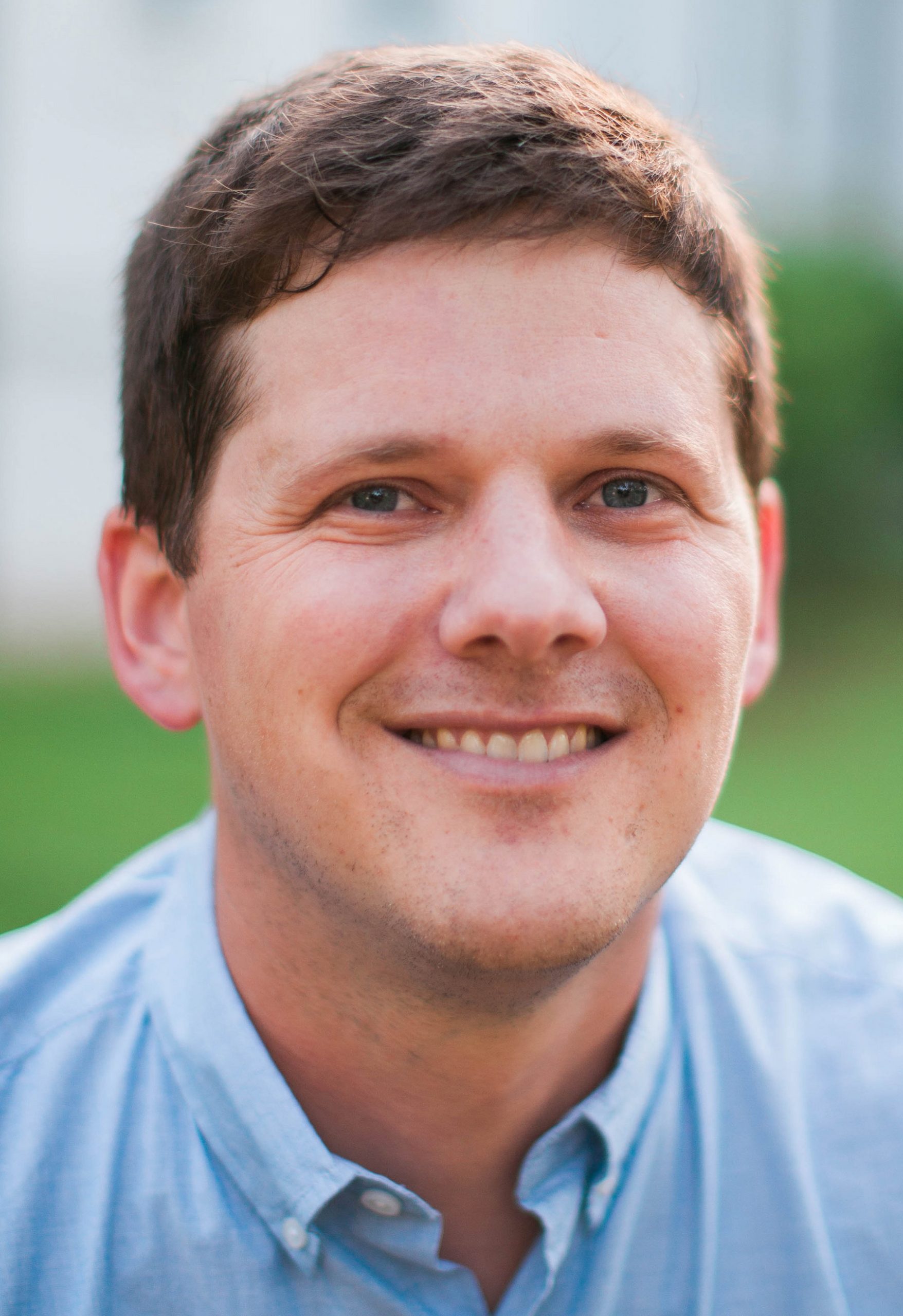 Jason Kauffman is director of Archives and Records Management for Mennonite Church USA.
Since reopening in May, I've had many chances to greet visitors and give them a tour of the new MC USA Archives in Elkhart.
After showing them the reading room and storage vault, conversation usually shifts to the documents themselves. I've gotten pretty good at answering the most common questions: What kinds of documents do you have? What are your oldest records? What is your largest manuscript collection? Does anybody actually use these?
Some of the most frequent questions I get revolve around the use of digital technology to make archival collections available online.
Q: How much of this is digitized?
A: Actually quite a bit, but only a smaller percentage of this is available online.
Q: Why don't you just scan everything and put it online?
At first glance, the answer to the second question seems straightforward, especially in these days of unlimited cloud storage and seemingly unbounded technological innovation. Digitizing documents and photographs and putting them in an online archive would decrease the need for shelf space and make them accessible to any researcher with a computer and an internet connection.
A digital archive could expand the reach of the MC USA Archives to people around the world!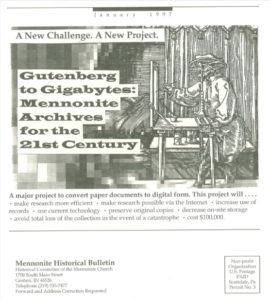 This was the same inspiration behind the Gutenberg to Gigabytes (GtoG) project, which was conceived by John Sharp (director of the (old) Mennonite Church Historical Committee) over 20 years ago in 1996. After several years of fundraising, in 2003 Sharp and a team of staff and volunteers began an ambitious, multi-year scanning project to create a digital "Mennonite Archives for the 21st Century." By 2009, the project had yielded thousands of digitized documents and photographs and were posted on the archives website. Just a year later, however, director Rich Preheim and archivist Colleen McFarland decided to remove the digital files from the website.
What happened? While Gutenberg to Gigabytes achieved much progress in the actual digitization of records, it did not establish the infrastructure necessary to make them accessible to researchers online.
Due to rapid changes in technology, digital archives must not only provide access, but they must incorporate digital preservation measures to maintain the integrity of the files and ensure that they continue to be usable in the future.
Digital content management software such as DSpaceDirect can achieve both goals — access and preservation — but it is expensive. That is why the GtoG project chose to host files on its own webserver.
Rather than the comprehensive GtoG approach, McFarland chose a more targeted approach to digitization. She identified smaller, defined projects and secured grant funding to support them, often in collaboration with other institutions such as Goshen College or Anabaptist Mennonite Biblical Seminary. Under her leadership (director, 2012-2015), the archives built the John Howard Yoder Digital Library and created a Flickr photostream to provide online access to archival photographs. Unlike other content management systems, Flickr provides a low-cost option for storing large quantities of photographs and providing access to the public. Since 2010, archives volunteers have scanned and uploaded over 9,000 photographs that have been viewed over 9 million times by viewers from around the world. This year, the Anabaptist Mennonite Digital Collaborative also digitized the entire run of the Mennonite Historical Bulletin (1940-2012) and put it online through the Internet Archive.
Collections that document the rich history of our denomination continue to arrive at the archives. For example, I recently received 18 oral histories recorded at the Minority Ministries Council Conference at Goshen College in April. Rather than sitting on a webserver, these interviews (36 hours of recordings!) should be available online so the broader Mennonite community can know and learn from the stories of these overlooked leaders and their efforts to dismantle racism in the church. Other records — such as the film and audio recordings of the Mennonite Board of Missions and the Mennonite World Conference — will eventually be unusable without digital preservation. I routinely communicate with researchers from around the world seeking access to these and other materials in our collection.
Wouldn't it be great if we could make more of this history available in a single digital archive? Like my predecessors, I continue to explore the best ways to make this dream a reality. Such a project will require long-term support and commitment, but I'm convinced it is worth the investment. More importantly, it would move the archives one step closer to achieving its mission to "inspire people worldwide to follow Christ by engaging them with the historical record of Mennonite Christian discipleship."
If you would like to support this work, you can donate to the archives at the here.