Lent begins with Ash Wednesday, March 2, 2022. We will share weekly Sc

ripture readings, prayers and rituals for all ages to observe

Lent At Home, as well as special rituals for Ash Wednesday, Maundy Thursday, Good Friday and Easter. You can follow the series on the blog and/or

 

download the full Lent At Home worship guide and calendar here.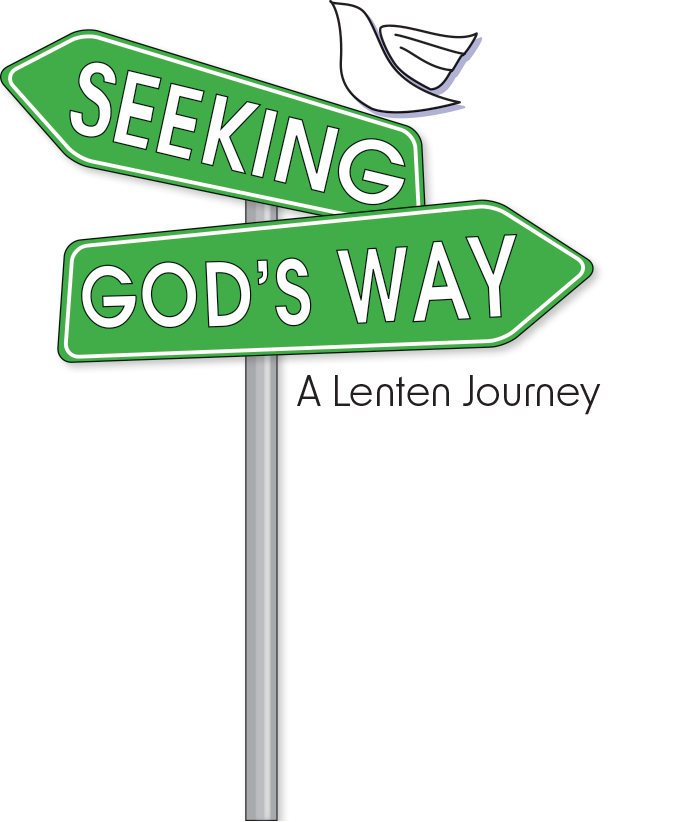 Week 1, March 2-5: Seek God's Ways
Light seven candles.
Prayer: Jesus, we confess that we sometimes miss the mark. Reveal your ways to us. Give us wisdom to know when it's time to shout and when it's time to be quiet as we follow you. Amen.
March 2: Do the Ash Wednesday Ritual in this resource, or attend a communal Ash Wednesday service.
March 3: Read Joel 2:12-17. What does it look like for you to "return to God" with your whole heart?
March 4: Read Isaiah 58:1. What do you see that's unjust in the world? Go outside and shout about it.
March 5: Read Matthew 6:1-2. Do an anonymous act of kindness for someone.
---
Note that this simple ritual can easily be adapted for a corporate setting. In fact, it is based on an all-age Ash Wednesday service from College Mennonite Church in Goshen, Indiana.
What is Ash Wednesday?
• Ash Wednesday marks the beginning of Lent.
• We confess our humanity. We are humans, not gods.
• That means we miss the mark. We hurt others. We break relationships.
• And being human means we are created by God, in the image of God. It means God sticks with us.
• Being human means we are an integral part of creation, created to live in community with God, ourselves,
others and all of creation.
• To be human means to be deeply connected with God's sustaining creation – with the water that cleanses and renews us, the fire that refines and comforts us, the wind that moves us, and the earth from which we come and is our life source.
On Ash Wednesday, we dig deep and start to discover what it is that keeps us from being our best human selves.
Prepare for the Household Ritual
Ashes
• Traditionally, we burn the palm branches from the previous Palm Sunday, but you can burn any organic material to make your ashes.
• Mix them with a bit of oil (olive oil is great) to help them stick together.
Stations
• Earth: A container with some soil (preferably good, rich soil!) and a towel to wipe off hands.
• Fire: A "Christ candle" (maybe use your candle from Advent) and enough other candles with candle holders for every member of your household.
• Water: A pitcher of water and some small cups.
• Air: A bottle of bubbles and bubble wands.
• Print out the Scripture passages and the reflection and action instructions for each station if you want the stations to be self-guided. Otherwise, you can just read these for each station.
Do the Ritual Together
Introduction: Introduce the ritual by explaining the meaning of Ash Wednesday. You could read through all of "What is Ash Wednesday," or choose points from it that are most helpful for your household. You may want to play this Ash Wednesday playlist (https://spoti.fi/37kVXbv) softly in the background (Free Spotify account required).
Imposition of Ashes: Anoint each other's foreheads (or your own forehead) with ashes in the shape of a cross. Speak the words, "From dust we come, and to dust we will return." Genesis 3:19
Explore Your Humanity: You may want to do each thing as a household, or let everyone explore at their own pace. Very young children will probably need to partner with a grown-up. There is an option for a (very simplified) reflection for young children.
Earth
• Scripture:
• Genesis 2:7, 9
• Genesis 2:19
• Ecclesiastes 3:19-20
• Reflection and Action:
• We come from good soil that has been shaped and brought to life by God. And we will return to the soil.
• Put your hands in the soil. Touch it. Smell it. Look at it closely.
• God has taken great care to create you from good soil. God has taken great care in creating all living things from good soil. And God takes great care as soil receives death and decay. What remains is good soil, ready for God to use, again and again.
• For young children: "Like things grow in this good soil, the love of Jesus grows in me." Explore the soil.
Air
• Scripture: Joel 2:28-29
• Reflection and Action:
• The Holy Spirit can be a gentle breeze that lightly lifts a fallen leaf or a rushing wind that rearranges the world. The Spirit moves around us and through us, connecting us in our very human form
to our Creator.
• Blow some bubbles, and as you do, notice the way your breath helps to create them. Observe the different kinds of bubbles that form when you blow with a gentle breath or with a stronger breath.
• Imagine the Holy Spirit creating in you the way that your breath creates the bubbles. What dreams and visions might the Holy Spirit be stirring in you?
• For young children: "Jesus gives me life and makes me move." Blow bubbles.
Fire
• Scripture: Psalm 51:15-17
• Reflection and Action:
• Light a small candle from the Christ candle.
• Reflect on the ways that the light of Christ provides direction, comfort and challenge in your life. What are the things that block the light of Christ in your life? What are the "burnt offerings" you're tempted to offer in place of walking in the light of Christ?
• Sit (or stand) with the light, inviting an awareness of God's presence with you.
• Pray for courage to face whatever lies before you and to walk in the ways revealed to you by the Light of the World, Jesus Christ. As a sign of hope and courage, leave your lit candle in the candle holder until you blow it out at the end of this Ash Wednesday ritual.
• For young children: "Jesus, show me your way." Light a candle.
Water
• Scripture: Isaiah 58:11
• Reflection and Action:
• Pour yourself a glass of water. Watch as the clear, clean water fills your cup.
• Drink the water, paying attention as it washes through your mouth, down your throat, through your chest and to your stomach.
• Imagine it making your bones strong, washing through you to renew and refresh you.
• Say a prayer of thanks for God's provision and renewal.
• For young children: "Jesus gives me what I need." Drink some water.
Closing:
From the adamah (the Hebrew word for soil) of the earth, God shaped us and breathed life into us. Nothing separates us from the love of God. One day, we will all return to the earth from which we've been made, fed, nurtured and sustained, and out of which new life comes. What a glorious circle of life!
Ashes to ashes.
Dust to dust.
Life to life.
Love to love.

Visit MC USA's Faith Formation page to find a one-stop hub of formation resources for all ages, curated through an Anabaptist lens.