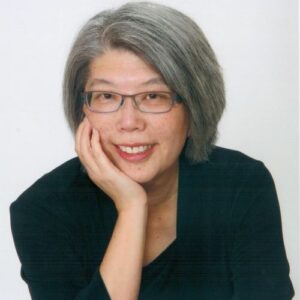 April Yamasaki will be one of two keynote speakers for the Pastors and Leaders Conference at Anabaptist Mennonite Biblical Seminary: Reimagining Ministry, Feb. 13-16, 2023. After 25 years as lead pastor of Emmanuel Mennonite Church in Abbotsford, British Columbia, April sensed a new wind of the Spirit to end her leadership role with the congregation and minister more broadly, through writing and speaking. She currently serves as resident author with Valley CrossWay Church, a liturgical worship community in Abbotsford; as editor of MennoMedia's "Rejoice!" quarterly devotional magazine; and as a frequent guest speaker in churches and other ministry settings. Her published books include "Sacred Pauses: Spiritual Practices for Personal Renewal" (Herald, 2013); "Four Gifts: Seeking Self-Care for Heart, Soul, Mind, and Strength" (Herald, 2018); "Christ Is for Us: A Lenten Study Based on the Revised Common Lectionary" (Abingdon, 2016); and "On the Way With Jesus: Sermons for Lent and Easter Based on the Gospel Texts" (CSS, 2019). Her next book is a collection of sermons to be published in 2023.
_________________________________
Three years ago, if you had asked me if my church would consider worshipping online, I would have said, "I can't imagine that."
We were a small liturgical worship community, grounded in the reading of Scripture, prayer and the classical music tradition. We read Scripture and sang songs from the liturgical booklet that our worship team put together each week, printed, stapled and handed out to everyone on Sunday mornings. There was no screen at the front of our worship space for song lyrics or sermon slides. Our focal point was the cross — crafted with great respect and care out of yellow cedar by a skilled carver in the Stó:lõ tradition. The church was up close and personal with no apparent desire to expand their use of technology.
Today, we are still a small liturgical worship community, but our use of technology has changed. Now, on Sunday mornings, we have a hybrid worship service, both in person and on Zoom —which is often lovingly referred to as our "back row". During times of congregational sharing, we hear from those in our physical worship space and those online. People serve as Scripture readers and speakers both in person and online.
During the pandemic, I started preparing PowerPoint slides to go with my sermons, as I did in my previous church. Now I do that for each of my sermons, and the slides are shared on Zoom and projected on the wall beside the cross at the front of our worship space. What I wouldn't have imagined three years ago has become our reality.
I can't say that the church went through a deliberate process to reimagine ministry in these ways.
Perhaps, in our case, it's more that the pandemic reimagined us.
We were taken to a place that we did not imagine for ourselves. Ministry became different for us, and we went with the changes.
When we started worshipping again in person, we continued with Zoom, which allowed people to return to in-person worship at their own pace. Some remain online, due to mobility or other issues that keep them at home. Some live at a distance, too far to commute. Some mainly worship in person but connect online when they're out of town, or getting over COVID-19, or recovering from surgery. One Sunday, on Zoom, we had two people in Australia — very early Monday morning their time — one person who was travelling in France — Sunday evening her time — and the rest of us locally on Pacific Time. Three years ago, I wouldn't have imagined that.
But it was a beautiful reminder of the world-wide body of Christ, and to my mind, it's also a beautiful example of ministry reimagined.
At the AMBS Pastors and Leaders Conference, I'll have two teaching sessions:
The first will be focused on what we can learn from Jesus — how he was both grounded and engaged in ongoing ministry, imagined and reimagined.
And the second will be focused on what we can learn from Elijah and his experience of burning out, hitting bottom and reimagining a new way forward.
As part of the conference, there will also be plenty of time for personal reflection, group discussion and much more. For more about the conference and to register, please see AMBS Pastors & Leaders Conference. Registration closes Jan. 30.
The views and opinions expressed in this blog belong to the author and are not intended to represent the views of the MC USA Executive Board or staff.
Interested in submitting a blog for Menno Snapshots? Please see our blog guidelines here.