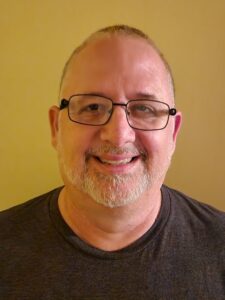 Jeff Landis is the conference minister for Gulf States Mennonite Conference. He and his wife, Cheryl, attend Jubilee Mennonite Church in Meridian, Mississippi. He graduated from Eastern Mennonite University  in 1990 and is currently an ESL (English as a Second Language) teacher for the Lauderdale County School District.
_________________________________________________________
I was not a big fan of drinking water growing up. My motto was, "Anything but plain water." My parents did not buy many soft drinks for me, so when I got one, it was a special occasion. When I learned how to make Kool-Aid for myself, it was incredible. My brothers and I probably finished off three to four gallons of that wonderful sugar water every summer day. When I came back south after college, I discovered sweet tea, which would become my favorite drink for decades. Our tea maker is still my favorite wedding gift that Cheryl and I received, although today it mostly makes unsweet tea.
My attitude towards water changed in my mid-forties, when I got my first kidney stone. Apparently, water is important to our bodies.  When I found out that water was my best defense against future kidney stones, no one had to tell me twice. I still drink coffee, unsweet tea and the occasional diet soft drink, but water, especially with a little lemon juice in it, is by far my drink of choice these days.
Water is on every basic human need list that I have seen. It is right up there with food, clothing, shelter, sleep. God creates us with these needs, and God gives us these feelings and desires, like thirst, to remind us that our needs are important. I'm thirsty; I need water.  I'm hungry; I need food. I start to shiver; I need clothes and shelter for warmth. I yawn; I need sleep. God knows that sometimes we forget important things, so we humans have built-in reminders.
Thirst reminds us that we need water, and this is not just a one-time need. This is a daily need. We wake up needing water every day.
When I read the stories of the people of Israel in the wilderness, it seems like God is trying to remind me that God is ready, willing and able to provide everything we need. God can meet all our needs: water, food, safety, protection, relationship, belonging, purpose, love, and the list goes on. God can meet our physical needs, and God can meet our heart-felt soul needs. Notice I said, "needs" and not "wants."
We look at our neediness sometimes, and it bothers us. It is annoying how weak we are sometimes. We want to be strong. We want to be in control. I loved it when I could make Kool-Aid for myself and my brothers, but I think we can all admit that water would have been better for me.
Many summers, I worked for my dad, painting houses. We spent one summer working mostly on one big house, sanding the peeling paint down to the bare wood, caulking and priming and putting two coats of paint on every board outside that house. We tried to work on the shady side of the house, when we could, but it did not matter. This was southern Alabama, and we were drenched in sweat 15 minutes after we started each day. I remember praying for thundershowers. The owner must have noticed and decided to bring us something to drink every two hours every day we were there. We had our own water jugs, but she brought us each a tall glass of Coca-Cola with just the right amount of ice four times each day. I loved it, but even I must admit that it never really quenched my thirst. It usually just made me want more Coca-Cola.
We try to meet our own needs the best we can. Sometimes, we make good choices. Sometimes, we make bad choices. Too often, we forget the God who made us with these needs, and instead of turning to God and trusting God to meet our needs, we settle for inferior substitutes.
We can always go to God with our neediness.  We can come with tears. We can pour out our souls. We can complain. We can grumble. We can ask tough questions. God is ready for all of that. In fact, God expects that of us.
God knows our true needs better than anyone.
God is gracious. God is merciful. God often supplies our needs despite ourselves.
God sends us Jesus, the Living Water, that, when we drink, wells up within us like a spring of amazingly everlasting life, splashing everywhere.
In our struggles, we look to God for a sign or for an answer. What if our neediness is our sign and our answer. What if our thirstiness is a reminder of who we are and whose we are? We are God's people, and we need God above all.
This season of Lent I am trying to let my neediness point me to God. I am trying to allow my thirsts draw me closer to the God who created me and knows me and still cares for me.
The views and opinions expressed in this blog belong to the author and are not intended to represent the views of the MC USA Executive Board or staff.
Interested in submitting a blog for Menno Snapshots? Please see our blog guidelines here.