This post is part of Mennonite Church USA's MennoCon21 #BringThePeace series.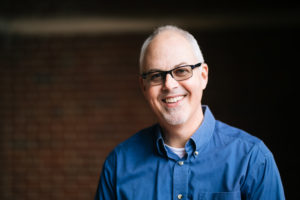 Brian Martin Burkholder serves as University Chaplain and Director of Faith and Spiritual Life at Eastern Mennonite University. He enjoys encouraging others, gardening, nature, leading singing and worship, and retreats of various types. He is energized by chaplaincy, bluegrass, folk, roots and world music, hiking in beautiful natural settings, spiritual mentoring, and almost everything water-related. He also gets into personality inventories.
Enneagram: three
Myers-Briggs Type Indicator: ENFP/J
Strengths Finder: adaptability, harmony, maximizer, responsibility, arranger
Spiritual Gifts: administration, support, service
Spiritual Type: come to the seminar
Brian will be leading a MennoCon21 seminar,

"So, What is Your Spiritual Type?", July 7 at 4 p.m. in Room 230/231 and again July 8 at 9 a.m. in Jr. Ballroom C.
____________________________________________________
I'm a big fan of personality inventories, such as the Enneagram and the Myers-Briggs Type Indicator. These inventories grant windows into our personal preferences and relationship dynamics and offer shared language for understanding ourselves and others more. Of course, results from any personality inventory have limitations and can be misused. There is some danger in using typology (I'm an enneagram 3 or I'm an extrovert) to explain or dismiss one's behavior without taking appropriate responsibility for one's words or actions. Even so, these tools are helpful for self-awareness in the context of family, friendships and other groups.
I like having insights about how I relate to myself and others. I also value reflecting on how I best relate to God. That's probably the reason I was drawn to Discover Your Spiritual Type by Corrine Ware, when it was first introduced to me.
We are all different spiritually, yet few people have the language to talk about the implications of these differences. 
One of the most visible places spiritual-type differences emerge, and compete, is in church — and congregational worship, in particular. We might think we are all having the same experience, spiritually, but it's simply not so.
According to Ware, there are four fairly distinct spiritual types, with some overlap of emphasis. Having people expressing different spiritual types across a congregation makes it a challenge to meet the spiritual needs of everyone all the time. Maybe it's just not possible. Surely, there must be some spiritual types that are catered to in some church programs and worship services, while other spiritual types are rarely emphasized.
Do you find that your church creates space for you to express spiritual needs and yearnings? To what extent? What about other spaces, like your school, your village or city, nature, books, music?
Let's consider worship for a minute. Having studied congregational worship as a spiritual practice, I am well aware of the criticism in most congregations that particular worship styles are treated as undesirable, while other styles are preferred. It seems that finding a worship style that meets the needs and expectations of every church member is impossible. People disagree about worship style but seldom seem to realize that the differences lying beneath the critique relates to people expressing different spiritual types and, therefore, different spiritual needs and opportunities. Put another way, we all are unique, spiritually, and will express our spiritual selves in different ways — finding meaning in our faith and spiritual formation through different expressions. One spiritual size does not fit all and never did.
Do you know your dominant spiritual type and/or your blend of spiritual types and how best to express them? Do you know how well you mix spiritually with others in your congregation and why some church practices connect more than others? Are you aware of where or how you could grow, by intentionally learning from people with other spiritual type strengths?
These are some of the opportunities available in a seminar I will be facilitating in Cincinnati, Ohio, at MennoCon this July. The seminar is in the youth section, but really, I want to open it to anyone. In fact, I think it will strengthen our individual and collective awareness if we can facilitate conversation across generations, and certainly across spiritual types. People expressing every spiritual type are essential to reflecting the Kingdom of God. Let's gather and learn together!
The views and opinions expressed in this blog belong to the author and are not intended to represent the views of the MC USA Executive Board or staff.