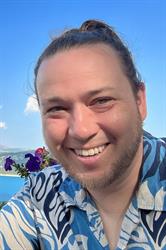 March is National Developmental Disabilities Awareness Month. This blog post is part of Mennonite Church USA's Welcoming EveryBODY: Learn, Pray, Join initiative.
Jon-Erik (J. E.) Misz serves as the secretary of the ADN board of directors. He resides in Goshen, Indiana, where he works as a licensed clinical social worker. Some of his favorite people in the world have experienced mental illness, and he views their presence in our church communities as a true gift. He is a member of Waterford Mennonite Church, where his wife, Katie, serves on the pastoral team.
______________________________________
I do not have what some might call a "green thumb." I can keep a houseplant alive fine enough, and my wife and I do our best to maintain a garden in the summer. But we are not experts. What we can grow, however, is lavender. This purple-flowered plant continues to find a home in our yard, and we add a few new plants each year, because we enjoy the smell and color in bloom. What we might like most about this plant, however, is that it is so resilient. It survives in a rocky soil and cool conditions without much water or attention. After each harsh midwestern winter, it grows and blooms again — quite ideal for our location and skill level.
If we only talk about lavender based on the conditions it was placed in, we are not telling the whole story. If we focused only on the rocky, dry landscape and the cool atmosphere, we would miss out on the true beauty of this plant.
As a mental health therapist and spouse of a youth pastor, I am quite aware of the mental health crisis that continues to grow among youth and young adults. I have a front row seat to partnering with young people and their families in addressing mental health needs, and anecdotally, my experience matches what research is finding. According to the Centers for Disease Control, symptoms of depression among high school students have increased 40 percent in the last 10 years, and suicidal thoughts and behaviors also increased up to 44 percent during that same time.[1]
These statistics on their own can be alarming and discomforting. The environment of youth mental health is not one that we would currently consider to be conducive to thriving. However, this is not the whole story.
A full picture might consider factors of resiliency that contribute to ongoing well-being, despite difficult conditions.
Resiliency is a concept in mental health that deserves much more attention than it sometimes receives, yet resiliency is essential in both preventative and responsive methods of care for those with mental health needs. Factors that build or assist in ensuring resilience are the presence of supportive adults and mentors, social connections, access to resources, learned skills and internal resources. All these assets can often be found within the support of a faith community.
By focusing on resiliency, I am reminded of the ways that I can contribute to preventative means for addressing youth mental health. Ensuring that youth have safe adults in their lives who care about their well-being — like a teacher, coach or pastor — is one way of building such resiliency. Spiritual exercises of prayer and meditation are also beneficial aids against distress.
When I consider the resiliency of youth today, the message of the current mental health crisis becomes more hopeful.
I am reminded of the times I have witnessed youth laugh and play and learn during a pandemic that turned their lives upside down. I am reminded of their bravery and advocacy when they open up about their mental health — teaching adults that it's okay to not feel okay sometimes. Much like the lavender in my yard, beauty can arise even in the midst of difficult terrain. My encounters with youth in my mental health practice and the church continue to teach me to open my eyes to the whole story and see the life that is growing around me.
---
[1] Centers for Disease Control and Prevention (CDC). "1991–2019 High School Youth Risk Behavior Survey Data."
---
Welcoming EveryBODY: Learn, Pray, Join celebrates the many gifts that people with disabilities bring to our church communities. This initiative also calls us to repent as a church in the ways we have not fully seen or welcomed people with disabilities. May we commit to being more loving and aware as we care for one another.
This initiative is a partnership between Mennonite Church USA and
 

Anabaptist Disabilities Network

 (ADN)

.

Find the Mennonite Church USA Accessibility Resolution here.

The views and opinions expressed in this blog belong to the author and are not intended to represent the views of the MC USA Executive Board or staff.

Interested in submitting a blog for Menno Snapshots? Please see our blog guidelines here.