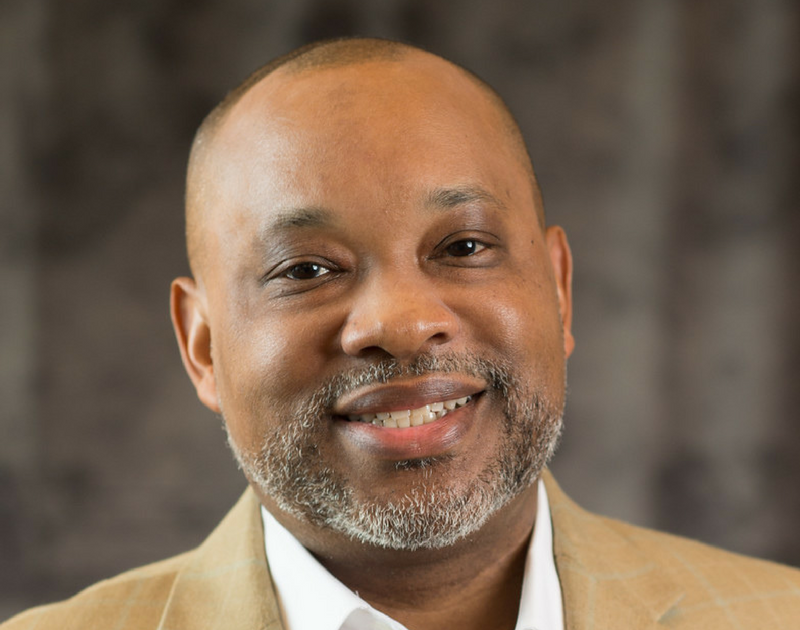 Glen Guyton is executive director of Mennonite Church USA.
I recently spent five days in my former home conference, Virginia Mennonite. I had quite the hectic schedule: two chapels at Eastern Mennonite School, an evening lecture, lunch with credentialed leaders, breakfast with youth leaders, a meeting with EMU president, Susan Huxman, a high school musical, a visit to see our Communications director's newborn baby, and finally Sunday School and preaching Sunday service at Immanuel Mennonite. Former MC USA Executive Director Ervin Stutzman looked so rested when I met him and his wife Bonnie for lunch one afternoon. He gets to set his own schedule now. But for me, it was quite a busy week.
As I travel around MC USA, I am always amazed at the great work happening in the various places I visit. I hear stories that are often overlooked by mainstream Mennonite publications. Sometimes the good work that takes place in the various conferences, schools and congregations is not titillating enough to sell papers or magazines, but it is work that inspires the soul. I often wish that I could travel with a videographer so that you could experience the joy I see when people are focused on God's call for this church.
Here are a few highlights:
Virginia Mennonite Conference (VMC) still uses the district model of organization. It is a model that I very much affirm as I affirm the intentionality of the conference leadership to engage MC USA as we Journey Forward. While the district model may not work for every conference, I believe it creates regional cohesiveness within VMC. I can't emphasize enough the importance of local mentorship and support for congregations. Being able to develop relevant contextual ministry that can respond to needs is essential for a healthy church. I applaud the work of the district leaders in VMC.
Peace still matters, at least it does at Eastern Mennonite School (EMS). After two days at EMS, I wanted to turn back the clock 30 years and go back to high school. The school has so much to offer students in its community and the staff is delightful. During chapel, I shared on the Holy Spirit, and afterwards I saw the work the school is doing related to practicing restorative justice and people theology in the classroom. If EMS is reflective of Mennonite secondary schools in general, our future will be in good hands. The only disappointing part of my visit at EMS was that I had to follow World Series winner Eric Kratz as a chapel speaker. I don't have any championship rings, and I can't hit a fastball. To add insult to injury, the family science (home economics) class did not even offer me one of the freshly baked scones they had on display.
During my Q & A session at Immanuel Mennonite Church, one church member was in tears sharing about the church's impact on the life of a person who was experiencing housing problems. When this person was struggling, the church rolled up its sleeves and was a blessing to them. Another person asked me why he should be concerned about the Mennonite Church in all its controversy. "What is more important," he asked, "All this division in the name of being a Mennonite, preserving this Mennonite brand? or  Christ?" Well, my answer was Christ, of course, and the local church. That is always going to be my answer. The Mennonite Church does not exist without Christ, and the local congregation is the block upon which our denominational structure is built. We need strong congregations who follow Jesus if we hope to have a strong denomination.
Communications
I want the people of MC USA to hear more about the good we are doing. One thing that I have consistently said since joining the denominational staff in 2009 is that we have a communication problem in the church. People focus on the bad and ignore the good. There is saying in secular journalism, "If it bleeds, it leads." If you want to sell magazines and newspapers, you focus on gore, controversy and dissent. The feel-good stories, the routine stories, don't help the bottom line.
Journalism has its place, but in 2019 there is no shortage of forums for people to criticize and critique the denomination. We have many interested organizations watching, challenging and trying to hold MC USA accountable in areas that we have fallen short such as sexual abuse, LGTBQ inclusion, racism, sexism and policy issues.
One benefit of my roles is that I get to see the diversity of our church and the real world impact of our policies and procedures. I get to engage and experience a broad spectrum of the church in ways that our traditional Mennonite publications can't fully contextualize. Hearing stories first-hand where people live, work and worship has given me a greater appreciation for the whole of MC USA.
There are many great Mennonites living into their Christ-centered mission. Who tells the stories of the good that our organizations and members regularly do and how do we make that information accessible to a broader audience?
Unity amid diversity
We can have unity amid our diversity in MC USA. That is the message I will keep preaching. Christ prayed that we would be one as he and the father were one. That will take some hard work. It will mean that we have to struggle together, and it means that we will have to lean on God and not on our own understanding. If you are not familiar with the Journey Forward Renewed Commitments and our Pathways study guide, I highly encourage you to check them out.
Let's consider Jesus' prayer in John 17:20-23: "I ask not only on behalf of these but also on behalf of those who will believe in me through their word, that they may all be one. As you, Father, are in me and I am in you, may they also be in us, so that the world may believe that you have sent me. The glory that you have given me I have given them, so that they may be one, as we are one, I in them and you in me, that they may become completely one, so that the world may know that you have sent me and have loved them even as you have loved me."
_________________________________________________________________________
Please subscribe to the publications of MC USA. Our news service has the latest and most accurate account of what is happening with leaders of MC USA, and the Menno Snapshots blog features inspiring stories of God's movement across the church. Also follow us on social media.