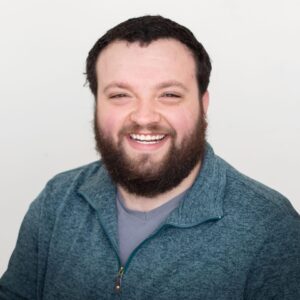 This blog post is part of the "I choose to be Mennonite because …" series. See the call for blogs and submit your own here.
Nathan Perrin is an emerging writer and pastor of Christian formation at Lombard (Illinois) Mennonite Church. He holds a Master of Arts in Quaker studies and a certificate in Anabaptist studies. He is a doctoral student, studying Christian community development at Northern Seminary. His doctorate work centers on creating a writing program for nonprofits and churches to use to help under-resourced communities process trauma. His fiction has been published in the Dillydoun Review, Bangalore Review, Collateral Journal and Esoterica Magazine.
_______________________________________________
When my Quaker friends heard I was going to Chicagoland to minister at Lombard (Illinois) Mennonite Church, they asked several questions. One question that they asked was whether or not I renounced Quakerism by taking this calling. The brief, less complex answer is: No.
I ministered in, and was educated under, the programmed Friends tradition. I have my Master of Arts in Quaker studies. I was inspired by stories of George Fox and John Woolman. It's the tradition in which I feel I came to a full understanding of Jesus, and it's always going to be close to my heart.
I was also educated under Neo-Anabaptists at Northern Seminary, and I was absolutely captivated at how Quakerly ideas were being applied in new ways. They are combining neo-charismatic theology with Anabaptism — which is inherently, and accidentally, very Quaker. When I read Anabaptist theologians from the past, particularly Hans Denck, I saw what I would almost call Proto-Quaker ideas emerging about the image of God and God's immediate presence.
I also learned under Black theology and Syriac Orthodoxy in graduate school and in my doctorate. These, oddly, led me to the Mennonite way, too, because I realized I needed a firm stance, in order to engage other faith traditions. When I explained I was a Quaker, it was often met by the question of what Quakers believe. It was difficult to sum that up, because Quakerism was not started with the intention of academia in mind. In fact, it was started by folks who were sick of how academics and priests intellectualized the faith too much. But when I say I'm a Mennonite and point to our confessions of faith, I am able to have a clear, coherent conversation with others about theological differences.
I was also being sucked in more and more by the holistic social justice work Mennonites do.
I did an Iraqi Kurdistan delegation with Christian Peacemaker Teams (now Community Peacemakers Teams) in 2017, and a passing joke someone made with me was that I would be a good Mennonite pastor. Four years later, they turned out to be right.
I also remember open worship, in which I felt God call me toward the Mennonite way. It suddenly added up that the kind of ministry I need to do, for whatever reason, needed to be done with the Mennonites. I believe the coherency of the Mennonite doctrine, and my congruence with it, is what enables me to fit in well.
As far as "official" Mennonite theology is concerned, I absolutely agree with everything our traditional statements of faith have to say about Jesus' lordship, communion, baptism and kingdom living. A common stereotype about Quakerism is that it's anti-baptism and anti-communion, which, really, does not show the full picture. It's a continual debate that has been happening within Friends circles, particularly since the issues that led to those stances are no longer happening. It's also an experiential faith, without creeds, so there's no official dogma forbidding these practices, beyond traditions and journals passed down.
What I have inherited from my Quaker roots and bring into a Mennonite context is a sense of God's immediate, continual presence. I love silence. I love queries for worship. I believe that Christ is within me, and, since all are created in the image of God, everyone I encounter has some sense of God within them.
I also still attend unprogrammed meetings, when I can. There are no programmed Friends churches around Chicago, Illinois, but I feel that my spiritual needs are met in the silence anyway. I'm also deeply grateful that Lombard Mennonite Church took a chance on a Quaker, like me. It's been enlightening, and I've enjoyed finding out more and more about the culture.
As far as how I identify in public, I use both the terms Anabaptist and Quaker.
I used to have anxiety about how people could be confused, but I know now that I'm being honest with myself. I'm at that intersection of belief, and I believe God has great things in store for my life experiences.
In order to be a good Quaker, I have to be a good Mennonite. In order to be a good Mennonite, I have to be a good Quaker. I'm fine living in that nuance, and I hope others coming in from different traditions also feel okay with loving where they came from, too.
The views and opinions expressed in this blog belong to the author and are not intended to represent the views of the MC USA Executive Board or staff.
Interested in submitting a blog for Menno Snapshots? Please see our blog guidelines here.