This blog is in celebration of Mother's Day.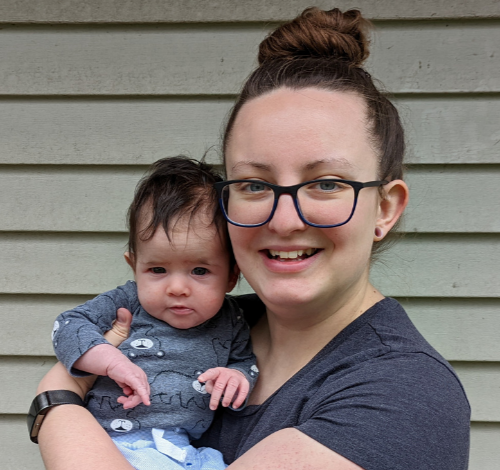 Jessica Griggs is a freelance copyeditor and copywriter for the Mennonite Church USA Executive Board and Mennonite Mission Network. She holds both a Bachelor of Arts and a Master of Arts in Religion in biblical studies from Cincinnati Christian University, where she also used to teach. In her free time, she likes to create new things, through gardening, art and crafts, and dream about big projects that she will probably never complete. Jessica, her husband, Zane, and their newborn daughter live in Elkhart, Indiana, and attend Silverwood Mennonite Church in Goshen, Indiana.
_________________________
For the past 10 or so years, Mother's Day has been a very difficult holiday for me. Every year, I am reminded of how the mom I once adored betrayed my dad and me during the most difficult trial our family had ever faced. I am reminded that we haven't talked in most of a decade and that she wasn't there to celebrate my wedding or the birth of my daughter. Every year, my social media feeds are flooded with pictures of my friends and their moms smiling, captioned with flowery language about how thankful they are to have the world's best mom. Every year, I sit on a church pew and listen, as the pastor preaches a sermon about how mothers are a wonderful gift from God and how grateful we must be to our heavenly parent for blessing us with earthly mothers. From year to year and from church to church, the words and pictures may change, but the message is the same: Moms are good, and we must be thankful for them.
I am happy for everyone who has a good mom and for those who are good moms, but there never seems to be room for those of us who have been hurt by our moms or for those who never knew their mothers.
In early 2021, after almost six years of patiently waiting, my husband finally convinced me to have a baby. From that point, it only took a couple of months for us to get a positive pregnancy test — who knew such a little piece of plastic could bring so much joy, yet instill so much fear? While my pregnancy was very long — almost 43 weeks! — and difficult, often leaving me ill or immobile, it was a very healthy pregnancy with no complications. And after an excruciating 23.5 hours in the hospital, we welcomed a wonderful and healthy baby girl into the world. We count ourselves incredibly fortunate that we were not among the millions of people who experience fertility issues, pregnancy loss, stillbirth, pregnancy complications or premature birth.
I was never sure I wanted to be a mom. I was happy with my little family — my husband, myself and our three beagles. I've dealt with depression and anxiety my whole life, and I didn't think I could be a good mom. Even while I was pregnant, I constantly worried that I wouldn't even like my child or that I would resent her for the toll my pregnancy took on me. During pregnancy, I never felt that deep connection to the child growing inside of me that I have heard so many other moms talk about. And all of this is on top of the trauma caused by being estranged from my own mom.
To my (joyful) surprise, having my daughter, who is now two months old, is one of the best things that has ever happened to me. She is everything I never knew I needed. I have quite literally never been happier, despite all of the difficulties being a mother brings. She has taught me so much in such a short period of time. She has taught me how to love in a way I never knew possible. She has shown me that I am so much stronger than I ever could have imagined. She has given me patience. She gives me hope that I can be and do better, that I can be a good mom, despite the trauma I have experienced.
She has allowed me to have a new and unexpected appreciation for the love that God, our parent, has for us.
She has changed my life for the better in so many ways, and it saddens me that not everyone who wants this experience can have it.
So, on this Mother's Day, I want those who have a difficult relationship with their mothers, those who are estranged from their mothers, those who never knew their mothers and those whose mothers have died, I see you. I am you. I know this day is hard. You are heard and you are loved.
And to those who have experienced fertility problems, pregnancy or infant loss, stillbirth, or the loss of an older child, as well as those whose gender identity or sexual orientation preclude them from having biological children, to know that I see you. I know this day is hard. You are heard and you are loved.
And to those who don't want to be moms, those who are happy being wives, dog moms, cat moms (or any other type of animal moms) or single, I see you. I was you. I know this day might be hard. You are heard and you are loved.
The views and opinions expressed in this blog belong to the author and are not intended to represent the views of the MC USA Executive Board or staff.