This post is part of Mennonite Church USA's MennoCon21 #BringThePeace series.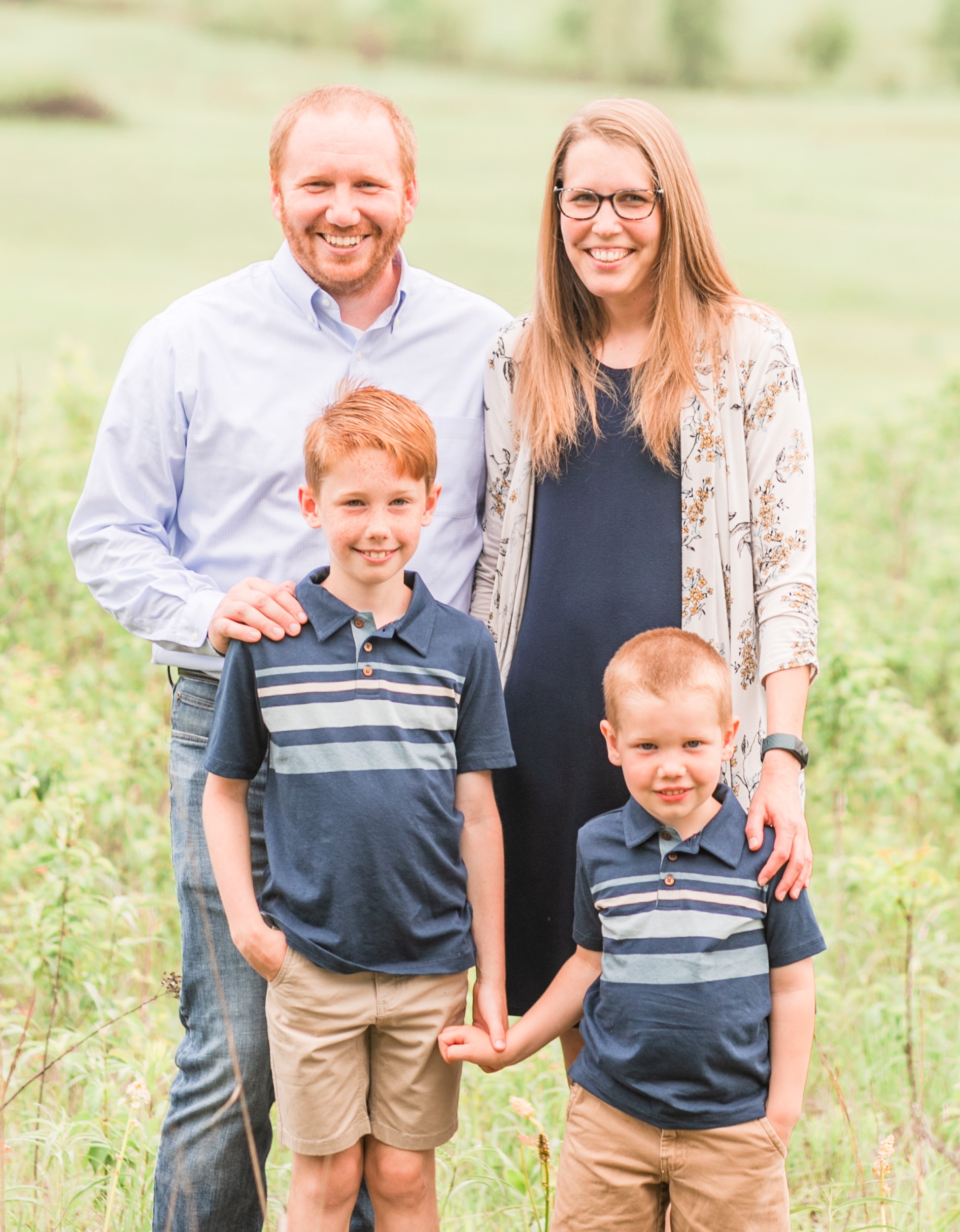 Brad Kohlman serves as the vice president for Institutional Advancement at Bethel College. He and his wife, Megan, raise their two boys in Hesston, Kansas, and attend Bethel College Mennonite Church. Outside of working with alumni and donors, Brad enjoys coaching youth sports, fishing with his sons, listening to music from the 60's, 70's, and 80's, and cooking for family and friends.
Brad will be hosting the Bethel College booth at MennoCon21.
____________________________________________________
My wife has a shirt that reads, "Hyphenated. Non-Hyphenated. The irony." That pun makes me laugh every time I see it. It also makes me reflect on my own faith formation journey.
I am hyphenated: a Catholic-Mennonite. The first 20 years of my life were spent going to mass and participating in confession and each of the age-appropriate sacraments. The past 16 years have been spent as a re-baptized Mennonite.
Even though I no longer participate in the Catholic part of my faith journey, I find value and meaning in how that time of my life shaped who I am today.
At Bethel College, we are rooted in Christian theology, sustained by Anabaptist distinctiveness, and guided by Mennonite values. We welcome all people to our campus and prize individuals for their unique personalities, talents and life experiences.
Our goal is to graduate students who increase human flourishing, or shalom, in society by owning and enacting their faith. My Bethel College faith formation journey was very informal. It was initiated during late night conversations with the guys who lived in my hall. Then, it turned into tagging along for a free potluck meal at local churches and, finally, talking to a local pastor about what steps I would need to take to become a baptized Mennonite.
And that is what I truly appreciated about my faith journey at Bethel; I had the space and time to develop my own faith, instead of feeling like I was an outsider looking in. I was valued and accepted for who I was and where I was in my own personal faith journey. I slowly added Mennonite values and perspectives at my own pace and comfort level.
We hope to provide the same space and time for our students, who travel their education and faith journey with us. We hope they will change society for the better as hyphenated Anabaptists. They may end up walking across our stage at graduation as a non-denominational-Anabaptist, a Methodist-Anabaptist or a Catholic-Anabaptist, like me. Surely, our world will be a better place with more people who share and understand their faith within a Mennonite perspective.
But we cannot expect our students to be the only ones who are changed or altered by their experiences at Bethel College. We must strive to demonstrate that each individual at Bethel understands that they are valued and understood.
Whether a person grows up in Hesston or Houston, Indiana or India, they deserve to have their culture, their background, their experiences valued, celebrated and embraced by their community and, specifically, their college.
If we are successful in demonstrating the value that each individual brings to Bethel, our college will be forever changed. We will become a hyphenated college that embraces and celebrates the journeys that each of our students are making with us, while at the same time appreciating and valuing all those who came before us and brought us to where we are today.
I don't have a hyphenated last name, but I see how it can be appealing to honor the people who have influenced you to become who you are by adding their name to your own story. Imagine me introducing myself as "Brad Kohlman-Klaassen-Markowitz-Loganbill-Marston". These names represent the families that have guided me, loved me, embraced me and celebrated with me. Even after they are gone, their impact remains with me.
As I reflect on this alternate reality of hyphenations I ask myself:
"Would somebody ever ask me to add my name to theirs?"
"Have I been so significantly influential in someone's life that they would honor me in that way?"
This is how I hope Bethel College will leave a lasting impression in the faith journeys for our students: We add another hyphenated name to their already rich story of experiences and cultures. In return, we will add their names to ours, and they will join the thousands of alumni who have come before them and forever be changed because of their vibrant lives they chose to share with us.
The views and opinions expressed in this blog belong to the author and are not intended to represent the views of the MC USA Executive Board or staff.