This blog is in celebration of National Camping Month.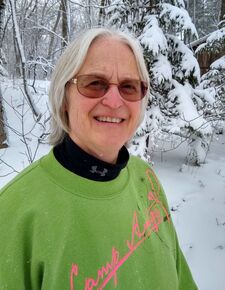 Cheryl Mast has been the coordinator of outdoor/environmental education at Amigo Centre in Sturgis, Michigan since 2001. In the fall of 2021, following the devastating storm that caused major destruction at camp, she added a new role to her responsibilities and now also serves as the volunteer coordinator at Amigo. She is a graduate of Goshen (Indiana) College. She has been involved in camping ministry since 1987, serving at Wilderness Wind in Ely, Minnesota, and Camp Friedenswald in Cassopolis, Michigan, prior to coming to Amigo. She is a member of Locust Grove Mennonite Church in Burr Oak, Michigan. She enjoys photography and spending time creating memories with her great-nieces and great-nephew.
___________________________________
You likely have heard the old cliché phrases regarding the "power of camp" or the "healing power of nature." Maybe as you read that sentence, your mind jumped back in time to an experience that you had that was life changing at camp or a time when you experienced the healing power of spending time in nature.
I have been blessed by the opportunity to coordinate and facilitate field trips for public school, private school and homeschooled students for the past 21 years here, at Amigo Centre. I also have worked with various aspects of our Summer Camp Program, Adult Programs and Winter Youth Retreats during my time at Amigo.
Yet, the way God impacts lives through time spent at camp never ceases to amaze me, and the healing power of God's creation doesn't just impact the lives of children, it also soothes the soul of adults.
This spring, as we worked with school children, a common thread was experienced with group after group — children having a heightened sense of anxiety and fear. What we also observed by the end of the day was that, for many of the students, time spent outdoors had dissolved some of their anxiety and fear. Yes, they had faced challenges at camp, but they also discovered within themselves the resolve to persevere, and they gained confidence along the way.
One of the most memorable experiences from the spring was the "two minutes" that Mason spent in a canoe with me. He spent several minutes adamantly telling me that he wasn't going canoeing, but finally, he was willing to just sit in the bow of the canoe with his paddle across the gunwales, with the understanding that when he requested to come back to shore,  I would paddle him back. As I paddled gently around the lagoon, Mason simply sat there, then he declared that he was ready to go back to shore. With that declaration, he picked up his paddle and began helping. When we landed, he stepped out of the canoe and sat across the bow, making it safe for me to exit the canoe. He was grinning from ear to ear, and as we walked back up the hill together after class, I told him how proud I was of him for facing his fears. After that, he talked non-stop, telling me how he wanted to go canoeing with his dad this summer.
Another student, who initially expressed apprehension about going canoeing, described it as being "so peaceful out here," as we paddled out onto the lake. Many students have spent an unusual amount of time indoors the past two years because of the pandemic. What they need more than ever is time spent in nature. What they need is time to explore, time to exercise their minds and their muscles.
Here are reflections shared in letters from several local 5th graders this spring:
"My heart is still smiling from all the wonderful activities you led. I can't even begin to tell you how much I enjoyed all the activities. I really enjoyed fire making, macro-study, canoeing and working together. The staff were so-super kind, selfless and more. You put a lot of thought into our trip, and our entire 5th grade thanks you for it. You truly knocked me off my feet!" — Addison L.

"Thank you so much for helping us learn new things and teaching us fire safety tips. I am so happy. Thank you for all the things you guys did, it made my days the best ones ever! I learned how to make fire and how to go canoeing. I learned how to help the environment and how cool nature can be. I also learned how we can help keep water clean. I learned what games Native American children played. I want to show my thanks to everyone. I've learned a lot of things! I hope our day will be the best day! Sincerely, Maci"
Other comments from their classmates included, "best field trip ever," "unforgettable experience," "the trip was quite amazing," "if I had to rate this with 1-10 stars, it would be a 10."
In this age of so much technology that fills our heads with "noise," there are camps and recreational spaces all around us. We simply need to choose to create time to step away from the busyness and unplug for a while. If you are feeling stressed, anxious, angry or you are experiencing "brain fog" — just get outdoors. Slow your pace, take time to be observant of what is around you, take time to breathe deeply and reconnect with God's created world that surrounds you.
Yes, they are old cliché phrases — the "power of camp" and the "healing power of nature." The students gave testimony to the power of nature in their lives. Stop reading, and step outside. God will meet you there.
For more information on camps near you, visit the Mennonite Camping Association website.
The views and opinions expressed in this blog belong to the author and are not intended to represent the views of the MC USA Executive Board or staff.