This post is part of Mennonite Church USA's #BeTransformed series.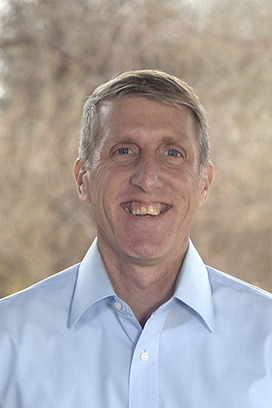 Scott Hartman has worked for Mennonite Church USA for nearly 18 years and is  currently serving as the director of event planning. He is an active member of Silverwood Mennonite Church in Goshen, Indiana. As a sports junkie, he will try just about any sport once.
______________________________________________
If you look up the definition of "transform," the word "change" is everywhere. When something transforms, there is something happening. There is movement from one thing to another. The first thing I think about when I think about the word "transform" is water. Water can transform itself and everything around it.
Water is the only substance that can be readily observed in everyday life in all three of its states: solid water as ice, liquid water in a water fountain and gaseous water as steam. We all have observed water transform between the various states. No matter what state it's in, water is still identifiable as water. Am I like water? Can I transform between various states and still be identifiable as Scott Hartman? Another way of asking this question is, "As I transform, do others still know it's me?"
I may look or act differently, but I am still the person I was created to be.
Water has an amazing ability to transform everything it encounters. The transformation may be quick, or it may take a long time. A drop of rain hits the ground and displaces the dirt. An ice cube cools down the liquid it is placed in. Steam cooks a vegetable, so it can be eaten. Am I like water? Can I transform things I encounter? Am I making the earth a better place? Am I influencing the people around me?
Scripture is full of stories of transformation. The flood transformed the earth. Job transformed his friends, through his faithfulness. Saul transformed into Paul. The Great Commission asks us to go and make (transform) disciples of all the nations. Am I willing to transform? Am I ready to transform things around me? Both questions are integral to my faith formation journey.  God is transforming the world and invites me to join.
The views and opinions expressed in this blog belong to the author and are not intended to represent the views of the MC USA Executive Board or staff.
---
Read more about this biennium's theme, #BeTransformed, here.