This blog is part of Mennonite Church USA's Advent 2022 series.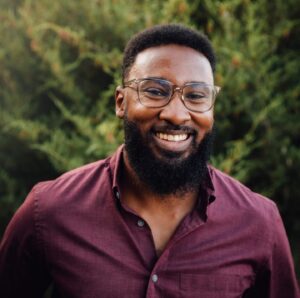 Jerrell Williams is currently the pastor of Salem (Oregon) Mennonite Church. He graduated from Bethel College in North Newton, Kansas, before attending and graduating from Pittsburgh Theological Seminary with his Master of Divinity. Jerrell's interests include systematic theology and Christian ethics.
________________________________________
Christmas time is here! This is a day in which we gather with our families, friends and church communities to celebrate and remember when God entered our world to be with creation. While this is the central focus for Christians, here in the U.S, this time of year is not always the hope- and awe-inspiring season that we anticipate. Often, the Christmas season is riddled with capitalism and consumerism. There is the stress of constant gift buying. There is the mourning that takes place, because the Christmas dinner table may be missing a few members due to sickness or death. I myself am guilty of not being in the "Christmas spirit" this year. Maybe it is the cold, dark and rainy season that has me down. Maybe it is the constant busyness of work and personal life. Either way, I have noticed God's absence more than I ever have recently.
As I have gone through the Advent texts from the lectionary with my congregation, I have been reminded that my feelings are not foreign to God's people. They were carrying God's promise with them for years, waiting for God to finally do something. Imagine the stories of this promise being passed down from generation to generation. It's not often that I feel that I can identify with the Biblical narrative, but I do know what anticipation feels like. I also know what absence feels like: the constant asking of God to do something, trusting in the promise that God will not abandon you for good.
One question that I have been sitting with this Advent season is: "How will we know when God is here?"
How will we know that we are on the right track towards restoration? Recently, I was reminded that Jesus answered a similar question in Matthew's Gospel. When John the Baptist was in prison, he had a message sent to Jesus: "Are you the one who is to come, or are we to wait for another?" (11:3 NRSVUE). This is not only a question an uncertainty, but it is a question of hopeful anticipation. John knew his role in this story. He knew that he was the forerunner, and that the Messiah was coming soon. What he did not anticipate was that the Messiah would look like Jesus. Jesus sent word back to John by pointing towards the evidence. "Go and tell John what you hear and see: the blind receive their sight, the lame walk, those with a skin disease are cleansed, the deaf hear, the dead are raised, and the poor have good news brought to them. And blessed is anyone who takes no offense at me" (11:4-6 NRSVUE).
These words from Jesus tell John, and others, that they will know that God is near when restoration is taking place. When healing is present, we will know that God is among us. When the poor are receiving good news, we will know that restoration is on the horizon. These are the signs that we need to look for as confirmation that God is indeed with us. I have come to realize that when I am feeling God's absence, it helps for me position myself in places where God is present. Sometimes that looks like serving others with my church community. This could be working with local activists in advocating for the oppressed. It could even be taking time for self-care and healing. These are the moments when God shows up.
Where there are moments of joy and hope, God is there.
As we celebrate God breaking into our world this Christmas day, may we remember where God can be found. God's presence brings restoration to creation. For those out there who need healing or good news, I pray that God's presence surrounds you. The God who entered our world all those years ago is the same God who brings restoration to us now. May we all find God in our times of need.
The views and opinions expressed in this blog belong to the author and are not intended to represent the views of the MC USA Executive Board or staff.
Interested in submitting a blog for Menno Snapshots? Please see our blog guidelines here.