By MC USA/MEA staff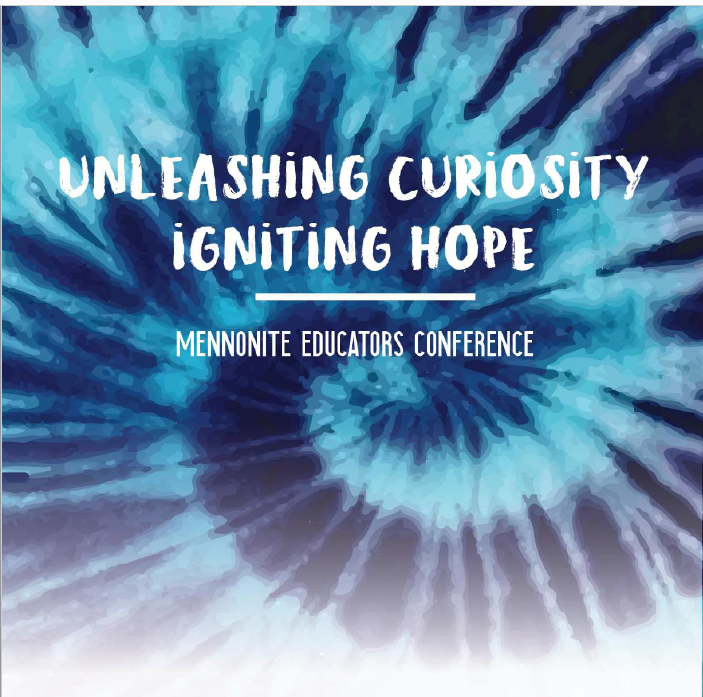 MENNONITE CHURCH USA/MENNONITE EDUCATION AGENCY – At the 2020 Mennonite Educators Conference (MEC), entitled "Unleashing Curiosity, Igniting Hope," educational experts, researchers and educators demonstrated the impact that an Anabaptist Mennonite education has on our children, our churches and the broader community. More than 350 Anabaptist Mennonite educators from the United States and Canada participated in this year's event, held Feb. 6-8 at the National Conference Center, Leesburg, Virginia.
The conference is a biennial professional development and networking event, hosted by Mennonite Education Agency (MEA) and the Mennonite Schools Council (MSC), a network of 25 Mennonite schools serving students from early childhood through grade 12.
"An education with an Anabaptist foundation helps us understand the lens through which we view the world and our responsibility to make the world better for all," said Conrad Swartzentruber, executive committee chair of MSC and superintendent of Dock Mennonite Academy, Lansdale, Pennsylvania. Addressing the educators, he said, "Each of you makes a difference in the lives of our students and contributes to the impact they have on their local communities and beyond."
"The intersection of faith and education makes MSC schools different," said Peter Wiens, Ph.D., assistant professor of teacher education at the University of Nevada, Las Vegas, and co-author of the "Survey of Mennonite Schools Council Educators." He and fellow researcher, Paul J. Yoder, assistant professor of teacher education, Eastern Mennonite University, presented findings from their 2019 survey on teaching practices and pre-service training of nearly 400 teachers at 25 MSC schools. The survey focused on faith integration, pre-service training, instructional practices and personal beliefs.
"Teachers in Mennonite schools have high self-efficacy in communicating faith, despite today's changing educational landscape," said Yoder. Almost 99% of teachers felt that they had "a great deal" or "quite a bit" of influence to "show students they are loved and valued by God."
Educators also expressed confidence in their abilities to teach and model peacebuilding, to help students grow in their understanding of stewardship for the natural environment, to grow in relationship with Jesus, to understand biblical discernment and to create a classroom where it is emotionally safe to raise questions and care for each other.
Keynote speaker Kristin Anderson, founder and CEO of The Brilliance Project for sustainable professional learning for educators, underscored the impact of Anabaptist Mennonite teaching, citing research that shows that teachers matter more to student achievement than any other aspect of schooling.
Another keynote speaker, Rachel Swartzendruber Miller, Ph.D., vice president of advancement at Hesston (Kansas) College, encouraged the educators to embrace their influence and successes and become "brand ambassadors, recruiters and 'owners' of our wonderful institutions." She urged educators to fully realize what Mennonite schools offer.
In addition to advantages such as small class size, strong academics, varied programming and a broad exposure to the arts, Swartzendruber Miller emphasized the unique aspects of an Anabaptist Mennonite education:
Christ-centered community

Discipleship

A Gospel ethic of love
"We must all be Mennonite education brand owners," said Swartzendruber Miller. "Share your stories! Do what you do but do it more publicly."
Four schools did just that through brief PechaKucha (Japanese for "chit chat") presentations. Faculty from Lancaster (Pennsylvania) Mennonite School; Eastern Mennonite School, Harrisonburg, Virginia; Dock Mennonite Academy and Bethany Christian Schools, Goshen, Indiana, shared stories that showed how their schools were modeling Anabaptist Mennonite faith values such as hope, kindness, empathy and community.
Educators also gathered in participant-led learning camps to discuss a wide range of topics generated by the group, including teaching practices, classroom management strategies, student self-efficacy, anti-racism and other uniquely Anabaptist Mennonite topics, such as restorative practices, creation care and faith formation and integration.
"Students today are longing for people who care about them," said Anderson. "What an honor to be able to speak into a student's faith journey!"
In the closing hours of the conference, leaders from MEA and MSC celebrated Elaine Moyer, senior director of MEA and agency liaison with MSC, who is retiring as of February 28, 2020. Moyer is a trailblazer in Mennonite education with more than 45 years of service, including 11 years with MEA.
"Elaine has always had an entrepreneur missional vision for Mennonite education," said Richard Thomas, MEA Board Chair. "This showed in the programs that she helped to create, such as the Encounter Faith Formation Curriculum developed through MSC. She has been a key to the success of MSC."
Moyer thanked the educators for their dedication and hard work and encouraged their continued collaboration, while challenging them with the question, "What can we do to extend this vision – and the love of Jesus?"
Thomas also emphasized the importance of building community, communication and collaboration.
"Because of the work of the schools gathered together in this conference and continuing to collaborate, Anabaptist Mennonite education will be strengthened to serve in these times," he said.
In partnership with the church, Mennonite Schools Council (MSC) advances Christ-centered Early Childhood-12 education by networking schools and equipping them to implement the vision of Anabaptist/Mennonite education. MSC boldly opens doors for Christ-centered Anabaptist/Mennonite education by innovatively networking and resourcing schools.
Mennonite Education Agency (MEA), headquartered in Elkhart, Indiana, serves Anabaptist educational institutions by providing resources, programing and support to schools, administrators and teachers. As an agency of Mennonite Church USA, MEA ties church and school together in a complementary way to ensure students receive a quality Anabaptist Mennonite education. mennoniteeducation.org