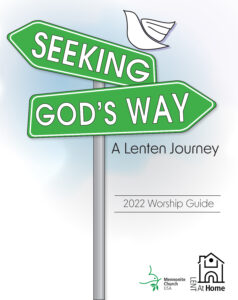 By Jessica Griggs for MC USA
Mennonite Education Agency of Mennonite Church USA has released its free Lent at Home 2022 worship guide and calendar for download. The annual guide provides options for individuals and households to follow daily or weekly rituals, which include guided Scripture readings, prayers and special activities for the duration of Lent, which lasts from Ash Wednesday to Easter — March 2-April 17.
"Observing Lent at home is an opportunity to deepen our identity as disciples of Jesus and get better at the practices that help us become more like him, starting with reading the Bible and praying," said Shana Peachey Boshart, Mennonite Education Agency's Faith Formation minister. "If you want to observe Lent and Easter at home and don't know where to begin, or if you are looking for ways to worship at home with your household, this guide is for you!"
The 2022 Lent at Home guide leads readers through Scripture, with reflections from the Old and New Testaments.
"Lent is a long season, and finding a ritual that's sustainable is hard! This year's resource includes a daily calendar with simple daily practices. Even if you miss a day or two, you can experience the big picture of Lent," said Talashia Keim Yoder, author of the Lent at Home guide and pastor of Christian formation at College Mennonite Church in Goshen, Indiana.
This year's guide includes a calendar that features day-by-day reflections and activities, in addition to at-home rituals for Ash Wednesday, Maundy Thursday, Good Friday and Easter Sunday.
The Lent at Home guide can be downloaded as a PDF and printed or viewed digitally. In addition to the guide and calendar, Keim Yoder has also created two videos, one that helps church leaders introduce the guide to their congregations and one that explains how to use the guide.
Keim Yoder said, "The resource encourages walking through Lent with your faith community. Just as Jesus called his disciples into transformative community, we too live our fullest lives in the company of others." She encourages pastors and leaders to share the Lent at Home guide with people of all ages in their congregations.
All Lent at Home resources for 2022, including the guide, videos and calendar, are available at mennoniteusa.org/lentathome.
Mennonite Education Agency, headquartered in Elkhart, Indiana, partners with Anabaptist-Mennonite schools and programs to provide resources, networking and support to school administrators, faculty and staff. As an agency of Mennonite Church USA, MEA ties church and school together in a complementary and cooperative way to ensure students receive a quality Anabaptist-Mennonite education. mennoniteeducation.org
Mennonite Church USA is the largest Mennonite denomination in the United States with 16 conferences, approximately 530 congregations and 62,000 members. An Anabaptist Christian denomination, MC USA is part of Mennonite World Conference, a global faith family that includes churches in 58 countries. It has offices in Elkhart, Indiana, and Newton, Kansas.  mennoniteUSA.org