By Jessica Griggs for Mennonite Church USA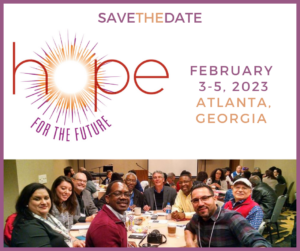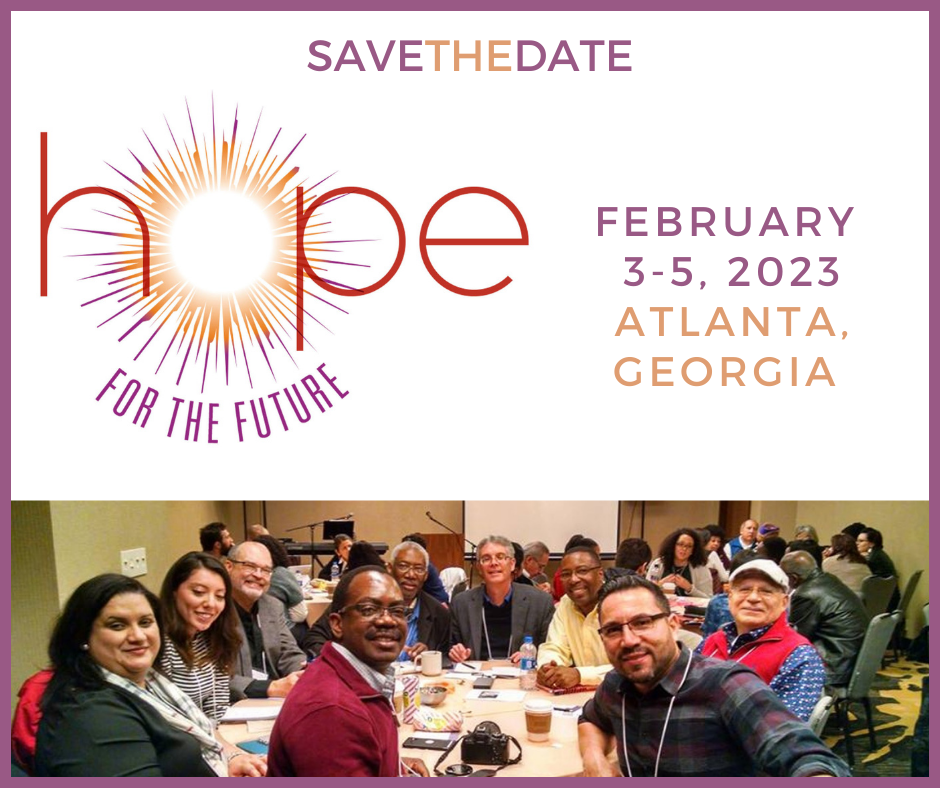 ELKHART, Ind. (Mennonite Church USA) — Mennonite Church USA (MC USA) will host the annual Hope for the Future conference in Atlanta, Feb. 3-5, 2023. The Hope for the Future conference offers Black, Indigenous and people of color (BIPOC) leaders affiliated with MC USA a place to gather for worship, networking and mutual support. The event is sponsored by MC USA and three of its agencies — Everence, Mennonite Education Agency (MEA) and Mennonite Mission Network.
Sue Park-Hur, MC USA's director of racial/ethnic engagement, said, "This gathering is an intentional space, created for and by BIPOC leaders in MC USA, leaders who often work and study in predominantly white institutional spaces and who need time to refresh and reconnect with other BIPOC leaders across the denomination. It centers BIPOC leaders, to give participants the opportunity to worship interculturally, study the Bible with scholars of color, strategize ways to dismantle racism and build deeper relationships with one another."
The theme for the 2023 event is "The Book of Esther, 'Such a Time as This: Collective Trauma and Hope.'" The keynote speakers are Daniela Lázaro-Manalo, racial equity education and advocacy coordinator for Mennonite Central Committee, and Frank Scoffield Sánchez, member of Pasadena Mennonite Church. Dr. Wilma A. Bailey, professor emerita of Hebrew and Aramaic Scripture at Christian Theological Seminary in Indianapolis, will lead the Bible study. Hendy Mathahelemual, pastor of Indonesian Light Church in Philadelphia, will lead music.
"This theme is, in a word, relevant," said Dr. Bailey.
"We are coming through a time of trauma — experiencing the COVID-19 pandemic, climate change and political trauma, as well as witnessing mass shootings in places that ought to be safe, the deaths of innocent Black men and women at the hands of law enforcement, and missing and murdered Indigenous women. The book of Esther provides a prompt for discussion of how to find hope in troubled times." 
The conference provides a brave space for leaders to address their experiences in the church and discuss ways the church can be transformed to better support one another across cultural, racial and intergenerational boundaries. "Capitalism, colonialism and imperialism, working through racial and gendered hierarchies, continue to ravage the planet, as they have for generations — now to a point of almost no return," said Scoffield Sánchez. "Hope for the Future is precisely what we need but not in some abstract sense. The transformation of God's creation, through Jesus, is profoundly material, practical, communal. I am excited to gather with Mennonites who also feel the urgent need to wrestle through what our role in that transformation is today and strategize how to do so together."
In addition to the Bible study, music and main sessions, three learning labs will be offered during the conference:
"Theology and practice of radical hospitality" by Anton Flores, of Alterna.
"DEI best practices" by Marisa Smucker, of Mennonite Mission Network, and Aphaphanh Nussbaum, of Everence.
"Knowing our history: Loss of Turtle Island" by Michelle Armster, of MCC.
While Hope for the Future is an annual conference, the event has been postponed for the past two years, due to the COVID-19 pandemic. The 2023 event will offer returning attendees an opportunity to reconnect with familiar faces, while also welcoming new participants.
Younger BIPOC leaders, such as those attending MEA colleges and universities, are encouraged to participate alongside the more experienced leaders.
Park-Hur said, "This gathering will pay special attention to cultivating intergenerational leadership, by centering the voices of younger leaders in our churches and connecting them to denominational elders who have paved the way for us to be where we are."
Register for Hope for the Future 2023, which will be held at Holiday Inn & Suites Atlanta Airport North, by Jan. 18, 2023. The registration fee is $200.00, which covers entrance into the event. Attendees are responsible for their own lodging, meals and transportation fees. Lodging can be found at Holiday Inn & Suites Atlanta Airport North for $109.00 plus tax per night for anyone who reserves a room before Jan. 18, 2023 (breakfast is not included). Click here and use group code UUA to reserve your room at the group rate.
Contact Sue Park-Hur, at HFF@MennonteUSA.org, with any questions.
Mennonite Church USA is the largest Mennonite denomination in the United States with 16 conferences, approximately 540 congregations and 56,000 members. An Anabaptist Christian denomination, MC USA is part of Mennonite World Conference, a global faith family that includes churches in 59 countries. It has offices in Elkhart, Indiana, and Newton, Kansas. mennoniteUSA.org