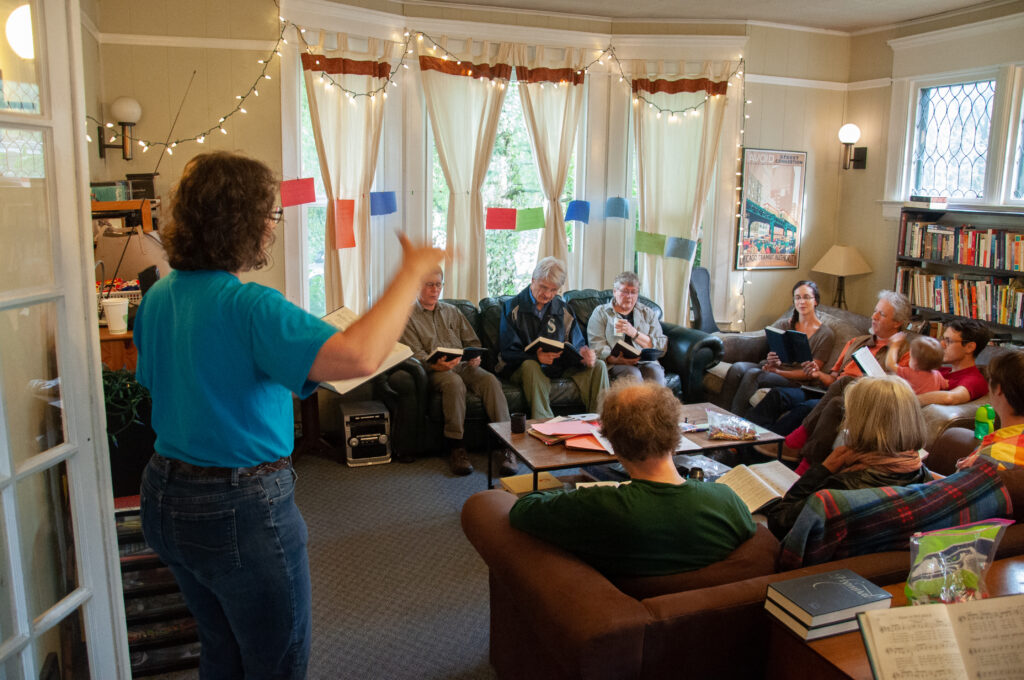 By Kayla Berkey for Mennonite Church USA
When Seattle Mennonite Church (SMC) purchased a house in what a member of the church property team described as "a pretty undesirable part of town" about 45 years ago, the Mennonite Church USA congregation never dreamed it would accrue a worth of $2 million. But that's what happened.
While the house served as a home base and community for many Mennonite Voluntary Service (MVS) workers and other volunteers since then, its Capitol Hill neighborhood changed with urban gentrification, developing into one of Seattle, Washington's defining nightlife scenes.
By 2020, the property was assessed at $2 million as a teardown. It was around this time that SMC took a sabbatical from running the MVS unit that was receiving fewer volunteers, creating space for the vision of the house to evolve.
Following years of discernment, the predominantly white congregation decided to give the property to the Trans Women of Color Solidarity Network (TWOCSN), free of charge and with no strings attached.
TWOCSN, a grassroots organization in Washington, described this as a "radical act of wealth redistribution" and an "act of accountability toward the BIPOC trans community." The group had separately begun a $2 million capital campaign to fund its vision for a House of Constance that would create housing and support services for Black and brown transgender people.
"We are ready to receive and move with abundance for the benefit of our community," TWOCSN wrote in a post sharing its vision for the property.
Preparing for Jubilee
When SMC celebrated its 50th anniversary several years prior, the congregation adopted a theme of Jubilee, based on the Biblical call to redistribute resources in the Jubilee year.
"We decided, let's look at our wealth through the lens of Jubilee and do some listening together for what God's invitation might be at this, the Jubilee year of our community," said SMC Pastor Megan Ramer. "One of the focus areas was 'pathways toward reparations.' I think this helped prepare us to think about how the huge wealth that we owned in the house was an opportunity to do some repair."
With this foundation laid, the congregation dug into the history of the Capitol Hill neighborhood and realized how, in many ways, it represented the history of racial inequity in the city.
"It has been really important to ground this in the story of, how did this property even come into our hands? What were the forces that structured that and continue to structure that?" said Greg Thiessen, congregational chair and member of the property team that SMC commissioned to propose a path forward for the MVS house. One thread that Thiessen acknowledged was a past study in the congregation on dismantling the Doctrine of Discovery, a historic framework that was used to justify displacing Indigenous people from their lands. This MVS house property sat on the unceded ancestral lands of the Coast Salish and Duwamish peoples.
SMC learned that the property was just north of the city's historic redline that banks used to deny lending to people of color. The neighborhood used racially restrictive covenants preventing the sale or rental of property to people of color. While SMC had used a loan from the Mennonite Church to buy the house for $24,000, nearby Black churches were repeatedly denied loans by banks during the same time period.
Capitol Hill was also a historically LGBTQ neighborhood. "In the extreme gentrification of Seattle, the neighborhood has become less and less of a safe place for populations who can be very vulnerable, like trans women of color," said Lisa Bade, also a member of the SMC property team. "There was an awareness of how that safe space was being taken away."
Violence against trans people has risen in recent years. At the same time, an unprecedented wave of anti-LGBTQ bills has been proposed across the U.S., with 150 aimed at restricting the rights of trans people since the beginning of 2023.
When describing the house's history, Ramer said the congregation came to understand that they owned the land through "the poisoned fruits of settler colonialism" and "the benefit of systemic racism."
Finding a path to reparation
In spring 2021, SMC formally agreed that the house was an opportunity to make a reparative act.
"We affirmed that we are a people of God's Jubilee, that we would not seek financial gain, and that the release of this wealth would benefit Black, Indigenous, and people of color communities," Ramer said.
SMC commissioned a property team with the task of consulting with local BIPOC community leaders on how the congregation could release the wealth. At this point it was still unclear whether that would mean selling the house or giving it to someone, Ramer said.
"It took a year to get to this point and it wasn't an easy process – lots of long, difficult discussions," said Nancy Chupp, who said she answered a call to join the SMC property team even when the task initially seemed overwhelming.
The team found E.N. West and Meli Morales, organizers for the Faith Land Initiative with the Church Council of Greater Seattle, whose mission of helping faith communities steward assets like buildings and land for community-based justice matched what SMC was aiming to do.
In what Sarah Burkhalter, a property team member, said was "a pretty incredible coming together of all the things," they learned that West had formerly lived in the Seattle MVS house while volunteering through a United Church of Christ service program.
West and Morales guided the group through an intensive process that lasted for the greater part of a year. The group met weekly during this time, taking a close look at the values of SMC and finding community-based ways to connect with local BIPOC-led groups who would benefit from receiving the wealth.
"It was important to us that this gift be given with no strings attached, that we were trying to upend many of the systemic dynamics that lead to inequity and instead very much center the needs and desires of the community," Burkhalter said.
While the team said some early meetings felt like "spinning wheels," with guidance from West and Morales and a commitment to each step of the process, an exciting vision and path grew.
West had described to them how, through working with the Faith Land Initiative, they noticed a dynamic where mostly white churches had accumulated resources without ideas about how to use them. At the same time, they encountered communities of color with strong vision and plans for change but limited access to resources.
"That is something that I experienced through this process," Thiessen said, "coming to grips with my own lack of imagination and being willing to then go talk to someone else who has other ideas, expertise and a broader imagining of what is possible."
A new community hub
When the property team met with TWOCSN, "there was a pretty quick, clear moment of alignment that was possible because of all the work we had done previously," Chupp said.
Not only did TWOCSN have an immediate need for a house that aligned with SMC's values, but the group also had already raised money in its capital campaign that could go toward the house's needed repairs.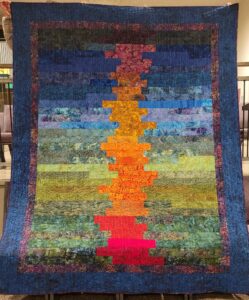 TWOCSN described its vision for a House of Constance to provide temporary and long-term housing and services for eight to 10 BIPOC trans women and femmes. The space would also become a community hub "for kickbacks, growing things, gender-affirming healthcare, mutual aid pantries and more." Members named the program in loving memory of Constance Blakeley, a core member of TWOCSN who passed away in 2020 at the age of 27. "We learn from her gracious wisdom and epic brilliance and honor Constance by protecting, supporting and cherishing the Black trans women still with us," Jasmine M. Pulido wrote in a tribute to Blakely.
The property team recommended to SMC that they transfer the house to TWOCSN, and the congregation affirmed this decision.
"We had complete unanimous consensus from everybody – either affirmation or trust," Ramer said. In the spiritual discernment process that SMC uses, to vote "trust" is to express that though someone may not have chosen this individually, they trust the discernment of God's call in the community.
"We all cried at the consensus meeting," said Burkhalter. "The decision to give this house to TWOCSN was the best kind of letting go because we laid this groundwork and came to the point that felt absolutely appropriate and celebratory and exciting."
In preparing the property for transfer, SMC saved any furniture or items in the house that TWOCSN wanted to keep. People from the congregation gathered to reminisce and clean out the rest. There were years of MVS items that had collected in the space – puzzles with missing pieces, broken strings on guitars and multiple decks of Dutch Blitz.
"Most things left behind were incomplete or didn't work," said Lee Murray who, as the church administrator, headed the logistical process of giving away a property. "To transform it from a 40-year-long house that held all those volunteers to an empty, clean, shiny place with only the things left in it that TWOCSN wants – it felt emotional. I was not in MVS and didn't spend a lot of time there, but I feel like I formed a relationship with that house through that transformation process. It just feels so good and so right."
"Going through this process, listening with curiosity, listening with kindness, sticking with each other – it was transformative. And I think we're changed for the better," Thiessen said.
A broader movement for repair
This is not the only Mennonite congregation that has taken steps toward mutual aid and community engagement with its properties and financial resources.
"It is inspiring to witness how many of our churches across the denomination are responding to the Sprit's call toward repair by not only sharing, but releasing, their resources to their communities," said Sue Park-Hur, MC USA director of Racial/Ethnic Engagement. "This work of release is good news for all involved."
Park-Hur emphasized the importance of moving from learning and confessing about injustice toward action. "Confession and acknowledgment are where we begin, but it is incomplete if we do not work toward concrete steps of restoration and repair," she said.
Shalom Community Church in Ann Arbor, Michigan, collected over $100,000 for disbursement as a reparative act to "communities dealing with the legacy of stolen land and stolen people." The International Guest House in Washington, D.C. was sold for $1.35 million in 2020, and Allegheny Mennonite Conference redistributed these funds to MC USA's Justice Fund and its congregations. San Antonio Mennonite Church developed its property into a hospitality house for asylum seekers who are released from detention. The congregation's work to serve immigrants and families also received an MC USA Justice Fund grant.
"Building and honoring church-community relationships, as we've seen in these stories, allows us to live out our faith and provides hope as we seek to live into God's call to respond to structural inequities in the world," said Lorraine Stutzman Amstutz, MC USA denominational minister for Peace and Justice.
SMC and others have sought to honor both the history and transformation within their communities as they aim to "live into God's call."
Marisa Smucker, interim executive director of Mennonite Mission Network, which sponsors the MVS program, points to the "ripple effect" that takes place in the MVS houses that are still going strong, as well as those that shift and change like Seattle's.
"Every time someone comes into a place, it changes the character of the place and, reciprocally, the person is changed," she said. "Conditions change, people change — that's transformation, that's growth."
"As an organization and as individuals, we honor the past and the good work that has been done and, as we see cultural changes and needs, we try to respond in a way that fulfills what God is calling us to do."
A home for community
SMC officially gave their former MVS house to TWOCSN at the end of 2022.
"It's really exciting now that the Seattle MVS house is becoming the House of Constance and has this whole new life ahead of it," Ramer said. "In some ways, it will be doing the same thing that it has done for decades, which is to create a home for people to live in community with one another and support other local movements for justice and peacemaking and service. And then to have a ripple-out effect."
TWOCSN said it is planning renovations to make the house more accessible and hopes to open the House of Constance to the community within three years.
In a letter honoring the house's past with MVS and the new community that will grow there, Ramer ended with these words:
"I send my fervent prayer for the thriving of each one who will find their way to the House of Constance, the thriving of the movement and advocacy that will continue to grow as we all seek liberation, wholeness and justice."
Seattle Mennonite Church is a member of Pacific Northwest Mennonite Conference, an area conference of Mennonite Church USA.

This story is part of MC USA's #BeTransformed series of stories and blogs. #BeTransformed is Mennonite Church USA's call for individuals and congregations to fully live into our Renewed Commitments to follow Jesus, witness to God's peace and experience transformation.
So, if anyone is in Christ, there is a new creation: everything old has passed away; see, everything has become new! 2 Corinthians 5:17  (NRSV)