More than 1,400 Mennonite youth and adults are arriving today at the Kansas City (Missouri) Convention Center, for the opening worship service at MennoCon23, Mennonite Church USA's biennial convention and leading faith formation event. The theme for the convention, which runs from July 3-6, 2023, is "Be Transformed," and it is a call to spiritual transformation.
"It is time for us to recommit ourselves to our values and renewed commitments," said Glen Guyton, MC USA executive director. "Mennonite Church USA has a vital role to play in our society. The world needs our message of peace, love, community and reconciliation. But we cannot merely preach these values; we must live them out. We will get there through the hard work of forbearing with one another, struggling through adversity, and most of all keeping our eyes on Jesus as the center of our faith and transformation," he said.
The MennoCon23 convention will equip members and church leaders through worship, sermons, educational seminars, guided discussions and exhibits addressing the many aspects of personal, interpersonal and communal spiritual transformation.
Leaders from MC USA's Executive Board and staff, conferences, congregations, program agencies, ministry partners and affiliated colleges and universities have created an inspirational and informative program with dedicated content for adults, youth and intergenerational audiences.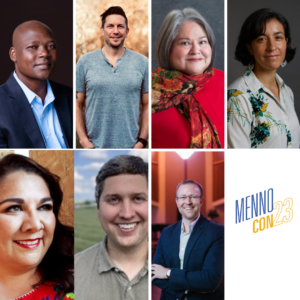 The MennoCon23 convention will feature six worship services, a highlight for many convention goers. The lineup of sermon topics and worship speakers is:
"Be Transformed," Nelson Okanya, global missions president for the Center for Serving Leadership in Pittsburgh, Pennsylvania.
"Fear and Failure in Transformation," Brian Moll, pastor of Cincinnati (Ohio) Mennonite Fellowship.
"Healing Transformation," Iris de León-Hartshorn, associate executive director of Operations and the director of Human Resources for MC USA.
"Mutual Transformation," Dianne Garcia, pastor of the Roca de Refugio church in San Antonio, Texas.
"Generational Transformation," an intergenerational panel calling themselves The Kaleidoscope of Generations.
"Communities of Transformation," Jon Carlson, MC USA moderator-elect.
Attendees will have the opportunity to select from among more than 90 seminars on a variety of topics, including community building, conflict resolution, belonging, social justice issues and ways for adults and youth to engage with the Bible. Presenters will employ a variety of creative approaches, including writing workshops, group improvisation, drama, first person, and arts and crafts. There are plenty of opportunities for fun and laughter at convention too, including hymn sings, entertainment by the comedian/ventriloquist act Ryan and Friends and a performance by the Houston-based comedy improv group, Can't Tell Us Nothing.
"The MennoCon convention provides attendees with the unique opportunity to connect in person with other Mennonite from across the denomination and to experience the full diversity and rich resources of the denomination," said Guyton. "For many, especially youth, it can be a pivotal point in their walk of faith."
Children and youth make up approximately 37% of attendees at MennCon23, an increase over MC USA's 2021 convention, in which persons under age 21 comprised only 19% of in-person attendees. The increase in young people may be attributed, in part, to the addition of children's programming, which was suspended due to the pandemic in 2021, and the proximity of the Youth and Young Adult Climate Summit, immediately following the convention.
MC USA is hosting the Youth & Young Adult Climate Summit on July 7 at the Kansas City Convention Center. The event will bring together experts in climate change, spiritual activism and social justice to explore the ways that young people ages 14 to 25 can put their faith to work to address the spiritual and human crisis caused by climate change. MC USA is collaborating with partner organizations, Mennonite Creation Care Network and Anabaptist Climate Collaborative, Learn more and register here.
Read daily highlights from MennoCon23 in The KC Sauce, MC USA's online convention news sheet.
Mennonite Church USA is the largest Mennonite denomination in the United States with 16 conferences, approximately 517 congregations and almost 52,000 members. An Anabaptist Christian denomination, MC USA is part of Mennonite World Conference, a global faith family that includes churches in 59 countries. It has offices in Elkhart, Indiana and Newton, Kansas. mennoniteUSA.org
Written by MC USA staff