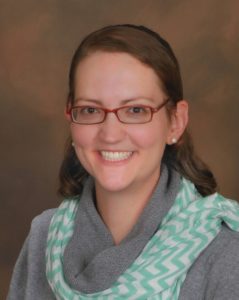 Rev. Amy S. Zimbelman is the conference minister for Mountain States Mennonite Conference. 
_____________
On October 28, the Southeast Armed Services YMCA in Colorado Springs hosted a community conversation entitled "After Afghanistan: The Future of Warfare." (Read the news story in The Gazette.) A group of us showed up to share our hope for a future of peace. According to an analysis done by Harvard Professor Erica Chenoweth, peaceful, nonviolent resistance was over twice as successful in creating broad-based change than violent campaigns in the 20th Century.
Our group was comprised of Mennonites from Mountain States Mennonite Conference, college students and peace activists. We sang songs, displayed signs and held conversations with the attendees and the military personnel who served as panelists. Some of the folks in our group have been protesting and getting themselves arrested for decades, while others were brand new to activism.
Personally, I was there to decry my own past and infuse some hope in the future. I grew up in this military town of Colorado Springs, where I heard the military's perspective constantly, including at church and school. My church flew the American flag in the sanctuary, and my public high school was on the base of the Air Force Academy. It wasn't until I left the state and studied abroad in college that I heard a peace perspective for the first time and, eventually, embraced Anabaptism.
I don't want that for my children. I want their imaginations to be shaped by peace and justice — whether through peace activism, getting to know refugees who flee war and persecution, or though RAWtools' anti-gun violence work in this city and beyond. I want an emphasis on active peacemaking to be integral to their faith in Jesus, rather than somewhat antithetical, as I grew up believing.
And even though our demonstration in Colorado Springs represented one small group doing one small action, it did renew my hope. For one, we got some press — our words about active nonviolence made it onto the front page of our local newspaper, The Gazette. We also encouraged each other and strengthened our bonds a little. Singing together is good for that. And when my four-year-old colored his sign and then put on the shirt donated by RAWtools for the event, he said,
"We're wearing this because we don't want to hurt anybody, right, mamma?"
"That's right, babe. We're not perfect, but we're doing our best to love everyone and not hurt anybody."
The views and opinions expressed in this blog belong to the author and are not intended to represent the views of the MC USA Executive Board or staff.
More information on Mennonite Church USA's peacebuilding theology and work