This post is part of our #BeTransformed series.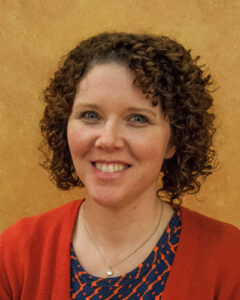 Amy Epp is the pastor for discipleship and children, youth and their families at Seattle (Washington) Mennonite Church (SMC). Amy began as associate pastor at SMC in September of 2005.  She works in worship development and with children, youth and families in SMC's community.  In her limited spare time, Amy enjoys anything related to quilting, knitting, sewing or other crafty endeavors.  She and her husband have two children.
This article is reprinted from the Pacific Northwest Mennonite Conference e-bulletin, September 2022.
_________________________________
We are excited at Seattle (Washington) Mennonite Church, on the verge of a dream we've been imagining for years.  Decades ago, we received a generous financial gift that has allowed us to accumulate properties in the Lake City neighborhood of Seattle — both for our own use and with the long-term intention of creating sustainable and affordable housing for the neighborhood. And now it's finally happening!
After years of careful listening within the congregation, we discerned a readiness to release our property — all 1.3 acres of it — and began a serious search for a partner developer who would meet our desires to serve the neighborhood, create affordable living space, be sustainable and land-honoring and, of course, allow space for our worship and programs. Community Roots Housing became that partner. They, too, spent two to three years listening, not only to us but, to the neighborhood and other stakeholders, learning what is most needed in the community. A few months ago, we signed a purchase and sale agreement with them and made it official.
Now we're in the exciting phase of being able to envision what this new building will be. Not only will it create homes for up to 250 households, but it will house neighborhood non-profits, openings for retail, community gathering space both indoors and outdoors and a new home for SMC. Community Roots and their construction and architectural partners are working hard both on design and on pulling together all the funding needed to make an enormous affordable housing development like this possible.
While it's not likely to break ground for at least a year, we at Seattle Mennonite are excited to imagine not only our new worship and meeting spaces but who our new neighbors will be and how community might be re-imagined in the years ahead.

The views and opinions expressed in this blog belong to the author and are not intended to represent the views of the MC USA Executive Board or staff.
Interested in submitting a blog for Menno Snapshots? Please see our blog guidelines here.