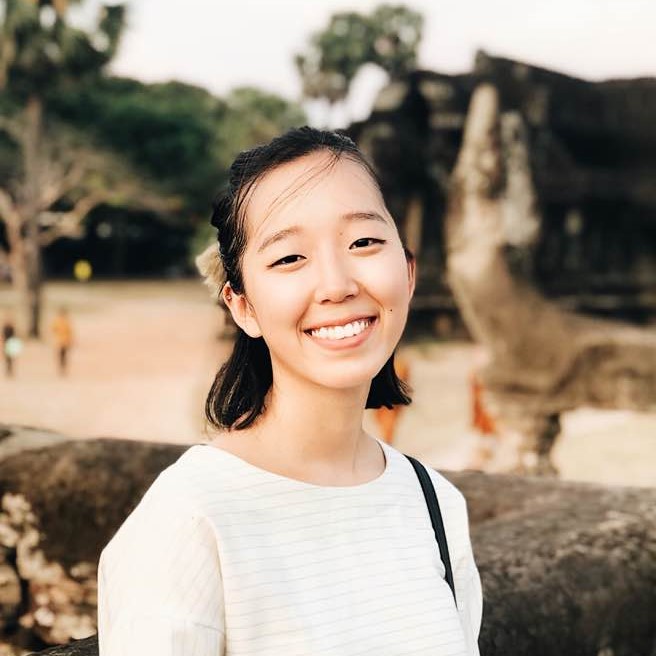 Dona Park is a graphic designer and digital illustrator based in Abbotsford, British Columbia, Canada. She is a graduate of Goshen College, Goshen, Indiana, and a former intern at ReconciliAsian. She has worked intensively on art for peacebuilding initiatives with Women Peace Makers in Cambodia and is a co-author of Navigating the Nexus of Art and Peace. More recently, Dona has worked with Mennonite Church USA to create art for several peace and justice initiatives, including "Laboring Toward Wholeness, A Training on Dismantling Patriarchy" and "Defund the Police? An Abolition Curriculum."
Mennonite Church USA thanks Dona for bringing the peace of God to others through her creative expression and is pleased to honor her with its first #BringthePeace award, sponsored by the denomination's Church Peace Tax Fund.
_________________________________________________
Camille Dager, news editor for MC USA, talked to Dona about her experiences as a peacebuilder.
Q: What does #BringThePeace mean to you?
Dona: Bring the peace means to be an active participant in creating positive peace. I think we tend to associate peace as being nonconfrontational, being passive, being silent in the face of conflict, because we don't want to ruffle any feathers. We don't want to become the whistleblower or change the status quo. I think we need to redefine peace as actively participating, actively dismantling abusive and oppressive systems.
Q: Who impacted your journey as a peacemaker?
Dona: Sue Park-Hur, denominational minister of transformative peacemaking for MC USA, has impacted my life as a peacemaker. I got to know Sue at a Mennonite diversity conference, Hope for the Future, in Florida. She was there as a speaker. I met her in passing, but it connected us since we were also the only Korean people in the group. Then, I had an opportunity to intern for two months at her organization, ReconciliAsian. For five years, we have stayed connected. She's constantly encouraging me, inviting me to create illustrations for MC USA curriculums and to stay creative throughout my whole career as a peacebuilder and an artist.
Q: Was there a pivotal moment that moved you toward the work of peace?
Dona: A defining moment that made me move toward peacebuilding was attending university. I wasn't familiar with the language of race until I went to Goshen College. I took African American history and some Peace and Conflict Studies courses. I grew up with discrimination and facing racism inside my classroom, even in Canada, and I didn't have the language to process this. Taking these courses at university helped me frame all of these tensions into the language of power, privilege and race. That was a cathartic moment when I learned I'm not alone. There are other people going through similar things, and they've found ways to dismantle it — or at least organize ways to feel supported, to express empathy and to communicate their issues to a larger society. That was a very pivotal point for me.
Q: Where do you encounter God in your peace and justice work?
Dona: In the many communities that I have encountered — in Cambodia, Korea, Peru, Guatemala and other places that I've been to — I see God through the kindness and unlimited generosity of strangers, of people who have extended their hand to help me. There were moments, for example, when I was in Cambodia, where I felt very vulnerable and where I didn't know the language. One of my colleagues who didn't speak any English would gesture toward me and I would gesture back. She would do the simplest acts of kindness, such as giving me fruit or asking me how I'm doing. It's impossible to say that's not an act of God. Despite all our differences, we still can experience lovingkindness that transcends religious, racial and gender boundaries. Those moments are where I experience the true love of God. As somebody who, at times, is critical of Christianity and its impacts in the international development world, I think that would be a defining point of where I've experienced God's love.
Q: How do your Anabaptist faith values propel you toward peacebuilding?
Dona: My Anabaptist values have impacted the way that I want to make change in the world. During a Mennonite Central Committee orientation for my Serving and Learning Together program, known as SALT, I remember one coordinator sharing the story of becoming an "ethical storyteller" — to not perpetuate stereotypes but to preserve the integrity of people who we are representing or interacting with. He was referring to social media or taking photographs of people in international development. That phrasing really encapsulates what I've learned in Anabaptist and Mennonite institutions about creating a holistic, peaceful environment, where we consider people who are marginalized, because the message of God is also for marginalized people.
Q: Why should Mennonites engage in peace and justice work?
Dona: I've witnessed Mennonite folks and churches doing good works, being Christlike and being compassionate peacemakers. But, when I've seen racial conflict in the United States, I've also seen Mennonite people and institutions remain very passive and not actively progressing to bring these agendas onto the table and say there's a problem. There are conflicts that permeate the Mennonite Church. But, thankfully and gratefully, Mennonites also have a history of feeling marginalized. I think that's an immediate connector to these issues — to stand up for other people who are currently marginalized, while also recognizing the privileges that Mennonites have had generationally as immigrants in the United States and in Canada. There are benefits that come from their whiteness. For me, I think any source of empathy for marginalized people should propel us to act and not be silent, even if silence is very comfortable.
Q: What would you say to encourage those who are not actively engaging in peacebuilding or who say, "I can't do that. I can't be like her"?
Dona: In peacebuilding, I think every piece is like a mustard seed. It doesn't have to be big. Six years ago, if somebody asked me, "Are you going to be in peace or international development?" I would not have known I would be here. When I started university, I had no interest in social justice work. But now, people see me as an activist or somebody who speaks up about important human rights issues. I would tell people to start small and help people around you. It doesn't have to be this huge, monumental pressure like, "I'm going to truly change all the systemic oppressions in the world." If you think like that, it's very exhausting and daunting. There are many obstacles to overcome. But if you start small and build your community and support network, then I hope you won't feel broken. Because then there's all these people helping you out, as you're creating whatever small project you have in mind.
Q: Is there anything else you would like to add?
Dona: I would love to encourage people who are interested in [art for peacebuilding] to continue pursuing art and to create more platforms for artists to become involved in peace work and the church.
The views and opinions expressed in this blog belong to the author and are not intended to represent the views of the MC USA Executive Board or staff.