Sydney Leah Bontrager, 2023 Bring the Peace award recipient, describes how God has impacted her through her work raising funds to provide relief to Myanmar villages and a Myanmar orphanage.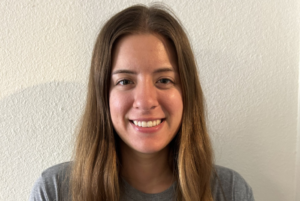 Sydney Leah Bontrager graduated from Hesston College in May, with a Bachelor of Science in nursing. She began work in early August on a pediatric unit at Wesley Hospital. Sydney is from Milford, Nebraska, where she attended Bellwood Mennonite Church. 
 Mennonite Church USA is proud to acknowledge Sydney's peacebuilding work with the 2023 #BringthePeace Young Peacemaker award, sponsored by MC USA's Church Peace Tax Fund. 
_____________________________________________________

Jessica Griggs, blog editor for MC USA, talked to Sydney Leah Bontrager about her experiences as a peacebuilder.
Q: What does "Bring The Peace" mean to you?
Sydney: I think "Bring The Peace" means bringing peace wherever you can, no matter what situation you're in. When I started this project, I was just a college student. I think peace can really be brought wherever you are in life — whether you're young or older, whether you're in school or work. Peace is always around, and it's always available for anyone.
Q: How are you involved in peace and justice work?
Sydney: When I was a student at Hesston College, I met some friends from Myanmar. I really wasn't even aware Myanmar was a country before. I didn't really know about it. But through talking with these friends, I found out what their country was going through. They're going through a civil war, and they're turning into a communist country. It's very unsafe. It's just not a good place to be. One of my professors at Hesston College, Michele Hershberger, was really into raising money for Myanmar and getting food to the villages where a lot of the active conflict is happening. With that connection and through my friends, I realized we could get more money. And I knew my church, Bellwood Mennonite Church, would be willing to do something like that, so I asked them if they would be able to help donate some money for food for these villages.
I was also able to be in contact with a lady in Myanmar who runs an orphanage for kids who live in a dump. Their home is the city dump. During the day, when their parents are at work, the kids come to the orphanage, and she gives them food and teaches them in a Christian environment. We were able to raise money for them, as well — for food and supplies.
I brought these needs to my church, and in one or two weeks, we raised $14,000. That was really surprising, but I was very thankful!
Q: Was there a pivotal event or a particular person that moved you toward peace and justice work?
Sydney: Yeah, I think it was Michele Hershberger. I took some of her classes, like Jesus in the Gospels. That class had me view Jesus in a different way. I got to learn more about him than I had when I was growing up. I saw more of his servant side, and that class really inspired me in that way. But there are also other professors and friends at Hesston. We talked about peace a lot, while being in that Anabaptist community, which really helps.
Q: How do you encounter God in your peace and justice work?
Sydney: I think I encounter God most through just seeing how everything works out and how God is working. There have been little moments, like this one instance in which Michele texted me and said that there were floods in Myanmar and she was trying to get a load of food across before the river flooded. She asked, "Is there any way Bellwood could donate $2,000?" And before I even texted or said anything to anyone, a lady from my church let me know that someone had just donated $2,000 anonymously. It's moments like that. Obviously, someone donated that, but it was God working through them.
Q: What does $14,000 look like, in terms of food and supplies, for the communities you send the money to?
Sydney: We gave some of the money to the villages and some to the orphanage. The orphanage was able to use it for more than just food, like school uniforms and things like that.
But I do know that in Myanmar, a U.S. dollar is worth a lot more. So any amount is very helpful.
Also, I said Bellwood donated that much right at the start, but there's been more donations and they are continuing to donate, because the orphanage is planning to buy land and rebuild, so we're helping them with that. But it's a far slower process.
Q: How would you say your Anabaptist faith values propel you toward your peacebuilding, or in other words, how has your faith grounded you to the work you do?
Sydney: My Anabaptist faith values revolve a lot around peace and service. When I think of Jesus, I think of a servant or someone who helped others, and we're supposed to imitate Jesus. I think that helped me. I know it's kind of selfish to think that way, but I know that God was working through me in that situation. My faith has grounded me in knowing that I wasn't doing it alone. I didn't create this whole thing on my own, and there have been people along the way that God has sent who have helped me. God has been working in me, as well. Just knowing that I'm not alone and that God has this whole thing planned out already.
Q: What would you say to encourage those who are not currently engaged in peacebuilding, or who say, "I can't do that. I can't be like her"?
Sydney: I would say, just find something that you like. I didn't even know I was really doing peacebuilding before it even happened. I was in the middle of it, and I realized, "Well, I guess, this is a kind of service."
So find something you like or that you're passionate about and ask for help. It's never something you really do on your own. Other people are always involved. Ask your community. Ask your church. They can help you, as long as you have those ideas. I would say anyone can do it, because I really didn't imagine that I would be doing this for a country I didn't even know existed a couple of months before. You never really know what's going to happen.
The views and opinions expressed in this blog belong to the author and are not intended to represent the views of the MC USA Executive Board or staff.
Interested in submitting a blog for Menno Snapshots? Please see our blog guidelines here.
Support the Church Peace Tax Fund here.
[/vc_column_text][/vc_column][/vc_row]