This blog is part of Mennonite Church USA's Advent 2022 series.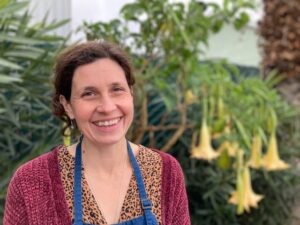 Sarah Fuller is a Mennonite artist living in Los Angeles. She works primarily in the medium of linocut printmaking. Sarah is interested in justice, nature and spirituality. Her work is influenced by the seven years she spent as a Catholic Worker in downtown Los Angeles, California. Her website is sarahfullerart.com.

_________________________________________________________
About the artwork
The design has three panels.  In the center is Mary and Jesus, on a path outside of Bethlehem.  There is a large star, the Bethlehem star — a sign of the portent of the event. There is also a large dove representing the Holy Spirit.
The panel on the left contains an olive tree. Underneath it is Joseph, accompanying and supporting Mary and Jesus. He is a figure of love, openness to uncertainty and mystery, and devotion.
The panel on the right shows the shepherds being told about Christ by an angel. The angel has huge butterfly wings. I wanted to bring the image of a butterfly in to speak to the theme of transformation. The night is transformed, the world is transformed, and also transformation is a daily accompaniment with us in the natural world and, as seen here, in the form of this supernatural angel.  
About the process
For each linocut, I first think of an idea and a design, which I draw in pencil.  I reverse that design and trace it onto a block of linoleum.  I use gouging tools to carve out the areas of the design that will not be printed, and to leave other areas raised.  This is a relief printmaking process.  I use a large flat roller to roll ink onto the surface of the linoleum.  The raised areas pick up the ink.  I press paper onto the linoleum block, and it picks up the ink from the raised areas.  When I pull the paper back, I have the image from the block.
View the Mennonite Church USA Christmas card video featuring Sarah Fuller's art here.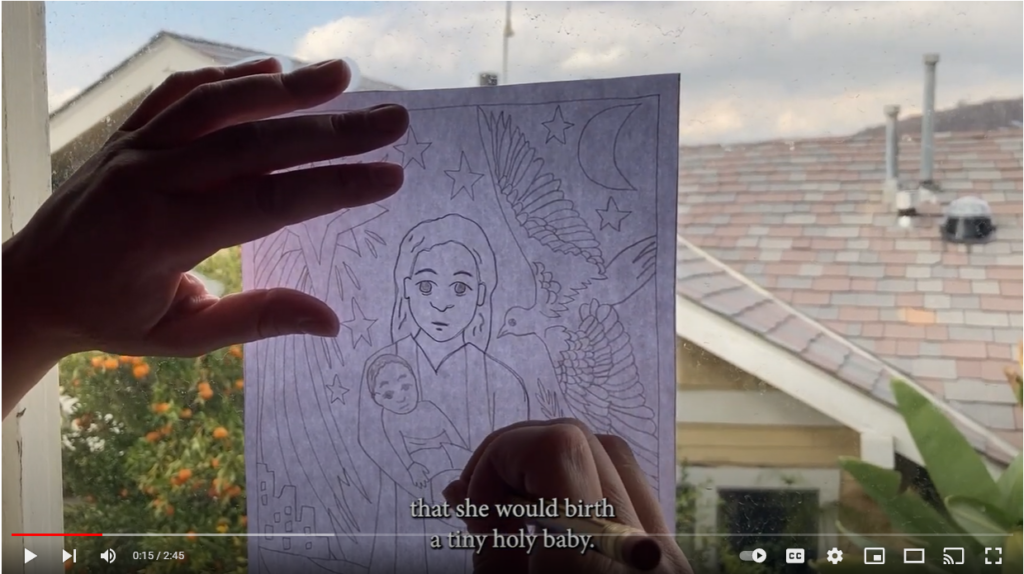 Interested in submitting a blog for Menno Snapshots? Please see our blog guidelines here.