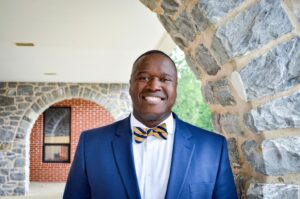 Dr. Michael Badriaki, is the superintendent at Lancaster Mennonite School. He is married to Kristen. A Badriaki, and they have a daughter in middle school. Michael earned a Doctor of Leadership in global perspectives degree from George Fox University. He also holds a Master of Arts in pastoral and intercultural studies from Multnomah University and Biblical Seminary and a Bachelor of Science from Concordia University. He continues to pursue a Ph.D. in intercultural education from Biola University. His professional experience includes business ventures, global health, consulting, leadership development and international relief, as well as educational projects in Africa, Asia, South America and the United States.
_________________________________
What is the value of an Anabaptist education?
The Anabaptist perspective of Jesus as the center of our faith, and peace and reconciliation as the center of our work, has long resonated with me. In my previous role as a high school and middle school principal at Lancaster Mennonite School, I saw firsthand how an Anabaptist education, through the "Encounter" Bible curriculum, adds the much-needed and unique value of teaching students about the love of Christ, which is the answer to polarization in the 21st century. A Christ-centered Anabaptist education can lead students to the redeemer. In fact, a student came to my office this past school year and shared these words, "Dr. Badriaki, do you have some time, because I would like to share with you about the transformative faith experience I am having at Lancaster Mennonite School. I came from a nonreligious school, but I wanted to let you know that I am finding faith in Christ through one of the classes I am taking."
Anabaptist-Mennonite education at Lancaster Mennonite School is effective and has been uniquely active in sharing the  value of Lancaster Mennonite's mission in our community for 80 years. With room for growth, we are energized by the present and future opportunities to serve students in their journey of Christ-centered discipleship and human flourishing. Our dedicated faculty, who nurture a Christ-centered school experience of educational excellence in a diverse community, are holistically equipping students to change the world through Christ-like love, peacemaking and service.
What is the role and importance of faith formation in Anabaptist education?
What drinking water is to quenching thirst, gospel-centric faith formation is to the human soul, intellect and body in Anabaptist education. Scripture also notes, "And without faith it is impossible to please God, because anyone who comes to him must believe that [God] exists and that [God] rewards those who earnestly seek [God]" (Hebrews 11:6 NIV). Therefore, faith formation in Anabaptist education invites students to "seek Jesus wholeheartedly," which is one of our Anabaptist values, and at Lancaster Mennonite, it is embedded in our climate, through our core values. Faith formation is not only an intellectual and rational encounter, transferring knowledge with our minds, but it is also about how the incarnate Christ (Colossians 1:27, Galatians 2:20), through the Holy Spirit, transforms students' lives holistically, from the inside out.
So, at Lancaster Mennonite School, through our "Encounter" Bible curriculum, students in preschool through 12th grade learn the Jesus story, the meta-narrative which covers creation through the eternal perspective of Christ's promised return, the new heaven and new earth. By aiming to start with Jesus, we desire to pay attention to the Apostle Paul's reminder that "faith comes from hearing the message, and the message is heard through the word about Christ" (Romans 10:17 NIV).
Through STEAM (science, technology, engineering, art and math), we believe acquired design-thinking skills allow students to apply their God-given creative talents in the marketplace. Indeed, faith formation at Lancaster Mennonite is authentically missional.
Ultimately, faith formation in Anabaptist education is about the incarnation of Christ, the word becoming fleshing, the reality where the kingdom of God meets humanity on earth. Faith formation reaches our deepest needs, worries, anxieties and fears in order to reassure us of God's loving-kindness and grace.
As an Anabaptist Christian community, what responsibility do we have for training up children? (Proverbs. 22:6)
In my view, Proverbs 22:6 gets to the transformational and relational responsibility of Anabaptist education. In fact, Anabaptist Christian schools are tooled and able to train up children through our "Encounter" Bible curriculum, produced by Mennonite Schools Council (MSC) and Mennonite Education Agency (MEA). Because children and students at every grade level are created in the image of God, tending to students' faith through a Christ-centered Anabaptist education and safety are high priorities. We want each and every student to know that they are loved. In life, every student is going to face stressful moments, as well moments of joy. But in both experiences, it is our hope that students live orientated and anchored to their creator. We live in a rapidly changing, digitized and technologically all-consuming age. Whether or not we realize it, our lives are undergoing a sort of faith formation in our digital age, and students need the opportunity to become rooted in the foundation of the gospel. When children's and students' lives are built on the foundation of Christ (1 Corinthians 3:11), they will bear fruit that lasts (John 15:16).
How can we equip our children to grow in Christ and community?
While growing up in Uganda, I was fortunate to experience the benefit of the African proverb, "It takes a village to raise a child," in both good and tough times. We need to make sure children are loved, safe, and that they learn how to keep learning and growing in character. It is also important to teach children and youth about justice, because when they are subjected to neglect, abuse and abject poverty by individuals in the community, they are unfortunately endangered by injustice. Violence begets violence, and hate begets hate. Children deserve better, and Anabaptist education is poised to offer hope, skills, and the joy of becoming a lifelong learner who earns and achieves educational excellence to make our world a better place.
---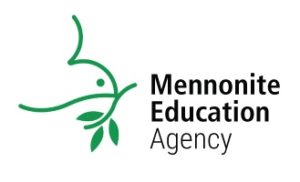 Visit Mennonite Education Agency's website to learn more about our Anabaptist Mennonite schools, colleges and universities.
---
The views and opinions expressed in this blog belong to the author and are not intended to represent the views of the MC USA Executive Board or staff.
Interested in submitting a blog for Menno Snapshots? Please see our blog guidelines here.