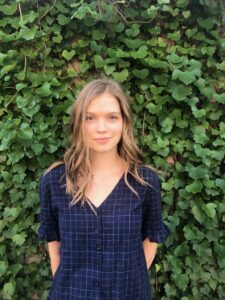 Clara Weybright is a graduate of Eastern Mennonite University, in Harrisonburg, Virginia, where she studied environmental science. She is currently a Juris Doctor (J.D.) candidate at Temple Law School, in Philadelphia, Pennsylvania. Upon receiving her J.D., Weybright intends to focus her legal practice on justice work. Previously, Weybright was a climate futures fellow at the Center for Sustainable Climate Solutions and worked with the MCC National Peace & Justice Ministries in Washington, D.C. With these organizations, she researched and wrote climate policy through a peace and justice lens. She was also a member of the Mennonites against Militarism council, and as such, she worked to connect the impact of militarism on the environment.
Mennonite Church USA (MC USA) is proud to acknowledge Clara's peacebuilding work with the 2022 #BringthePeace Young Peacemaker award, sponsored by the denomination's Church Peace Tax Fund.
_____________________________________________________
Jessica Griggs, blog editor for MC USA, talked to Clara about her experiences as a peacebuilder.
Q: What does "bring the peace" mean to you?
Clara: I'm really excited that MC USA is talking about bringing peace to the forefront of all the work they're doing. And I know MC USA has its fingers in a lot of pies and a lot of issues, so pulling peace into all of them is really incredible.
Q: How are you involved in peace and justice work?
Clara: My peace and justice work has definitely shifted a lot in the last year or so. I first got to know some folks more professionally with MC USA, while I was working with Mennonite Central Committee (MCC) in their Washington, D.C., office. I was working on climate policy. So some of my first introductions to peace and justice work were through that climate lens. I studied environmental science, and it was surrounded by a lot of doom and gloom. There's a lot of bad news, environmentally speaking, especially in how it is affecting vulnerable people. And so, using this lens, working with MCC, specifically to frame climate change as a peace and justice issue, was really formative. And when I went into the Washington, D.C., office, I knew I was going to law school. I hope to make my legal practice focused on justice work, but I'm not sure what that looks like, at this point. I think those kind of intersections into peace and justice have been really pivotal in the last few years.
Q: How are you involved in peace and justice work? Who has been most impactful to you on your journey as a peacemaker?
Clara: I still remember a children's story from Shalom Community Church, which is both a Church of the Brethren and a Mennonite Church USA church, in Ann Arbor, Michigan. It was one of those formative churches I went to while growing up; I went there from about first grade to fourth. And I remember there being this question: What does peace mean? I was always the kid who was ready to answer the question. And I had no answer. I still remember the pastor at the time saying something like, "Peace is people in right relationship with each other." And I didn't know what right relationship meant at the time. But I think, early pastors and early nurturing faith figures were important.
And definitely my parents. I grew up in a very pacifist household. I still remember that my best friends across the street were allowed to have the really cool plastic machine guns — I don't know if I'm allowed to say really cool plastic machine guns in a peace and justice interview, but we thought those were the best. They were so fun. And my parents were like, "Absolutely not. You're not playing with those. And this is why …" And I'm sure they talked about the industrial war machine.
And also, some really incredible professors at EMU were really central. In particular, Marti Eads, who is an English professor; Peter Dula, who is a Bible and religion professor. And some of my science professors; Jim Yoder and Doug Graber Neufeld were both very involved in my work and thinking about what peace and justice pragmatically looks like.
Q: Was there a pivotal event that moved you toward the work for peace?
Clara: I was particularly influenced by my cross-cultural, during my time at Eastern Mennonite University (EMU). I was in Guatemala and Cuba and on the U.S.-Mexico border. And watching people work for peace and justice in ways that were newer to me was really interesting. And specifically, watching how parts of the Catholic Church in Guatemala radically address issues of peace and justice was new to me, and it was very different from the Catholicism I'd seen in the U.S. And I still think about some of those priests and other lay leaders who we had the chance to interact with there.
Q: Why do you think Mennonites should embrace peace and justice work?
Clara: I think peace and justice work is, frankly, one of the few things that makes the Mennonite church distinctive from many other Protestant faith traditions. I honestly cannot imagine the Mennonite church without peace and justice values; I think that would make us hollow. I also think it's something that the world needs. I think there's good peace and justice work that happens in secular spaces and, obviously, in other faith traditions, as well. But I think about the Mennonites that I have seen in action in a diversity of professional capacities, what makes them distinctive and what makes them do their work really well is that sense of how their work is impacting the marginalized and how it is affecting the global context, as well as how it affects the local spaces that they inhabit.
Q: What were you most excited to work on this past year, or in the coming year?
Clara: Because I'm in law school, I'm thinking a lot about the criminal justice system and my role in it — specifically as a white woman with a professional degree — and how I inhabit some of those spaces. I've been really impressed by the work that MC USA has done on criminal justice and the incarceration system in the United States. And those are issues that I'm just curious about at this point and want to learn more about.
Q: What would you say to encourage those who are not actively engaged in peacebuilding?
Clara: There are a lot of ways to get involved. And historically, the Mennonite church has had one image of what peace and justice work looks like, and honestly, it looks like what I did last year, which is work for MCC.* That tends to be where people go. And I think that doesn't begin to touch the big issues that we can grapple with, as people of faith. And so, I would say that you don't need to go work for MCC to do justice work (not to call out MCC), and you don't need to be doing what we stereotypically think of as "in in the thick of it" work, in which all of our professional lives, personal lives and our spiritual lives intersect with peace and justice. I think it's a matter of just knowing where to start.
*Mennonite Central Committee (MCC) is a ministry partner of Mennonite Church USA. 
The views and opinions expressed in this blog belong to the author and are not intended to represent the views of the MC USA Executive Board or staff.
Interested in submitting a blog for Menno Snapshots? Please see our blog guidelines here.