This post is part of our Learn, Pray, Join: Mass Incarceration series.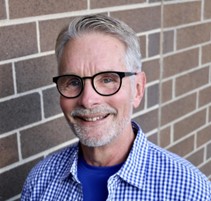 John McCabe-Juhnke is Professor Emeritus of communication arts at Bethel College, where he taught speech and theater for 34 years. He holds a Master of Arts in speech communication from the University of Illinois and a Doctorate in performance studies from Louisiana State University. His work as a prison theater practitioner, educator and scholar reflects the coalescence of his interests in dramatic performance and social justice. He is a member of Shalom Mennonite Church in Newton, Kansas.
_________________________________
I first set foot inside a prison to develop a prison theater program at Lansing (Kansas) Correctional Facility, Kansas' largest prison. Bethel College (BC) had granted me a sabbatical leave from teaching, and Arts In Prison, Inc. in Kansas City, Kansas, founded by Bethel alumnus Elvera Voth, provided financial support for the venture. The year was 2000 — the same year the incarcerated population in the U.S. reached the two million mark.
Like most people in the comfortable middle class, I'd never had to confront the uncomfortable reality of prison life. It wasn't part of my story.
I had prepared a one-man show for the population in Lansing's medium security facility, to drum up interest in the new program. Among the pieces I performed was "An Overture," a poem written by M. A. Jones, while he was incarcerated at Arizona State Prison-Florence. The poem ends with these words:
This story begins
and ends in separate places, with interruptions
. . . in this story
there's always the possibility of morning,
a chance
that the screams which drip down at midnight
are not really threatening
but wishing us a life
in another story.
My wish was that prison theater would offer inmates a chance to experience life beyond the screams, walls and razor wire — that perhaps these men could experience, if only momentarily, life in another story.
My own story has now been reshaped by numerous, vivid narrative threads, spun from 20-plus years of directing shows behind bars. I don't yet know the "separate place" where this story ends. I do know that to transform our prisons to spaces of restorative rather retributive justice, mainstream Americans must engage the stories of individuals who have been forcibly kept at the margins of society. To ensure that "all people are treated with dignity and respect as we seek to be in community with one another" (Armster and Stutzman Amstutz), we must replace isolation and ignorance with engagement and empathy.
When my leave ended, my desire to stage plays in prison didn't. Fortunately, Offender Victim Ministries (OVM) in Newton paved the way for me to direct plays at Hutchinson (Kansas) Correctional Facility (HCF). So I kept at it, mostly on a volunteer basis until 2014, when I developed the Prison Theater Project course, which is offered through BC during Interterm (a 3½-week intensive course, offered during the month of January). The culminating project was "Inside Story," a hybrid performance at HCF that included several short plays that are nested within original narrative passages and are composed of excerpts from the actors' journals. In an added twist, BC actors read out excerpts from inmate journals and HCF actors give voice to excerpts written by students.
I last set foot inside a prison in August, when I accompanied students to a "cast party" at HCF, where we met with inmates to celebrate the fifth iteration of Prison Theater Project. I believe when those of us who are outside of prison attend to the stories of those who are inside, transformation becomes possible for all. The following sampling of narrative excerpts performed throughout the years reveals the ways listening to and performing the words of others nurtures engagement and empathy (BC student entries are italicized. HCF entries are in standard print.):
From "Inside Story" 2016:
KS: "I feel like each and every man in the Drama callout [has] given me [a] reason … to see them as something other than the mistakes they made. In [the assigned reading,] Judy Dworin says, "But the fact is that there is a complexity of reasons for those bad choices and bad choices are not synonymous with bad people." I just really thought about how that statement re-humanizes these people."
From "Inside Story" 2018:
JG: "Most people believe that we are just a bunch of violent, hateful, dangerous criminals but once they meet us and talk to us they realize that we are regular human beings with hopes and dreams of our own who have made some mistakes. … I really like the play "Welcome to the Hate Store" because it really does touch on the way society seems to be today. It's almost as if everybody just walks around with hate for no reason, like they carry it like a new handbag or new watch that they just bought. But could we even imagine how wonderful the world would be if everybody would return their hate to "the hate store" and see the world through a child's eyes, so full of wonde[r] and amazement."
From "Inside Story" 2019:
EM: "[W]hen I walked into the classroom … I wasn't expecting to see all of these people from the college. And what's worse, what threw me off even more was realizing just how "out-of-touch" I really am with the outside world. Normally, I'm usually a very outgoing, friendly, and somewhat charming individual. Some might even say entertaining, but for those first few moments at least I felt truly institutionalized."
LN: "I heard Jason saying … how thankful he was to have us here, explaining how it gives all of them a break from the reality of living in prison. That little comment hit me much harder than I expected. … I have struggled with anxiety and depression for basically my entire life, and theater has always been a reliable outlet for me to deal with those struggles."
RA: "I believe that you can tell people who you think you are, but you have to show people who you really are. Once you get past the preconceptions and the prejudices, we all really want the same things: love, respect, happiness, and dignity."
JB: "I'm not a monster … I'm just a middle-class nerd who lost his way and desperately wants a second chance."
From "Inside Story" 2022:
KF: "I know they say you can't teach old dogs new tricks but this dog isn't done yet.  I really want to prove to … society that people do change and we all aren't hopeless. … I hope to take what I learn in here and use it to do good things and bring awareness and understanding to people."
EG: "I don't know what these men did to land themselves here, and I don't know when they get out.  But I do know that we have been able to make a connection through theater."
IW: "This experience has turned out to have had amazing rewards. Gaining experience in the Art of Theater, working with intelligent, fun, and quirky people, learning more about myself and the other members of the group. Stuff like how all of us share something together: Humanity. Even with every persons' individual paths, separate journeys filled with their own trials and tribulations, their own success stories and moments of joy, we've all had the chance to intersect those paths with each other. To intertwine, intermingle, to invent a magic similar to many but uniquely 'us.'"
Prison theater is a restorative practice, because it "gives back" a voice, a face and a community to incarcerated individuals. Though offenders are unable to repair relationships with injured parties directly, theater provides a laboratory for inmates to practice the interaction skills necessary for their ultimate reintegration into society. Theater creates a context for building relationships in prison, by opening space for life in a new story.
The views and opinions expressed in this blog belong to the author and are not intended to represent the views of the MC USA Executive Board or staff.
Interested in submitting a blog for Menno Snapshots? Please see our blog guidelines here.
---

"Continue to remember those in prison as if you were together with them in prison, and those who are mistreated as if you yourselves were suffering." — Hebrews 13:3 (NIV) 
You are invited to get involved with Learn, Pray, Join: Mass Incarceration. 
Support Mennonite Church USA's Peace and Justice Initiatives by giving here.