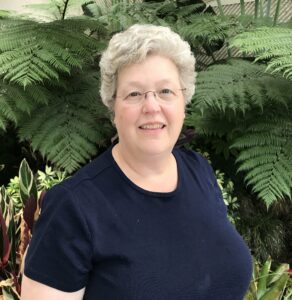 Sarah Buller Fenton is a retired public health nursing leader specializing in infectious diseases and immunizations.  Sarah received her Bachelor of Science in Nursing degree from Goshen College, Goshen, Indiana, and her Master of Science degree in public health nursing from University of Illinois at Chicago.  Sarah spends her retirement time quilting, sewing, spending time with her three grandchildren and still works a little bit in public health, in addition to various church activities.  Sarah and her husband, Curt, are members of Hopedale Mennonite Church in Illinois.
________________________________
Hopedale (Illinois) Mennonite Church recently sponsored a two-day comforter blitz for Mennonite Central Committee* on Jan. 21 and Feb. 4. We invited people from 18 local churches to participate. Approximately 50 people participated each day. They included members of Hopedale, as well as Mennonite Church of Normal (Illinois), First Mennonite Church of Morton (Illinois) and St. Joseph's Catholic Church in Hopedale.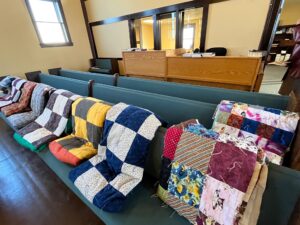 Women, men and children all joined in. Even the two young sons (ages 4 and 6) of our pastor, Jessica Litwiller, were involved as "runners" – helping to ring bells when a comforter was finished, taking knotted comforters to the "cutters," who trimmed and got comforters ready for binding, and taking trimmed comforters to the "sewers," who used sewing machines to finish the edges of the comforters. Finally, the runners took completed comforters to the church sanctuary to be displayed on the pews. The young runners also took great delight in letting me know the current count of completed comforters hanging on the pews. We enjoyed a soup lunch, made and served by members of the church hospitality committee.  A total of 52 comforters were completed, far exceeding our original goal of 35.
On Sunday, Feb. 5, Hopedale Mennonite Church blessed the people who made the comforters and prayed for the recipients of the comforters. The comforters were handed out to the congregation to hold as we did the blessing.
My husband, Curt Fenton, said the blessing, using Voices Together worship resource #1017 and substituting the word "comforters" wherever the original prayer used the word "offerings":
"God of life, we give these comforters in gratitude, rejoicing in the abundance of your gifts to us.
We give these comforters in faith, trusting that you will provide for our needs.
We give these comforters in hope, knowing you can use them to spread your love in this world.
And with these comforters, we give ourselves; may we live with generous hearts and open hands. Amen."
Written by Joanna Harader (USA), 2013. Reprinted with permission. 

*Mennonite Central Committee is a ministry partner of Mennonite Church USA.
The views and opinions expressed in this blog belong to the author and are not intended to represent the views of the MC USA Executive Board or staff.
Interested in submitting a blog for Menno Snapshots? Please see our blog guidelines here.