This post is part of our Learn, Pray, Join: Mass Incarceration series.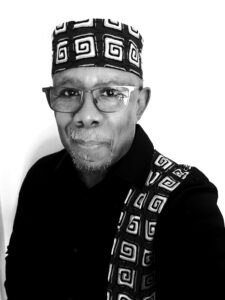 Conrad Moore is a formerly incarcerated person; the former director of peace education for Mennonite Central Committee (MCC) East Coast; the former co-director of the antiracism program for MCC U.S.; the minister of music at Crossroads Mennonite Church in Lancaster, Pennsylvania; co-founder of Urban Peacebuilders; former resident director of the prison aftercare and discipleship program at Liberty Ministries in Schwenksville, Pennsylvania; a core trainer with Roots Of Justice; an institutional racism auditor with Widerstand; and a husband, father, grandfather, and great grandfather.
_____________________________________________________
I took the words "abandon hope" from Dante's "Inferno." They're an apt description of the system of mass incarceration. They were etched across the entrance to the inferno (hell). Those currently subjected to mass incarceration are those who are locked away in U.S. prisons, as well as the millions of people on probation, parole or electronic monitoring. Tens of thousands of immigrant men, women and children are locked in detention centers in the U.S. Some have abandoned hope, because we have abandoned them.
In her book "Caste: The Origins of Our Discontent," Isabel Wilkerson describes the American caste system as "an artificial hierarchy that helps determine standing and respect, assumptions of beauty and competence, and even who gets [the] benefit of the doubt and access to resources."[1]
Mass incarceration is an enforcement mechanism for the American caste system. To understand why we support it, we have to challenge how our identities are shaped in the U.S.
Are we who God says we are? What about the abandoned? Do we see them as God sees them?
In Matthew 16:15-17, Jesus asked his disciple a crucial question: "'But who do you say that I am?' Simon Peter answered, 'You are the Messiah, the Son of the living God.'  And Jesus answered him, 'Blessed are you, Simon son of Jonah! For flesh and blood has not revealed this to you, but my Father in heaven'" (NRSV). Jesus explains that, regardless of what anyone else says about who he is, God has shown Peter.
Who are we listening to about identity? God has the authority to assign and reveal identity. The American caste system seeks to usurp that authority.
Phrases like "super predators" and "Black-on-Black crime" give us permission to abandon Black people who are caught in the system. They are where they should be, we assure ourselves.
We have become so comfortable with these phrases that we don't even challenge them when we have other information right in front of us. About 80-97% of the time, a murderer's race matches that of their victim. Yet we throw the phrase "Black-on-Black crime" around as though it is a phenomenon or an anomaly, when it is true of all races in the U.S. "Illegals" and "invaders" are terms we embrace to quiet our consciences about jailing people who are seeking asylum without "proper" documentation. This language does not just generate fear of immigrants, Black and Indigenous peoples, but it justifies ignoring the plight of those who have been abandoned to the system of racialized social control that we call mass incarceration.
The illusion of superiority was a preexisting condition to the Europeans who colonized the Americas. In a short time, it became white superiority. To be clear, I am not talking about cross-burning racism, but rather, I am talking about that quiet sense of superiority embedded in white Western Christianity — Anabaptists included. Christopher Columbus' journal gives us a glimpse of what it looked like when he wrote about his contact with the Indigenous peoples.
"They … brought us parrots and balls of cotton and spears and many other things …  They willingly traded everything they owned … They were well built, with good bodies and handsome features …  They would make fine servants …  With fifty men we could subjugate them all and make them do whenever we want"  ("Journal of Christopher Columbus," Barcelona manuscripts, pr. De Las Casa, 1552).
The 15th-century Catholic church had the power and authority to tell governments what the rules of the caste system were. Columbus was well aware of his superiority. The Pope granted European explorers "full and free permission to invade, search out, capture, and subjugate the … pagans … unbelievers and enemies of Christ wherever they may be … and to reduce their persons into perpetual slavery" ("Bull Dum Diversas," by Pope Nicholas V, June 18, 1452).
The highlighted words above are not often associated with evangelism. What should happen when we discover we are not who we believe ourselves to be? Grief. Jesus said, "Blessed are they that mourn" (Matthew 5:4 KJV).
To become who we are, we must first grieve the loss of who we believed ourselves to be. We need to challenge how we know what we know about ourselves and those we abandon to mass incarceration.  Only then, we can become the beloved community we claim to seek. 
---
[1] Terry Gross, "It's More Than Racism: Isabel Wilkerson Explains America's 'Caste' System," as heard on Fresh Air.
---
The views and opinions expressed in this blog belong to the author and are not intended to represent the views of the MC USA Executive Board or staff.
Interested in submitting a blog for Menno Snapshots? Please see our blog guidelines here.
---

"Continue to remember those in prison as if you were together with them in prison, and those who are mistreated as if you yourselves were suffering." — Hebrews 13:3 (NIV) 
You are invited to get involved with Learn, Pray, Join: Mass Incarceration. 
Support Mennonite Church USA's Peace and Justice Initiatives by giving here.
---