This blog has been translated from Spanish. See the original Spanish article in MenoTIcias.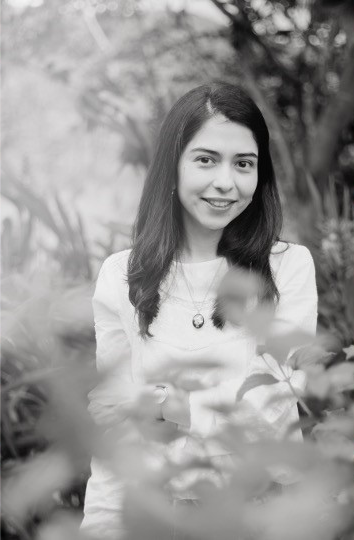 Adriana Celis writes for MenoTicias, the Spanish-language digital newsletter of MC USA and Hispanic Ministries of Mennonite Education Agency. She lives in Colombia and  is pursuing a degree in law.
________________________________________________________
In October 2021, Marco and Sandra Güete and Adriana Celis, the author of this journal, traveled to Goshen and Elkhart, Indiana.
October 4, 2021
The first morning of our trip to Goshen and Elkhart began very early for me. Around 4:30 a.m., I began the day in prayer and meditation. On that autumn morning, in the Windy City of Chicago, where I was staying, I received a text message from Marco, my boss, announcing that he and his wife, Sandra, were ready for me.
I was a little nervous, to be honest, but once I saw Marco and Sandra, I felt so close to them that my perspective completely changed. Previously, I had only had the opportunity to meet them virtually.
When I saw Marco, I thought of him as more than just my boss; he felt to me more like a father and a shepherd. I must have felt this way because, since I began working with Marco, he has always listened to me and shepherded me when I have not had a shepherd to turn to.
The trip to Indiana started smoothly. We arrived at our destination in 2 ½ hours, which was how long we had expected it to take. I was checking my "to-do list" in an organization app that I use. Everything was going fine, until I lost internet connection. For some strange and mysterious reason that Oct. 4, the company that provides my telephone and internet services had no coverage in Indiana, and to make it worse, on the same day, the most popular social networks were also suddenly down — that is, it was totally incommunicado. It stayed that way until almost 6 p.m. Everything had to be done manually, as in the past. Therefore, this trip was unique and beautiful at the same time, since this was the first time in a long time that I had taken such a long "social media break".
Our first stop was in Goshen. I had heard so much about Goshen, and also about Elkhart, from all the people I have interviewed for my work with MenoTicias that I couldn't control my excitement. Goshen and Elkhart were beautiful. Autumn, with its leaves changing color, the smell of fresh rain, the sound of dry leaves crunching underfoot — just like the first time I saw and experienced the season a few years ago in England — never ceases to amaze me. Wow, this season is beautiful!
We arrived at Goshen College, and there, we met with Gilberto Pérez, who we had the privilege of chatting with about the projects that he is developing in the community. We shared lunch in the college cafeteria, and at the same time, we talked about his career and his various positions at the college, his service as a politician, and his work for the Hispanic community through the Bienvenido (Welcome) program, which he fervently serves. We, then, took a tour of the university and its surroundings, including visiting the library, the auditorium and the chapel of College Mennonite Church.
We also spoke with Gilberto about the future plans of the training program through the Instituto Bíblico Anabautista (Anabaptist Biblical Institute, IBA) working with the Bienvenido program, which helps Latino immigrants, with the aim of conducting training from a biblical perspective.
After saying goodbye to Goshen and Gilberto. We headed to Elkhart, where Pastor Naún Cerrato was waiting for us at Piedra Viva Mennonite Church. Once there, Pastor Naún told us about the projects Piedra Viva Mennonite Church is involved with, including the POSADA Program, which seeks to provide legal help to undocumented immigrants. Another important project they facilitate provides English classes for people who do not speak the language; these classes are taught in the church facilities. Additionally, they are also discussing a future alliances between Piedra Viva Mennonite Church and IBA, which will carry out training in biblical education for members of the community.
The day ended with laughter, Chinese food and rounds of dominoes at the home of Nancy Kauffmann, who served as the denominational minister for many years with Mennonite Church USA.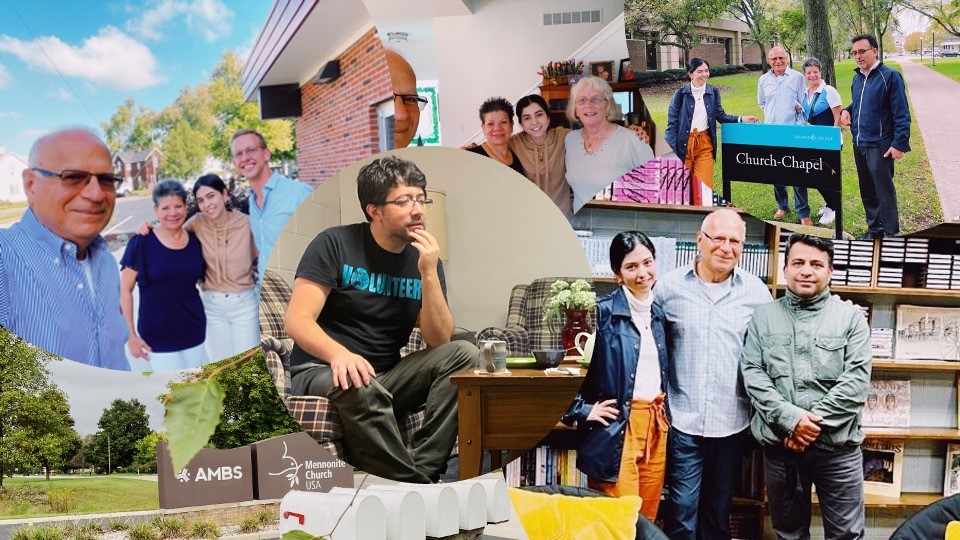 October 5, 2021
The day started a little later than the day before. I woke up around 6:30 a.m. Marco, Sandra, Nancy and I enjoyed breakfast together. We prayed together and, then, said goodbye to Nancy. Nancy is a very nice and pleasant woman; I would have liked to have more time to talk with her. I felt that a little piece of me stayed in that house. Her hospitality and affection towards us is something that I will never forget.
Around 10 a.m., we arrived at the Anabaptist Biblical Mennonite Seminary (AMBS). This is another place that I have always heard a lot about from the people whom I have had the great privilege of interviewing and who studied there.
This place is nice. It is different from the other universities that I have been to in my life. AMBS mixes both spirituality and knowledge. I felt comfortable visiting the facilities, especially the library.
At AMBS, we meet up with Luis Marco Tapia and his fiancée Kristen Swartley. Luis, who has been an active professor at Seminario Menonita Bíblico Anabautista (Hispanic Anabaptist Biblical Seminary, SeBAH), shared with us about his commitment to continue teaching as a professor at SeBAH and his future plans for training leaders — male and female — and pastors. We said goodbye to Luis and Kristen.
From there, we headed back to Goshen, where we shared lunch with Pastors Madeline and David Maldonado from College Mennonite Church. It was quite a nice time. We talked about the possibility of training leaders — men and women — in their faith community, through IBA in 2022.
Around 2:10 p.m., we went to the Mennonite Church USA headquarters in Elkhart and visited Mennonite Education Agency (MEA). We had the opportunity to chat with Marissa Smucker, one of the executives from Mennonite Mission Network and Michael Danner, the executive director of MEA.
To end our visit to Indiana, around 3:10 pm., we arrived at Prairie Street Church in Elkhart. There, we met Pastor Quinn Brenneke. We talked with him about his work with the Latino community at Prairie Street Church, where he pastors, as well as their future alliance with IBA, which would allow his faith community to receive biblical and theological training.
Our trip to Indiana ended around 4:00 pm.; we had the joy of visiting friends and our brothers and sisters in faith. We give thanks to our Lord Jesus Christ, who kept us safe throughout the trip, during our visits and the return to our homes. He allowed us to have a good time and allowed me to create a real, broad and conscious vision of the Mennonite-Anabaptist world.
I can only say, "Thank you! Thank you! Thank you!" to the leaders and pastors who opened the doors of their communities and took time out of their busy schedules to share a moment with us.
I will always keep this trip safely in my memory.
---
This sidebar was first published in Spanish in MenoTicias. Read the original here.
La Mesa Incorrecta and 120 Hispanic people reaching for Christ at the College Mennonite Church in Goshen, Indiana
By Adriana Celis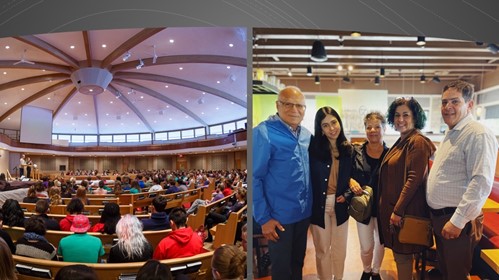 David and Madeline Maldonado are part of the pastoral team at College Mennonite Church. This church, located at the heart of Goshen College in Goshen, Indiana, is attended by a Latino community of approximately 120 people. During an interview with MenoTicias, the Maldonados, who lead College Mennonite's Spanish services, shared about the projects in which the church participates. Some projects worth highlighting include those that are focused on the use of technological advances within the Hispanic community.
One such project is a radio program called "Dialogando Con el Pueblo" ("Talking With the People"). The purpose of this program is to inform the Latino communities of Goshen, Elkhart, Indiana, and the surrounding areas about Anabaptist Christian values. The program is transmitted and retransmitted through the radio frequency of Radio Horizonte 104.3 FM and through Facebook Live.
Another project that College Mennonite Church is working on is the development of the La Mesa Incorrecta (The Wrong Table) program. In this program, which is expected to launch in the coming months through Facebook Live and YouTube, the main point of conversation will revolve around a good cup of coffee, which the Swedes call "fika." The program provides a place where participants can talk about topics that many people do not want to talk about, such as questions like: "What do you think of the Texas pro-abortion law?" or "What do you think about the LGBTQ communities in the church?"
"[La Mesa Incorrecta allows for] open and uncensored dialogue, through which it is possible for people to speak and express each of their points of view without disrespecting one another," David Maldonado said.
---
The views and opinions expressed in this blog belong to the author and are not intended to represent the views of the MC USA Executive Board or staff.