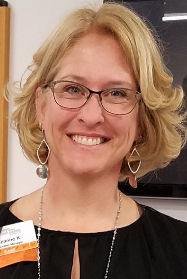 Suzanne Kratz has been employed as the volunteer manager at Care & Share Thrift Shoppes in Souderton, Pennsylvania, for several years. Suzanne met her husband of 28 years, Rick, at Eastern Mennonite College (now University). They live in Telford, Pennsylvania, and are currently attending Salford Mennonite Church. She is proud of her husband and two adult children. She loves her family, pup, kitty, and flowers of all colors, shapes, and sizes, which reminds her of God's creativity in us all.
Care & Share Thrift Shoppes is a Mosaic Mennonite Conference-related ministry that supports Mennonite Central Committee.
_________________________________________________________________
Part of my role at Care & Share Thrift Shoppes (C&S), as volunteer manager, is to create space for everyone to belong when they volunteer. Approximately 20% of the volunteer base at C&S consists of folks joining us from over 40 local organizations that work with clients — or should I say friends — with intellectual, physical or mental health disabilities — or should I say differing abilities. As I see it, everyone has an ability. We just need to take the time to figure out what that ability is and apply it to our space.
As a child, I was considered legally blind. The difficulties I had with my vision were viewed as a disability. I was behind in school, so I thought myself unintelligent. I was clumsy, so I looked beat up and disheveled and thought myself ugly.  I had little to no confidence, as I was ignored, teased and bullied.  Being a determined child, I wasn't willing to be defined as "disabled." I made it my challenge to do and go.  To be what God created me to be … strong, gifted and abled.
The sense of "belonging" is nearly impossible for many to learn, when they are considered "different." We, in our faith-based communities, often get mixed up with how we are to welcome and treat others, especially if they are "not like us." When terminology and language is altered positively, we will begin to view folks in a healthy and equal manner. It is important to SEE others with God's vision. In the first paragraph above, note how I changed a few words. Friends instead of clients. Differing abilities instead of disabilities.
When welcoming people into our communities, it is important that we remember that each and every person has been created by a loving God, in God's image. Aren't we supposed to live the example of Christ's love, knowing that we are setting the example of God's image and behavior? If we have been charged to be "Christ-like," I believe that means we are to see the good, the abilities, the gifts, the joys, the hardships, the —do I need to go on?
A few things to ponder:
How to include people with differing abilities.
You may be considering, if you haven't already, how to alter the facility you worship and fellowship in to be handicap accessible. That is wonderful. It's a good start, for sure. But, I hate to say it, this is not enough. The attitudes and behaviors we exhibit are much more telling if we wish to be a welcoming community. Pray and discern together what will work for your community. Be willing to try new things if/when you strike out. Keep in mind creative space, activity and Christ-like behavior does not have to be costly.
Ask your friends and their families what they would appreciate. What would be helpful and respectful when gathering to worship? Listen.
Ask, research and study to learn why your friends' brains are the way they are. Learn.
Create programs geared toward your friends during Sunday school class. This gives each friend the opportunity to be independent from their caregiver. Respect.
Start socially appropriate activities/clubs, such as Bible studies, craft nights, out-on-the-town nights. Provide time to gather/enjoy each other's company and time for learning about Jesus. Fellowship.
Tap into local organizations that provide support for your friends. These groups have tons of ideas that are helpful. Listen and learn, again.
What to avoid.
Sometimes we just can't get it right. Be forgiving and extend grace to all. Here are a few things that may be helpful:
Talking to just the caregiver, as if your friend isn't there, can't speak or won't get anything you might be saying. Be careful … they probably know more than you do!
Being impatient when waiting for an answer to your questions or directions. Your friend may think you don't care. That hurts!
Assuming that the disability means there are no abilities. We are all good at something. You might even discover something new about yourself.
Negating the struggles. Seriously, we all struggle.
Asking what a friend's diagnosis is or questions like, "what is wrong with them?" What if someone asked you that? You might get offended!
How to talk with people with differing abilities.
Some people do not exhibit "social norms." That can be startling. Do not be afraid. We all, at one point in time as adults, have thrown tantrums. We've asked silly and bold questions at inappropriate times. We've said blunt things about or directly toward someone. We've gotten physically too close or far away. We've appreciated or hated a tender touch on the arm.  So I say again, do not be afraid!
Talk to your friends as that, friends. Don't we all want to be spoken to directly?
Ask questions. What interests them? What do they enjoy or dislike? Listen.
Be patient. Wait, even if it feels uncomfortable. Listen.
Communicate and give directions with clear, deliberate words. Try again when you flub up or they don't understand you. Maybe YOU are not using the right words. Practice.
Kindly ask more questions. Wait. Patience. Listen some more.
Remember, we are all created by God, in God's image.
When we act "Christ-like," we will be open to those who are longing to belong. Extend God's grace to yourself and others. SEE what God is doing. That is for everyBODY (or should I say EVERYbody)!
Welcoming EveryBODY: Learn, Pray, Join celebrates the many gifts that people with disabilities bring to our church communities. This initiative also calls us to repent as a church in the ways we have not fully seen or welcomed people with disabilities. May we commit to being more loving and aware as we care for one another.
This initiative is a partnership between Mennonite Church USA and
 

Anabaptist Disabilities Network

 (ADN)

.

Find upcoming webinars and ways to get involved at https://www.mennoniteusa.org/ministry/peacebuilding/learn-pray-join/welcoming-everybody/.
The views and opinions expressed in this blog belong to the author and are not intended to represent the views of the MC USA Executive Board or staff.