By John Gehring, with additional reporting by MC USA staff
Reprinted and edited with permission from National Catholic Reporter.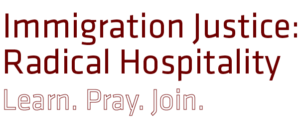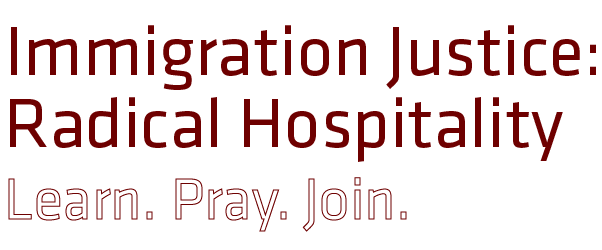 While millions of Americans are still adjusting to the social isolation brought on by the coronavirus pandemic, Edith Espinal has been a stranger to what is considered normal for almost three years now. An invisible virus didn't drive her into seclusion. What has her locked down behind unfamiliar walls is a fierce determination to keep her family together.
As an undocumented immigrant in Columbus, Ohio, she is living in a church where she found sanctuary after receiving deportation orders. Espinal, a native of Mexico, has been living inside Columbus Mennonite Church for  the past three years. The soft-spoken mother of three is officially considered a fugitive under the law.
Her life is a daily act of moral resistance, and a testament to improbable hope, during an era when Immigration and Customs Enforcement (ICE), has vast power to detain and deport migrants who previous administrations did not view as a threat. Parents who have lived in the United States for many years, held jobs, paid taxes and are raising their children have been swept up in the intensified enforcement regime.
"This is the country where my children were born, and it's the only country they know," Espinal said during a recent phone interview. "I want my children to have opportunities for a better future. The truth is I can't even imagine going back to Mexico. My family is here."
There are 43 immigrants living in sanctuary across the country, according to Church World Service, a national advocacy organization that is a leader in the sanctuary movement. ICE has not entered a house of worship since 2014, due in large part to an Obama-era immigration policy that identifies them as "sensitive locations."
During the hard hours, Espinal, 43, draws strength from her Catholic faith. A prayer that she turns to in darker moments is the Magnificat, drawn from the Gospel of Luke. The well-known verses provide both spiritual and political sustenance for those struggling against the powerful, a chance for a mother confronting long odds:
He has shown might with His arm. He has scattered the proud in the conceit of their heart. He has put down the mighty from their thrones and has exalted the lowly. He has filled the hungry with good things and the rich He has sent away empty. Luke 1:51-53
"Persistence is the word that comes to mind when I think about Edith," said Joel Miller, pastor of Columbus Mennonite Church. Along with her resilience, Miller has also watched how the lengthy isolation has taken a grinding toll. "This is just incredibly hard. The mental health aspect of this is a real struggle, and her physical health has suffered since she has been in here. What anxiety can do to the body is pretty cruel."
Espinal ended up living at Columbus Mennonite after a legendary local activist, the late Rubén Castilla Herrera, approached Miller to see if his congregation would take her in as she faced a deportation order. The pastor was receptive and after polling his congregation found strong support. The board voted unanimously in favor. Mennonites are shaped by a historical memory of being a persecuted religious minority, Miller said, and that shapes the denomination's moral imperative to provide sanctuary.
"As Anabaptists, we understand what it's like to need sanctuary, and we are now in a position where we are able to provide sanctuary," said Miller.
"Along with our Christian calling to love one's neighbor, provide hospitality to the stranger as if to Christ, and defend the cause of the disempowered, our Anabaptist lineage provides an extra source of solidarity with Edith and those threatened with deportation," Miller explained. "Anabaptist refusal to baptize infants or serve the state church led to a kind of undocumented status for Anabaptists. This included, at times, an inability to own land or have their marriages and families considered legitimate.  They sought sanctuary in the Netherlands, Russia and North America."
What church leaders call "Team Edith" — about a dozen advocates for Espinal from the congregation and the community — meet twice a month on Tuesdays. The meetings continue now over Zoom. Miller said the church will keep supporting Espinal for as long as she can endure staying in sanctuary but acknowledges that everyone is hoping for a breakthrough. A new president could potentially shake up the landscape of immigration enforcement. "This election year could be a watershed moment," he said.
There is cautious optimism that the coronavirus crisis could potentially offer at least some protection and freedom of movement for Espinal. In a March letter to Congress, ICE officials notified lawmakers that the agency will "delay enforcement actions" because of COVID-19, and the agency said it would "not carry out enforcement operations at or near health care facilities, such as hospitals, doctors' offices, accredited health clinics, and emergent or urgent care facilities, except in the most extraordinary of circumstances." When ICE announced recently that the agency would accept stay of removal requests from undocumented immigrants by mail — rather than requiring an in-person meeting — her legal team filed a request.
Espinal communicates with other immigrants in sanctuary churches across the country through a weekly Zoom call organized by the National Sanctuary Collective, a network of immigrants, advocates and attorneys. The calls are part emotional check-ins, fellowship time and discussion of advocacy strategies.
While diverse religious denominations publicly support sanctuary, Catholic dioceses have largely opposed giving immigrants shelter in churches. Espinal is disappointed with the Columbus Diocese.
In a petition sent to the U.S. Conference of Catholic Bishops, immigration activists have asked conference leaders to meet with ICE officials in Washington and advocate for Espinal's request for a stay of removal.
For Espinal, the clock continues to tick toward an uncertain future. Her faith and determination remain strong despite the prospect of more isolation.
"I'm a mother and I'm fighting to keep my family together," Espinal said. "I want people to know I'm not going to stop fighting."
Other ways of supporting Edith Espinal:
Follow the Solidarity with Edith Espinal Facebook page for updates, fundraising events and advocacy opportunities.
Buy tickets to view "The Undocumented Lawyer," a new, 20-minute documentary will be airing on HBO next spring about Edith's attorney Lizbeth and Edith's case. The ticket provides access to the full documentary from Sept. 29 – Oct. 5, 2020.  All proceeds go to support Edith.  See trailer below.
Join Columbus Mennonite Church for a virtual gathering Friday, Oct. 2, 2020 at 7p.m. through Zoom (free to all).  We will honor Edith's three-year mark and have a panel discussion including Edith, Lizbeth and the producers of "The Undocumented Lawyer." Register here.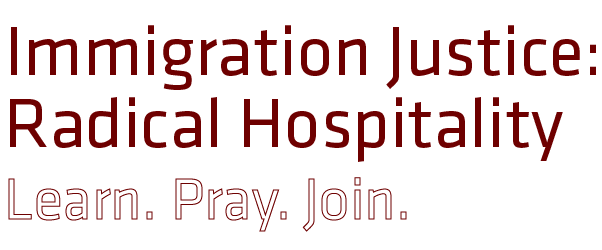 We seek to join in God's healing work regarding immigration, trusting that God goes before us and desires wholeness and well-being for all people. (from MC USA Churchwide Statement on Immigration)
You are invited to get involved with the work for Immigration Justice: Radical Hospitality as we offer resources to Learn, Pray, Join.