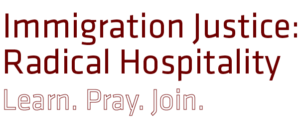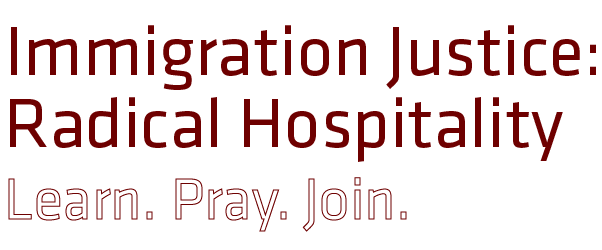 (Mennonite Church USA) — In August and September, Mennonite Church USA (MC USA) is working to focus awareness on the treatment of  immigrants through its new "Learn, Pray, Join" initiative – Immigration Justice: Radical Hospitality.
"Many of us have a migration story," said Sue Park-Hur, MC USA's denomination minister for transformative peacemaking. "Some of us are recent immigrants to this country, others came generations ago and still others were forced to come. There are still many in our communities who are seeking refuge. Our churches have opportunities to welcome and advocate for today's immigrants – and to be transformed in the process."
In a time when asylum seekers are still being turned away, migrant children are still being held in detention centers, people are currently seeking sanctuary in MC USA churches and violence against immigrants and minorities is continuing, it is important to emphasize our role in following Jesus' example of radical hospitality, Park-Hur said.
"The choices, policies and laws that we support impact the lives of the most vulnerable among us," said Park-Hur. "Our choices can be life-giving or life threatening. As people of God, we have a call to advocacy, to welcome the stranger, regardless of our political views."
Park-Hur said that a focus on immigration justice is an ongoing priority for the denomination. Mennonite Church USA issued a Churchwide Statement on Immigration in 2014 (updated from 2003) that renounced "the indifference to and mistreatment of undocumented and documented immigrants that has occurred and continues to occur in our congregations, our communities and this country." The statement advocated for "just and humane immigration policies for immigrants and refugees" and was a call to radical hospitality, commending "all levels of the Church in efforts to welcome immigrants."
A 2018 "Learn, Pray, Join" initiative provided opportunities for people to grow in their understanding of and to advocate for immigration justice.
In 2019, the MC USA delegate assembly issued a Churchwide Statement on the Abuse of Child Migrants in response to the inhumane treatment of child migrants and other vulnerable people.
In the current "Learn, Pray, Join" program, MC USA is animating the discussion on Immigration Justice: Radical Hospitality by showcasing Mennonites directly involved in advocacy through shareable videos for congregational viewing and social media outreach.
MC USA also is highlighting its study curriculum, Radical Hospitality: Responding to the issue of immigration, which examines one's understanding of and attitudes toward immigration through an Anabaptist lens. The denomination is in the process of expanding the Radical Hospitality curriculum with a part two that will focus on systemic issues and barriers related to immigration justice, coming in spring 2021. Elements of this new curriculum will be reflected in the "Learn, Pray, Join" video clips.
The "Learn, Pray, Join" initiative also will provide:
Opportunities to learn more about immigration justice through news stories, blogs and additional resources.
An invitation to pray for immigrants and migrant children who are experiencing the trauma of physical hardships, displacement and separation from loved ones
A call to join in the advocacy work that is already occurring in MC USA congregations and across the broader Anabaptist community.
Resources for the "Learn, Pray, Join" on Immigration Justice: Radical Hospitality initiative are available at https://www.mennoniteusa.org/ministry/peacebuilding/learn-pray-join/immigration-justice/
Subscribe to PeaceMail and follow MC USA on social media (Facebook, Instagram, Twitter and YouTube) to learn from resources, blogs and more in August and September.
MC USA's "Learn, Pray, Join" initiatives seek to create opportunities across the church for deepening understanding around a common topic and coming together in prayer and support.
Mennonite Church USA is the largest Mennonite denomination in the United States with 16 conferences, approximately 530 congregations and 62,000 members. An Anabaptist Christian denomination, MC USA is part of Mennonite World Conference, a global faith family that includes churches in 86 countries. It has offices in Elkhart, Indiana and Newton, Kansas.  mennoniteUSA.org
"For I was hungry and you gave me something to eat, I was thirsty and you gave me something to drink, I was a stranger and you invited me in, I needed clothes and you clothed me, I was sick and you looked after me, I was in prison and you came to visit me…Truly I tell you, whatever you did for one of the least of these brothers and sisters of mine, you did for me." – Matthew 25: 35-36, 40b