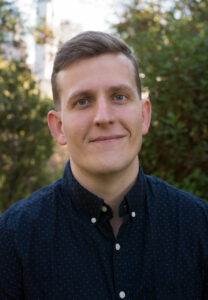 Kevin Nye is a writer and advocate, working toward ending homelessness by engaging best practices. He has written on the intersections of homelessness and faith for Religion News Service, Sojourners, Red Letter Christians and more. He has presented at national conferences, including Housing First Partners Conference 2022, on the topic of homelessness. Kevin lives with his wife and son in Minneapolis, Minnesota, where he works as housing director at an organization that addresses youth homelessness.
Kevin's first book, "Grace Can Lead Us Home: A Christian Call to End Homelessness," released in August 2022, from Herald Press, is the MennoMedia CommonRead from January-March.
______________________________________________________
"'Tis grace has brought me safe thus far,
and grace will lead me home"

— "Amazing Grace!" (Voices Together 163)
We talk about "home" a lot as Christians. It's in our songs, our liturgies, our Scriptures and our vernacular. And for as much as we talk about "home," we almost never mean our house, apartment or the literal space we occupy — or if we do, we mean more than just that.
"Home" is a word that means more than "house;" it connotes a feeling of warmth, safety, security, stability.
When I began to work with people who experiencing homelessness, I noticed that, for as much as "home" means, in our vernacular, we very rarely extended that idea to our conversations about "home"-lessness. Homelessness, for many Christians, is about everything but a home: the reasons we believe that people are homeless — mental illness, drug use, etc. — or the things that they're not doing that we think they should — getting a job, going to school, etc. We are very keen on talking about everything but the central topic: home. What does it mean for someone to be without everything we mean when we say "home"? Not just the walls, the roof and the door, but everything else that comes with it?
It's important that we come to understand homelessness fundamentally as a problem about housing. It's the one thing all people experiencing homelessness have in common! (Not mental illness or drug use, like many assume.) Homelessness is the result of a lack of access to affordable housing, period. We would much rather spiritualize or moralize the causes of homelessness — it helps us feel better if the person sleeping outside is doing so because of their failure, and not our collective one. Our socio-political systems — and the ways some of us benefit from them — are let off the hook, if we can put the full weight on the victims themselves.
But we would be remiss not to properly understand homelessness in spiritual terms.
Homelessness is not a spiritual failure on the part of those experiencing it, but it can have crushing spiritual ramifications.
The isolation and trauma of homelessness can leave people feeling hopeless and in a constant state of fear and anxiety. The psychological and spiritual ramifications of being ignored and marginalized and constantly under threat are incalculable, yet are experienced by hundreds of thousands of people daily.
As Christians, we must understand homelessness to engage it theologically. If we are to enter into the spiritual aspects of it, we must properly interpret where they lie. For too long, Christians have believed that the spiritual aspects of homelessness lie in the deficiencies of the people who experience it — that, if they could be spiritually or theologically convinced of their failures, they could overcome them. But what if, instead, we understood the spiritual needs of people experiencing homelessness, related to trauma and isolation, and met them with communal, spiritual care? Homelessness needs less evangelism and more chaplaincy, fewer attempts at conversion, and more commitment to care.
---

Mennonite Church USA, Mennonite Church Canada and Herald Press are partnering to encourage every Mennonite to read carefully selected books to equip the church during this time. Learn more here: https://www.mennomedia.org/commonread/.
---

Mennonite Church USA encourages you and your congregation to participate in the Cost of Poverty: Learn, Pray, Join initiative, as one way to
learn more about
the topic of poverty from theological and practical perspectives.
Find ways to get involved at mennoniteusa.org/ministry/peacebuilding/learn-pray-join/cost-of-poverty/.
---
The views and opinions expressed in this blog belong to the author and are not intended to represent the views of the MC USA Executive Board or staff.
Interested in submitting a blog for Menno Snapshots? Please see our blog guidelines here.