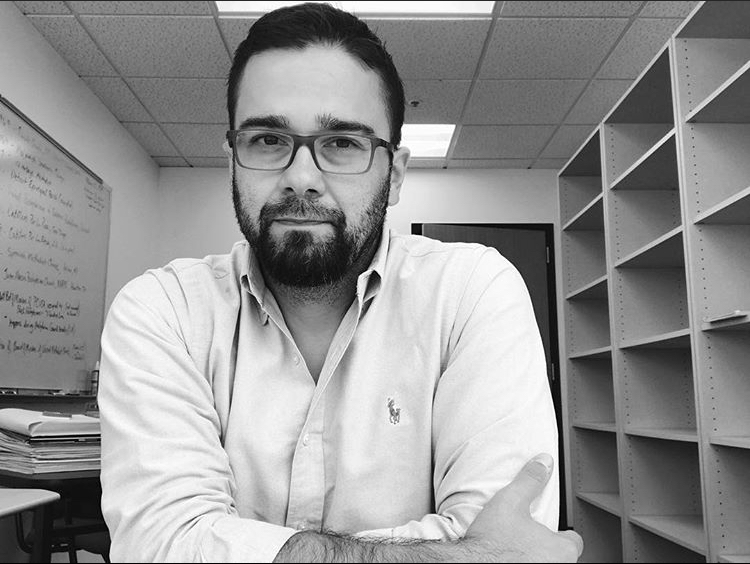 Felipe Hinojosa is associate professor in the Department of History at Texas A&M University's College of Liberal Arts, editor for the interdisciplinary online academic journal Latinx Talk and author of Apostles of Change: Latino Radical Politics, Church Occupations, and the Fight to Save the Barrio (University of Texas Press, 2021).
_______________________
My hometown of Brownsville, Texas, is located on the southernmost tip of Texas. It literally sits, no it actually grates up against, Mexico. I grew up a short 15-minute walk to the border, which bleeds seamlessly into downtown Brownsville. When you cross to the U.S. from the Mexican side, you first cross Elizabeth street and after that the streets are named after dead presidents: Washington, Adams, Jefferson, all the way to Coolidge where my paternal grandparents, Joaquin and Dominga first settled after they left Mexico in the 1940s. I grew up not far from Coolidge street, on Taylor street, one block over from Polk street. Two years ago, my parents sold the house that we (me and my five sisters and brother) grew up in as age and health problems forced them to move into a small room at my sister's house.
The pace of life is slow in Brownsville. But it's a good kind of slow. The kind where if you move too fast, or if you complain about the slow pace, people will wonder about you. Like, seriously, people will worry about you and might even suggest that you consider moving to a big, modern, and fast-paced city like San Antonio. But we are picky about our food in Brownsville. The fast food chain restaurant Taco Cabana has twice tried and failed to open shop in Brownsville. Taco Bell survives only because it refuses to close down even though we all wish it would. You can find the greatest tacos north of the Rio Grande in Brownsville (trust me, there are some Netflix documentary worthy taquerias in my hometown), but the truth is we also love the southern flavors served up at Luby's Cafeteria, and we love the fettucine alfredo at the new Olive Garden that opened in 2017.
We love high school football on Friday nights, backyard barbecues on Saturday nights, and church on Sundays. We are Brown, but we come in every shade. Spanish is spoken almost as frequently as English, but it's not Spanish, Spanish. You know what I mean? Our Spanish is broken, mixed, and injected with just enough English to get by. There is no formal Spanish or formal English in my hometown. We speak a complicated mix of both that is difficult to explain. It's Spanglish, but it's not. It's got its own structure, rhythms, and pace. It's not just about saying two words in Spanish and one in English. Our language(s) are an entire way of life. And in our cultural expressions, in our love for taquitos and authentic food from chain restaurants, in our slow pace and the defense of that pace, in our love of football and barbeques, and in our entrepreneurial linguistic forms, we are a quintessentially American community.
This is my home. And even though I don't live there anymore, Brownsville left its imprint on me; I carry my hometown with me everywhere I go.
I say this because in the last four years we have all heard President Trump demean, denigrate, villainize, and demonize my hometown and borderland communities from Brownsville to San Diego. This administration has labeled the borderlands as violent, drug infested, and overrun by criminal immigrants. I wish they would just shut their mouths. Are border communities perfect? Are we utopias where cultures blend and where borders do not exist? Where people wear colorful clothes, walk around smiling all day, and speak a poetic mix of English and Spanish like in the movies? Of course not. We are deeply flawed with a visible border that tries to remind us every day that we are not Mexico and Mexico is not us.
The border fence that was built in Brownsville in the years after 9/11 runs directly behind Garden Park Elementary school, is positioned along walking and jogging trails, runs along the backyards of entire neighborhoods, and starts and stops at odd places throughout the city. The militarization is also clear: the border patrol trucks, the technology, the guns, and the green uniforms.
But what I want you to know — in fact what I need you to really understand in the depths of your soul, in your gut — is that the U.S./Mexico border is a beautiful and complex place. We joke, we cry, we sing, we love, we do stupid stuff, and we do the best we can every single day. And one thing is for certain: none of us, much less an entire region of the United States, deserves to be targeted by the highest officer in the land. Trump and his entire administration do not know us. They know nothing about border politics, about land treaties, about culture and the German-inspired accordion music that is Tejano (Texas-Mexican music), or much less why it is that we like corn tortillas and/or white bread with our brisket. Either is fine, really. The current administration is utterly lost when it comes to the borderlands. We make no sense to them and that's just fine with me.
What I do care about is shaking loose whatever misconceptions, whatever lies you might hold, and whatever misunderstandings you might have about border communities.
I want you to ignore the Fox News anchors and the president's bullhorn and instead listen to the voices of the people who live here, work here, and whose ancestors are buried here. In this moment when racism has reared its ugly head, where neo-Nazis walk around proudly and openly, and where chaos seems to be the agenda of this administration, I hope that you can slow things down just enough to listen. I mean really listen. Slow down just enough to see the Friday night lights, smell the BBQ, and worship in one of our churches. Slow down just enough to share a meal with us at the local Luby's, Olive Garden, or any number of our delicious — and Netflix worthy — taquerias around town.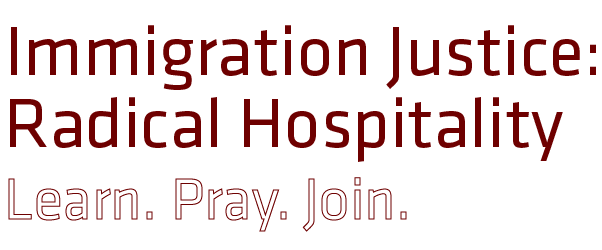 We seek to join in God's healing work regarding immigration, trusting that God goes before us and desires wholeness and well-being for all people. (from MC USA Churchwide Statement on Immigration)
You are invited to get involved with the work for Immigration Justice: Radical Hospitality as we offer resources to Learn, Pray, Join.
Find resources to Learn, Pray, Join for Immigration Justice
Donate to Immigration Justice
The views and opinions expressed in this blog belong to the author and are not intended to represent the views of the MC USA Executive Board or staff.