By MC USA staff
The Constituency Leaders Council (CLC) of Mennonite Church USA (MC USA) met on October 16-17, 2020, via videoconference to address a full agenda that included a presentation on "Race and Power," reports from CLC members and updates on denominational activities and MennoCon21, as well as several hours of discussion on retiring the denomination's Membership Guidelines.
Chaired by MC USA Moderator-Elect Linda Dibble, the CLC's first virtual gathering was attended by leaders from the 16 area conferences, several denominational agencies, constituency groups, racial/ethnic groups, MC USA staff and guests. Invited guests included representatives from Brethren Mennonite Council for LGBT Interests, Inclusive Mennonite Pastors and Pink Menno, as well as Anabaptist World magazine.
Membership Guidelines discussion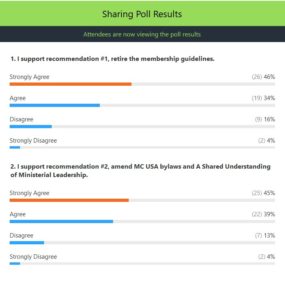 During afternoon conversation and discernment, 80% of CLC representatives expressed agreement with an Executive Board (EB) recommendation to present the delegate body of MC USA with a resolution to retire the Membership Guidelines. The recommendation was based on the work that the EB has done since the Delegate Assembly in July 2019, including seeking broad input from all levels of church leadership, including an EB-appointed Advisory Group, EB staff, EB Executive Committee and a focus group. (See image of poll results.)
In addition, 86% of participating CLC representatives agreed with the EB's recommendation to amend the MC USA bylaws and "A Shared Understanding of Ministerial Leadership," the MC USA-Mennonite Church Canada polity manual, to reflect this possible change.
"This is the next step in embracing God's hope for MC USA," said MC USA Executive Director Glen Guyton "For the past three years, we have pointed our members to Journey Forward, a visioning process that opened up space for many voices to engage in Spirit-led, transformative conversation aimed at strengthening our commitment to Christ-like relationships and a scripture-based common core. That common core is reflected in our Renewed Commitments. We now need to focus on the transforming power of the Holy Spirit and being living witnesses to God's peace."
The poll was preceded by small group discussions around two questions:
Do the recommendations, if adopted, move us forward as MC USA?
Do these recommendations, if adopted, clarify our current operational polity?
Most groups affirmed that retiring the Membership Guidelines would move the denomination forward, voicing concerns of possible disruptions, losses and realignments, but also optimism.
Terry Zehr, conference minister of New York Mennonite Conference, reported the feedback from his discussion group, noting that, "Some said retiring the Membership Guidelines would raise anxiety, while others expressed that this may allow us to focus on things we can celebrate together rather than spending energy focusing on our differences."
The discussion groups concurred that if the recommendations are adopted by the Delegate Assembly at MennoCon21, they will clarify MC USA's operational polity, bringing the denomination's polity and practices into alignment.
Amy Gingerich, executive director of MennoMedia, said, "There was a lot of affirmation and love expressed for the denomination in our group. We generally agreed that the recommendations will bring clarity, transparency and honesty to MC USA."
CLC representatives gave feedback to a sample resolution, proposed by the EB staff, that will go to the Resolutions Committee prior to formal review and consideration by the EB. One point in the draft that several groups emphasized as important was:
"We commit to the difficult work of being church together amid our differences, working at Biblical justice and reconciliation where there is conflict."
Clyde Kratz, executive conference minister of Virginia Mennonite Conference, on behalf of his discussion group, asked, "At what point do we, as a church, acknowledge that we exercised power and it harmed people?"
"We are not all at the same place," Kratz continued. "In our conferences, retiring the Membership Guidelines will be extremely disappointing for many. Is there a way to recognize the awareness of harm, even though some would rather not go this direction?"
"Our area conferences retain, and have always retained, credentialing authority," said Guyton, noting that retiring the Membership Guidelines will have no effect on this. "This aligns denominational policy with our denominational polity and practice."
"We are continuing to work with our agencies to help strengthen our church," he added, directing leaders to the resources developed through Journey Forward, a 2017 churchwide renewal process of engaging in Scripture, storytelling and sharing that resulted in the denomination's Renewed Commitments.
Next Steps
MC USA's Resolutions Committee, a six-member committee appointed by the EB, will meet via teleconference on November 18, 2020, to review the draft resolution and the CLC's input.
The CLC's feedback on the recommendation to retire the Membership Guidelines is part of an eight-step feedback process outlined by the Executive Board at its meeting in September 2020.
The next steps are:
Conference moderators review recommended changes to the MC USA Bylaws and the denomination's polity manual as related to the Membership Guidelines and credentialing during their monthly meeting. (October/November 2020)
EB makes final decisions regarding recommendations and prepares bylaw and resolution updates for MennoCon21 and proposed polity manual revisions for the Joint Executive Committee of MC USA-MC Canada. (January 2021)
EB staff will lead implementation in collaboration with executive conference ministers and others. (January – June 2021)
EB staff will develop a communication plan that clearly outlines the proposed recommendations. (January–June 2021)
Delegates vote on final recommendations at MennoCon21. (July 2021)
Other agenda items
Guyton and members of the EB staff provided updates on denominational activities, including a discussion of MC USA's positive relationships with other Mennonite denominations, plans to hold MennoCon21 as a hybrid event with both in-person and virtual programming, news of upcoming Women Doing Theology online events and an encouragement to embrace MC USA's #BringThePeace call to action.
Iris de León-Hartshorn, associate executive director of MC USA, led the group through 90 minutes training on power and race, focused on the various forms of power and how power is used to include voices, limit voices and exclude voices from decision-making.
MC USA agencies, conferences and constituency groups also shared good news and lessons learned during this past year. Highlights included:
The CLC is an MC USA advisory group comprised of leaders from the area conferences, agencies and constituency groups that meets one or two times per year to counsel and advise the Executive Board, functioning as denominational elders. This meeting was postponed from March 26-28, 2020 due to COVID-19.
Mennonite Church USA is the largest Mennonite denomination in the United States with 17 conferences, approximately 530 congregations and 62,000 members. An Anabaptist Christian denomination, MC USA is part of Mennonite World Conference, a global faith family that includes churches in 86 countries. It has offices in Elkhart, Indiana and Newton, Kansas.  mennoniteUSA.org